Beach Brunch
The NZ art print "Beach Brunch" by Holly Roach had been inspiration to the design series "Colors of New Zealand.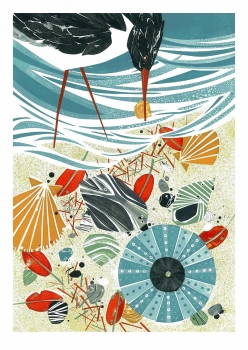 "Beach Brunch" explores a composition of a red beaked and long legged oyster-catcher in-midst a buffet of sea fruits like shells, clams, cockles and kina with sea water sweeping the shoreline.  The print beautifully captures a scene encountered on a walk along one of West Auckland's vast beaches.
Colors of New Zealand collection at Zazzle.
Interiors Lookbook >>>
Fashion Lookbook >>>