Beach Brunch Sparked Inspiration to the Colors of the Sea
The NZ art print Beach Brunch by Holly Roach had been inspiration to the design series "Colors of the Sea".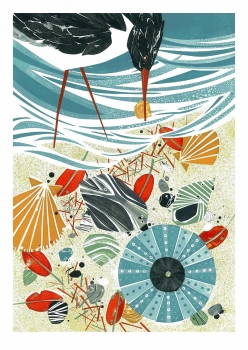 The art print explores the composition of a long legged and red beaked oyster-catcher stilting in-midst a beach buffet. Sea fruits like shells, clams, cockles and kina swept ashore now lie scattered along the beach. Shorebirds then gather to feast on these gifts by the sea.  The print beautifully captures a scene familiar to the eyes on a walk along one of West Auckland's vast shorelines.
Colors of the Sea Delight in Surface Designs
Inspired by the art print ' Beach Brunch ' the design series 'Colors of  the Sea' was born. The surface designs pick-up on the color scheme and the image theme and sometimes combining colors and theme.
So it happened that the first design an exploding circular pattern called 'Ocean-Blue' reminds of the sea meeting the shore. Another set has sea silhouettes of an oyster-catcher or a joyful jumping dolphin set against a uni-colored background. The background color serves as template and can be change to any color.  All the while the design 'Density' reminds in pattern and coloration on the moment when sweeping see meets the sand at the beach. Then we kept the colors in a neutral monochrome grey and let the design density pair with the shorebird who is having a beach brunch.