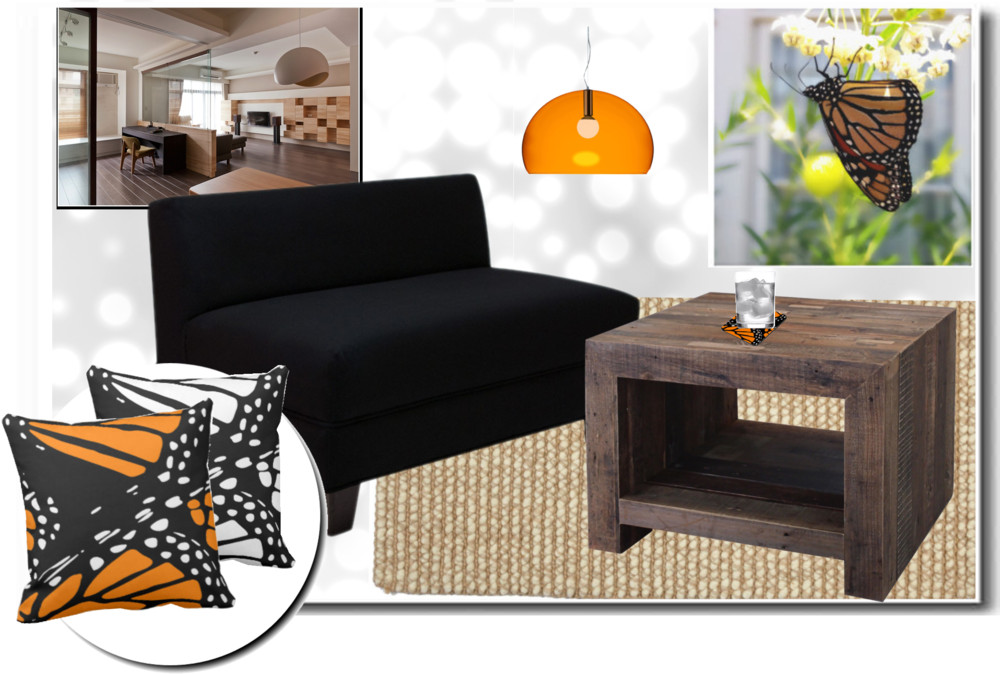 Minimalist in Earthen Colors
KBM D3signs
on Polyvore.com
Embracing Minimalist Living in Earthen Colors
The mood-board to minimalist living is expressed in shades of earthen tones set off with black and orange. The clear lines of selected furniture support the idea. There is a black colored love seat,  a recycled wooden coffee table and a light natural colored sisal area rug. A color contrast is achieved by a half round orange hanging light.
Both the Monarch Butterfly canvas print and the throw cushions bring a playful note into this composition. View them and more in Butterfly Home Collection.
More about: KBMD3signs' Monarch Butterfly Designs.
Seamless 'Indoor – Outdoor Living' is the first set of 8. Eight different sets that have two things in common. Each scenario includes  a photo canvas print and a pair of printed throw pillows. The stretched canvas shows a photo of a freshly hatched Monarch Butterfly nectar suckling on a blossoming swan plant. The two  pillows  show an abstract design based on the butterfly's wings.
The idea of 8 interior living environs is to explore the designs' versatility.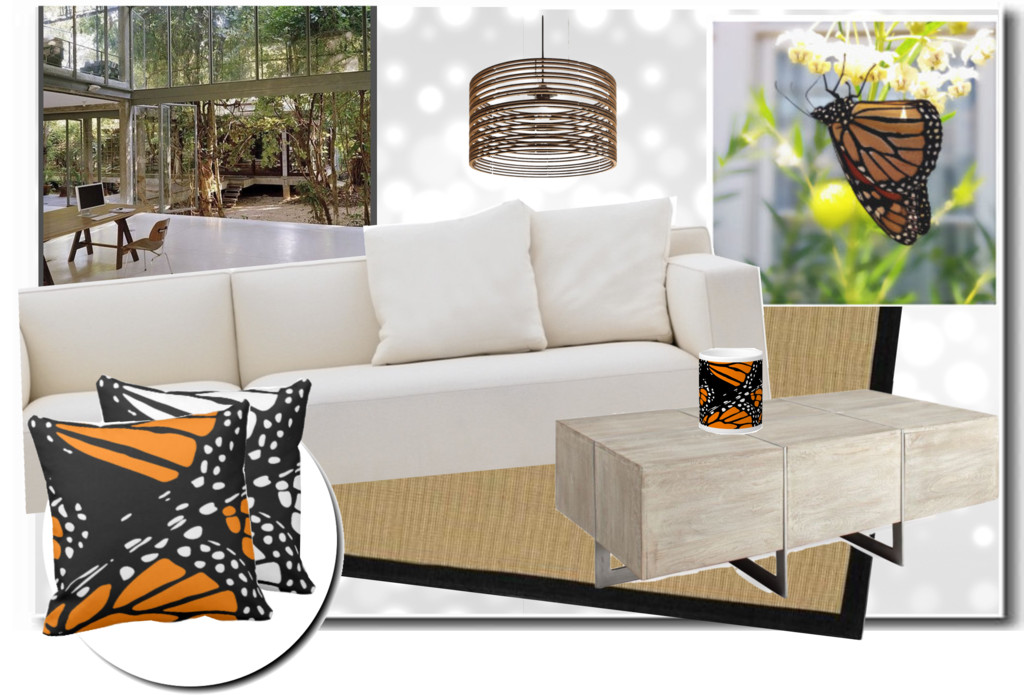 Indoor Living – Outdoor Living
Large folding patio doors separate the living area from surrounding bush. This allows unhindered flow from indoor to outdoor living and vice versa. Chosen are light natural colors and natural materials. Interiors exhibit a white sofa, a white washed wooden table on a natural jute rug and a minimalist architectural wooden hanging lamp accented by pillows with the Monarch butterfly design and the butterfly print. More about Monarch Butterfly Designs.
Print and throw pillow are available at www.zazzle.com in the collection 'Monarch Butterfly – Home'. As a classic print on demand product the design template allows to replace the orange color to simply make it work with your personal color scheme. The beauty the design idea stays intact and reminds on the wing markings of the Monarch butterfly.
Flowing Indoor – Outdoor Living
Save
Save
Save
Save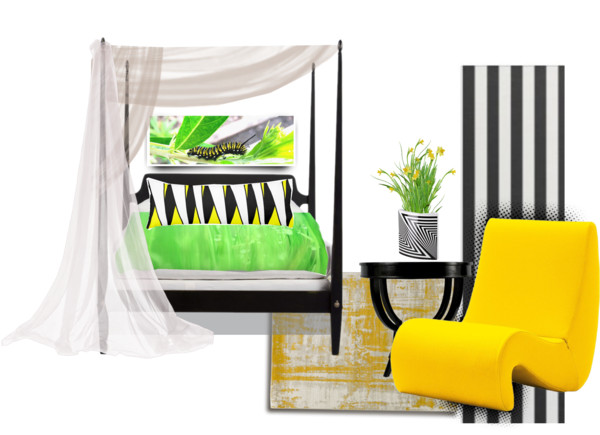 A Monarch Caterpillar Draws Attention
A Monarch caterpillar draws attention. In bold black, white and yellow stripes the larvae becomes regularly focal point to passers-by and predators. For the latter though this insect is bitter to the taste thanks to its food preferences. In this instance a bedroom was styled around a caterpillar print. The large body pillow crowning the top of a four poster bed shows an unparalleled three colored stripes design. The design leaves it to the shopper to customize the yellow color into one of their preference. Explore Monarch Butterfly and Caterpillar Home Collection.
Save