Taranaki Cliffs canvas print by Diana Adams has the spot-light in the series Art Meets Pillows.
On walks, the painter finds her artistic inspiration. Once an inspiration takes roots, she then beautifully reduces her subject to its essence with clear lines like in the Taranaki Cliffs remain. With a three-dimensional feel to the painting, the observer feels pulled into a landscape with brilliant colors.
An overcast sky that opens-up and letting a hint of the sun through and envelopes the eroding ilands off the Taranaki Cliffs. Dark turquoise tinted surf is breaking white-crowned in steady ripples on the shore. In the meantime, the turquoise sea contrasts the greyish black sand beach and the volcanic-layered cliffs.
The top of the cliffs appears capped with the dark green of coastal shrubs. It is a captivating canvas print of one of New Zealand's contemporary artists.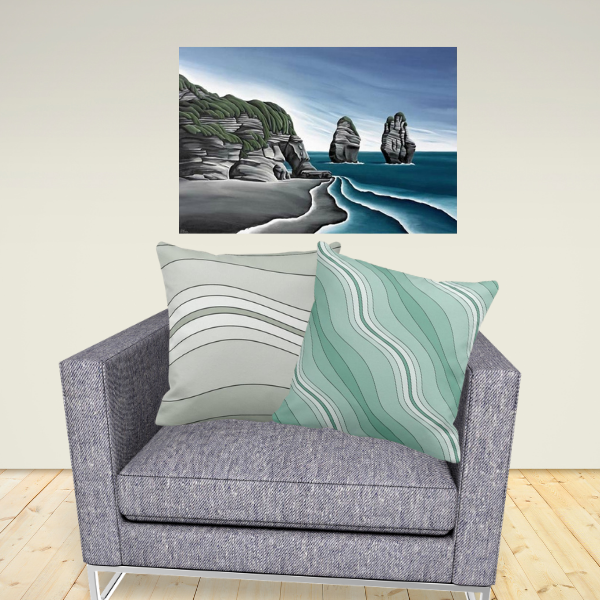 Art Meets Pillows, Wavy Stripes Pattern Design
Art Meet Pillows relates to the waves and stripes that are defined in the artwork. Wavy-stripes is a monochrome repeat pattern on the grey and green throw pillows. 
The pattern reminds, in its horizontal direction, of layered stone, which intensifies through varying shades. Meanwhile, a diagonal direction on a green pillow reminds one of rolling waves.
Continue reading

"Taranaki Cliffs Art-print by Diana Adams – Art Meet Pillow"