A magic show birthday party is a fantastic theme to add a touch of wonder and excitement to your child's special day. Whether your child is turning five or fifteen, a magic-themed party has universal appeal and promises a day filled with awe, laughter, and enchantment. In this article, we'll explore the suitability of this theme for different age groups, as well as the pros and cons of hiring a magician entertainer versus involving the children in creating their own magic tricks. We'll also provide valuable preparation tips, costume suggestions, party decor ideas, healthy food and drink options, engaging activities, and tips for creating captivating invitations.
Appropriate Age Groups for a Magic Show Birthday Party Theme
A magic show birthday party theme is versatile and can be tailored to a wide range of age groups. Younger children, ages 5 to 8, will be fascinated by the magic tricks and eager to participate in the interactive activities. Older children, ages 9 and up, can be engaged in creating more complex magic tricks and solving puzzles related to the theme.
What are The Pros and Cons of Hiring a Magician Entertainer vs. DIY Magic Tricks?

Pros of Hiring a Magician Entertainer:

Professional entertainment: Hiring a magician entertainer ensures a seamless and engaging show that will leave children and adults alike in awe.
Variety of Tricks: Professional magicians have a repertoire of tricks that can range from sleight of hand to mind-blowing illusions, catering to different levels of amazement.
Stress-free: Leave the entertainment to the magician, allowing you to focus on other aspects of the party.

Cons of Hiring a Magician Entertainer:

Cost: Professional magicians come at a price, and this option may not fit every budget.
Limited participation: While some magicians involve the audience, not all tricks can be interactive, and some children may feel left out.

Pros of Involving Kids in DIY Magic Tricks:

Interactive fun: Kids can actively participate in preparing and performing their own magic tricks, which fosters a sense of accomplishment.
Creativity: Creating their own tricks encourages kids to think creatively and solve problems, which improves their cognitive skills.
Cost-effective: DIY magic tricks are generally more budget-friendly, requiring simple materials that are easily accessible.

Cons of Involving Children in DIY Magic Tricks:

Preparation time: Planning and practicing tricks may require more time and effort on your part.
Different skill levels: Some children may struggle with creating tricks, which can lead to frustration.
Preparation Tips and Costume Suggestions
To create an unforgettable magical experience, consider these preparation tips:
Research: If you are hiring a magician, do your research and choose a professional with a style that matches the vibe of your party. If going the DIY route, gather a variety of simple tricks that are age-appropriate.
Props and supplies: Gather the necessary props and supplies for the magic tricks ahead of time.
Practice: If you choose DIY tricks, practice with your child to ensure smooth performances.
Consider: Involve your party guests. When you send out invitations, include a trick to practice and perform at the party.
Costumes: Consider providing a magician's cape or top hat as a costume accessory for the birthday child. Alternatively encourage all attendees to wear magician-themed attire to add to the atmosphere.
Party Decor, Food and Drink Suggestions
Decor: Transform your party space with magical decorations such as hanging stars, playing cards, and rabbits in hats.
Table Setting: Use black tablecloths with white stripes to resemble a magician's table. Scatter playing cards and fake coins as table accents.
Healthy Food and Drinks: Serve healthy, magic-themed snacks such as "Wizard's Wands" (fruit skewers), "Mystical Mini Sandwiches," and " Spellbinding Smoothies.
Activity Suggestions
Magic trick workshops: Set up stations where kids can learn and practice simple magic tricks.
Puzzle Challenges: For older kids, include magic-related puzzle challenges that must be solved to reveal hidden surprises.
Interactive show: If you hire a magician, be sure to include the kids in some tricks for an exciting experience.
Invitation Tips
Theme Introduction: Create invitations with a magical touch. Use phrases like "Join us for an enchanting adventure" to set the theme. Look for magic party invitations on Zazzle.
Include magic: Include a small magic trick or puzzle in the invitation that references the theme. If the party is going to be a show with each child performing a trick on stage, suggest a trick with instructions to practice for the party.
Can I customize the Magic Kids Party Invitation?
Yes, customization is possible in two steps. In fact, all items in the Magic Birthday Party Invitation and Accessories Collection allow for customization.
First, use the template and fill in the text and image placeholders that appear in the birthday party invitation template.
Second, for further customization, follow the link – Edit Design or Edit with Design Tool.
Edit Using Design Tool
Within the design tool, you can modify the background fill color using the color selector or a #Hex code to a color that works with your birthday color palette. You can also customize the font color and element color ( hat, cards, coins, dices, stars, and curtain).
For assistance in customizing the magic themed party supplies, we prepared a step-by-step guide on the following page.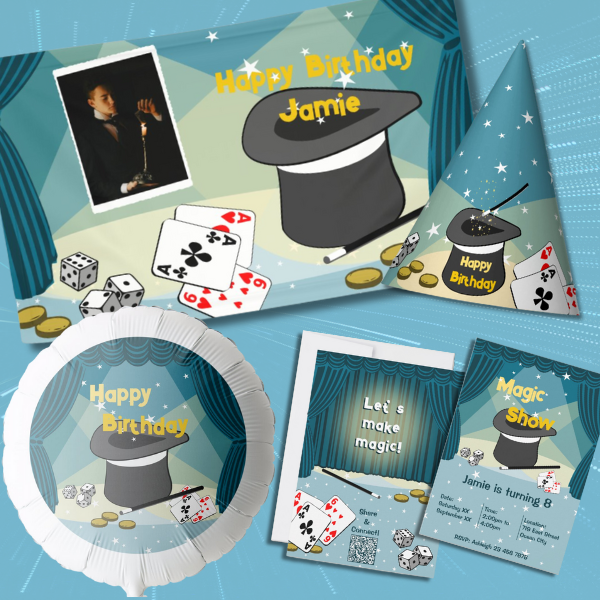 Blue Magic Themed Birthday Party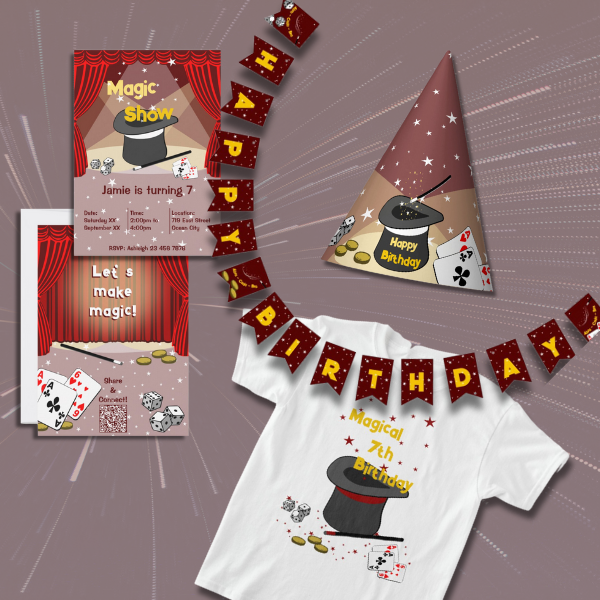 Red Magic Themed Birthday Party Invitation and decor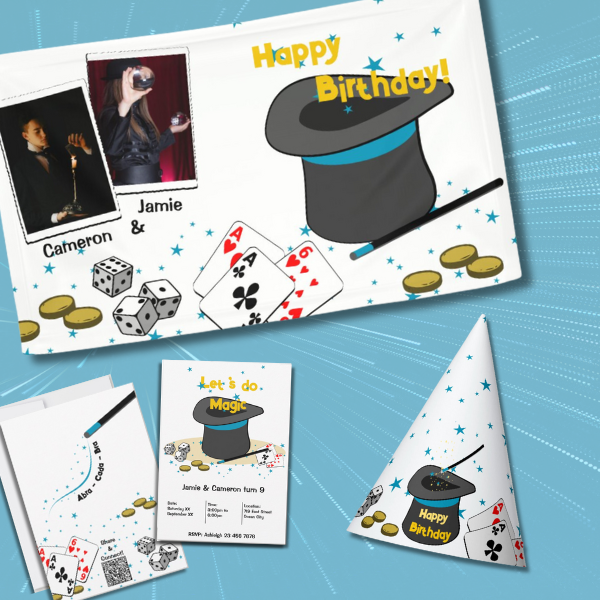 Blue Stars Magic Themed Joint Birthday Party Invitation
Red Stars Magic Themed Birthday Party Table Accessories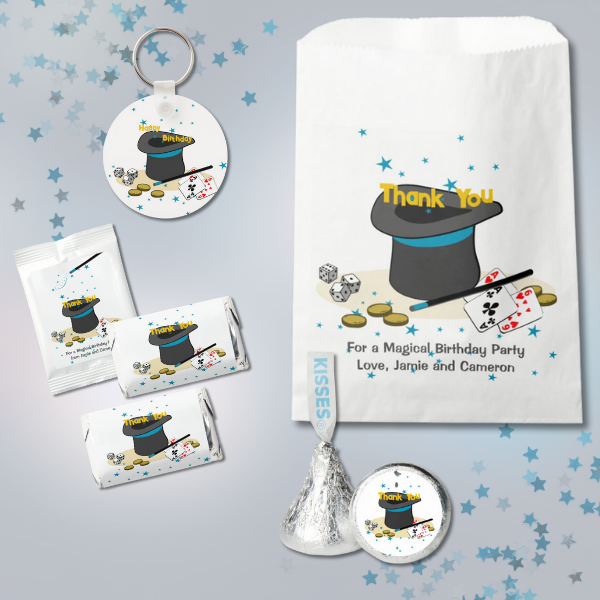 Blue Stars Magic Themed Birthday Party Favors
Red Kids Magic Book Party Keepsake
All in all, the products in the mood board compositions are part of an extensive collection. If you would like additional products that are available on Zazzle, please contact KBMD3signs. We are happy to add products or discuss an alternative custom design.
What makes KBM D3signs designs special?
We strive to make our designs as flexible as possible, even down to color adjustments. This means that if you like the design and the coloration of your visions, then follow the link – Edit with Design Tool – and adjust the fill and element colors in addition to the text and if applicable the images.
For color palette ideas, check out this post. And if you need help testing color harmony or font and background contrast to ensure readability, we use Coolors and their free checking, picking and generating tools.
Conclusion
In conclusion, a magic show themed birthday party is an enchanting way to celebrate your child's special day, regardless of their age. Whether you choose a professional magician or do-it-yourself magic tricks, the mesmerizing experience will be memorable for all who attend. From preparation and costumes to decorations, food and activities, careful planning will make the event truly magical and unforgettable.

We thrive on feedback. After your magical birthday party, stop by and let us know how everything went.