Purple throw pillows with a feeding Monarch butterfly design are in the center of the decoration idea exploration with a light grey armchair.
The color purple stands for spiritual change and deepens to change on the physical level the darker the purple becomes.
Stylized Monarch butterflies decorate the square pillows. Two differing surface patterns show in one version a single butterfly that feeds on swan plant blossoms. Meanwhile, the second version shows a butterfly pair.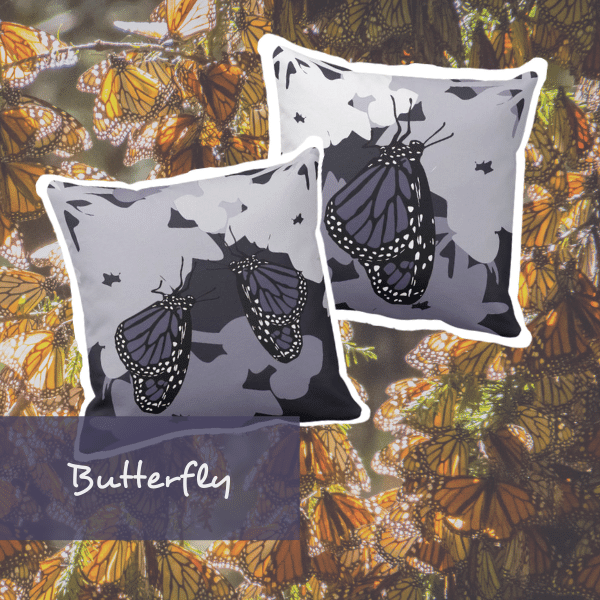 Altogether, the butterfly pattern decorated products comprise square pillows, oblong and round pillows, round poufs, and cubes. Three varying blankets are part of the collection to complete the comforting accessories. Each product comes in ten colorations that encompass purple, red, turquoise, green, yellow, blue, orange, grey, pink, and brown.
Most importantly, if the pattern finds your appreciation, and the tint fails to match your existing home decoration, then it is a breeze to personalize it. Similar opportunities apply to your new make-over project. Any color alteration keeps the original surface design intact. Choose the pattern design and color it your way.
Nine moody decoration ideas with an armchair and purple throw pillows
Inspiration is everywhere. In the following examples: landscapes, gardens, and dramatic momentary sky formations were initiators to the series of nine decor examples.