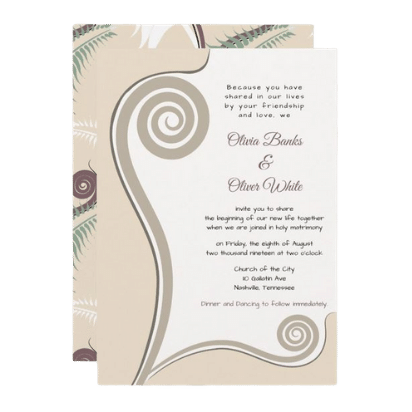 Is There A Meaning Connected To The Koru Swirl Wedding Invitation?
As a matter of fact, yes, there is a meaning behind the koru swirl. In effect to Maori traditional symbols, the koru stands for an unfurling fern frond. And the fern frond stands for new beginnings. Consequently, it is a beautiful gesture to use the koru as decoration for the message carrying card to invite to your marriage. Since the celebration takes place, to welcome a new chapter into the bride's and groom's life, their life together.
In this case, the invitation shows a color example. If you have a wedding color in mind and prefer your invitation to match, then the invite card lets you. Select the background and customize it to any color. Let's talk about customization or custom designs.
Overwhelmed About Where To Start With Planning Your Wedding?
Find Free Tools To Start:
A great first place to visit is our Plan to Wed board on Pinterest. Pinterest is an inspiring place to brainstorm ideas and become clear about what your wedding day could be.
Also, the KBM D3signs team created a set of resources to help you with your wedding planning step by step.
For a starter, find a wedding planning checklist with an initial timeline. Then there is a budget template that ensures you stay on track with your wedding event expenses. Using a budget is great to set your life together out to a good start. And for your wedding day, there is a last-minute wedding preparation tool. A vendor call list will give both the bride and groom peace of mind when handing over the coordination of the wedding ceremony and reception.
If you believe them helpful, then download them in their printable pdf format. Alternatively, make a copy to your Google Drive. Use the documents to start with and adjust them as you progress in planning your wedding.