Yellow and blue throw pillows, their impact on a room and some valuable tips for successfully incorporating this color combination inspired this article.
When it comes to decorating your living space, throw pillows are an excellent way to add a pop of color, personality and comfort. Among the many color combinations available, the classic pairing of yellow and blue is a versatile choice that can add vibrancy and a sense of calm to any room.
Season Coconut, Season Breadfruit, Season Quenepe by Patricia Brintle
In addition, KBM D3signs explores the blue and yellow color combination with bold art prints by contemporary artist Patricia Brintle.
What Effect do Blue and Yellow Throw Pillows Have?

Energetic and Happy Ambiance

Yellow is often associated with sunshine, happiness and optimism. When combined with the soothing effects of blue, the result is a dynamic balance of energy and serenity, creating a cheerful ambiance that instantly lifts the mood of a room.

Visual Interest and Contrast

Yellow and blue are complementary colors on the color wheel, meaning they sit opposite each other. This contrast creates visual interest, drawing the eye to the pillows and making them stand out in the room.

Versatility

Yellow and blue come in a variety of shades and hues, making them adaptable to different design styles. From soft pastels to bold, saturated hues, you can find the perfect combination to suit your preferred aesthetic.
What to Consider When Decorating With Throw Pillows?

Existing Color Scheme

Assess the current color scheme of the room before adding yellow and blue throw pillows. If your room already has dominant colors, consider choosing throw pillows that complement those hues rather than overpowering them. For example, if your walls are painted a warm beige or cream, consider softer pastel yellow and blue throw pillows.

Balance the Proportions

Determine the number of throw pillows needed to achieve balance. Too many throw pillows can make a room feel cluttered, while too few can feel sparse. Aim for an odd number of throw pillows in each seating area for a visually pleasing arrangement.

Texture and Pattern

Play with texture and pattern to add depth and interest to a room. Mixing solid-colored pillows with patterned ones can create a layered and cohesive look. Consider geometric patterns, floral designs or abstract motifs to enhance the visual appeal.

Pillow Placement

Be intentional about where you place the yellow and blue throw pillows. If you have a neutral-colored sofa, they can become focal points, while on a brightly colored couch, they can serve as accents to complement the existing hues.
How to Complement Wall Art With Throw Pillows?

Consider the Artwork

Take a close look at your wall art and identify the prominent colors used. If the artwork features blue and yellow hues, then the throw pillows can enhance and amplify those colors, creating a harmonious and cohesive theme.

Balance Intensity

Consider the intensity of the colors in the wall art and how it interacts with the throw pillows. If your wall art has bold, vibrant blues and yellows, consider choosing pillows in softer hues to provide a complementary backdrop.

Mix and Match

Be bold and mix and match patterns between the pillows and the artwork. Just make sure the patterns don't clash or compete for attention. If the artwork is heavily patterned, choose monochromatic pillows to strike the right balance.

Use Cushions as Accents

Make your wall art shine by using the throw pillows as accents that enhance the overall theme. Pillows should add to the ambiance of the room without overpowering the focal point created by the artwork.
Patricia Brintle Art Prints Meet Throw Pillows
Patricia Brintle is a contemporary Haitian-American artist known for her vibrant and expressive paintings, often depicting scenes from Haitian culture and daily life. She was born and raised in Haiti and later moved to the United States.
Brintle's artwork is characterized by bold colors, intricate detail, and a celebration of her Haitian heritage. Her paintings often depict traditional Haitian customs, folklore, and religious ceremonies, showcasing the country's rich cultural tapestry.
In addition to her art, Patricia Brintle is an advocate for arts education and cultural awareness. She has been actively involved in promoting Haitian art and culture in the United States and has participated in various exhibitions and art events to showcase her work.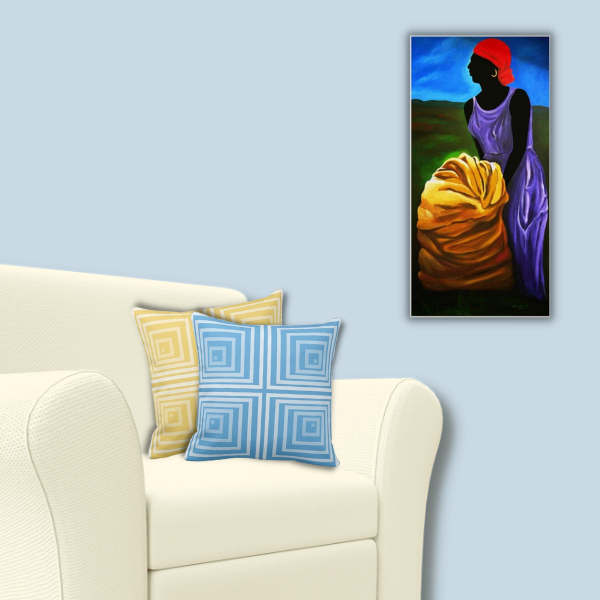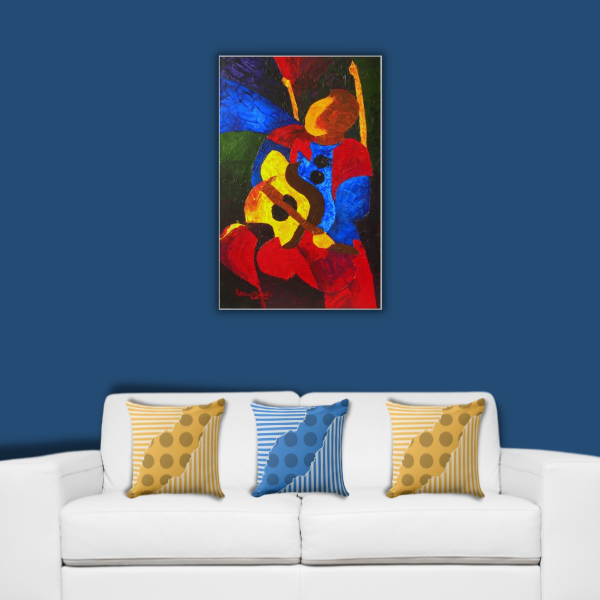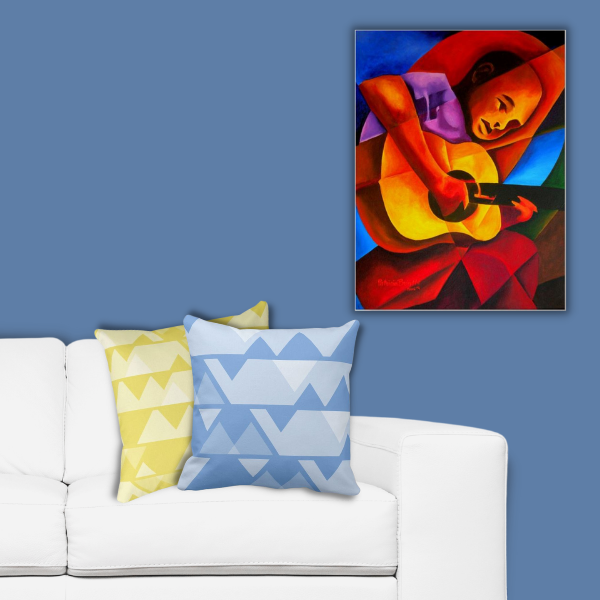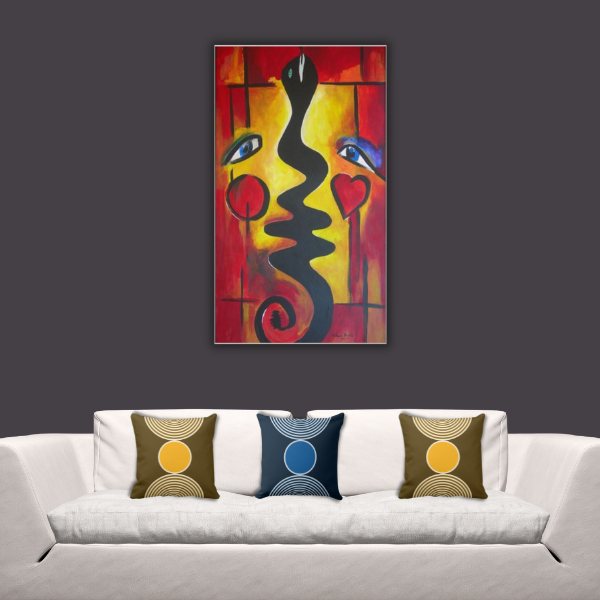 Single panels hung as a set of three wall art features: Season Coconut, Season Breafruit, Season Quenepe, and pillows with a triangle repeat pattern (the mood board on top)
Season Quenepe 20011, and pillows with a layered line pattern
Season Coconut 2011, and pillows with a nested angular pattern
Esther 2008, pillows with cornered pattern
Camelie 2008, pillows with a monarch butterfly pattern
Juan 2008, pillows in torn pattern
Dance in Blue 2008, pillows with spiral box pattern
Andres 2006, pillows with a jagged pattern
Adam and Eve 2006, pillows with minimalist circle pattern
Can I customize the surface pattern designs from KBM D3signs?
Yes, you can. All of the throw pillows featured to pair with the artwork of Patricia Brintle allow for color customization by using #Hex codes to change the fill color. To accommodate your existing color scheme, use the color tools we use to generate color palettes. For inspiration, visit our nature-inspired color palettes. And to help with decorating decisions, consider the value of creating a mood board. All of our home decor designs are available exclusively on Zazzle's Fall for It! store.
In Conclusion
All in all, decorating with yellow and blue throw pillows can have a profound effect on the mood of a room. The combination of these colors creates a dynamic, balanced, and visually appealing space that exudes both energy and serenity. When selecting throw pillows to complement wall art, careful consideration of color schemes, patterns and textures can create a harmonious and aesthetically pleasing home environment. So go ahead and harness the power of yellow and blue throw pillows to breathe new life into your living space!
Most Importantly
We love feedback, share your decoration outcome with blue and yellow throw pillows.