Spring wedding invitations have importance. For this reason, KBM D3signs created six mood boards in hope to spark ideas.
Some of the following examples relate to the season and others specifically to the event and some reference both.
Their task is to communicate:
Date, Time and Location
The language indicates the general tone, casual or formal
The design could refer to the season, spring
The location garden, beach, mountains, lake, cruise, etc
The theme in color or style, such as rustic, vintage, boho, pop-art, modern, classic, minimal, traditional, etc.
How important your guests will feel.
Besides being well executed, the invitation has the potential to become a keepsake for you and your guests.
For all the above reasons it is worth giving your wedding invitation, some thought.
If you intend to gather ideas and actively take part in the design and personalization of your invitations, then you are in the right place at KBM D3signs.
You Can Expect From Spring Wedding Invitations by KBM D3signs
The wedding invitation designs encourage you to choose an invitation template regardless of its color. 
Each of the designs allows you to color it your way. What does it mean? You select a color with the color picker, remember to note the color code should you plan to match multiple products. Magically the design stays intact and appears in your chosen color.
Six Spring Wedding Color Ideas Sampling Invitations With Seasonal Symbols, Abstract, and Geometric Designs
First, Shades of Pink
The first mood board in shades of pink takes its inspiration from a blooming Magnolia tree. Soft pink tones pair up with white and grey hues. In detail, the accompanying wedding invitation embodies spring in symbol and color. The design shows, in particular, a feeding butterfly pair sitting on delicate pink blooms.
Second, Shades of Purple and Lilac
Second, lilacs' beautiful spring messengers did induce the color idea in shades of purple and lilac for this wedding mood board. The koru wedding invitation complements the arrangement.
Koru is, in fact, the Maori word for unfurling fern frond. A symbol fittingly associated with new beginnings.
Third, Shades of Pale Orange and White
Third, a mood board centered around soft pale orange hues contrasting the surrounding green of an anticipated ceremony in the park.
Featured is the versatile We Do photo invitation design. The particulars are, to choose your favorite photo memento to personalize the stationery design.
Fourth, Yellow Wedding Color Theme
Fourth, envisioning a bright blue-skied spring day, the mood board accentuates yellow florals, with lots of white, light grey, and nature's greens.
The arrangement notably highlights the dark butterfly wedding invitation design. The template works well with light to medium hues, such as the pale yellow coloring of the butterflies and blossoms.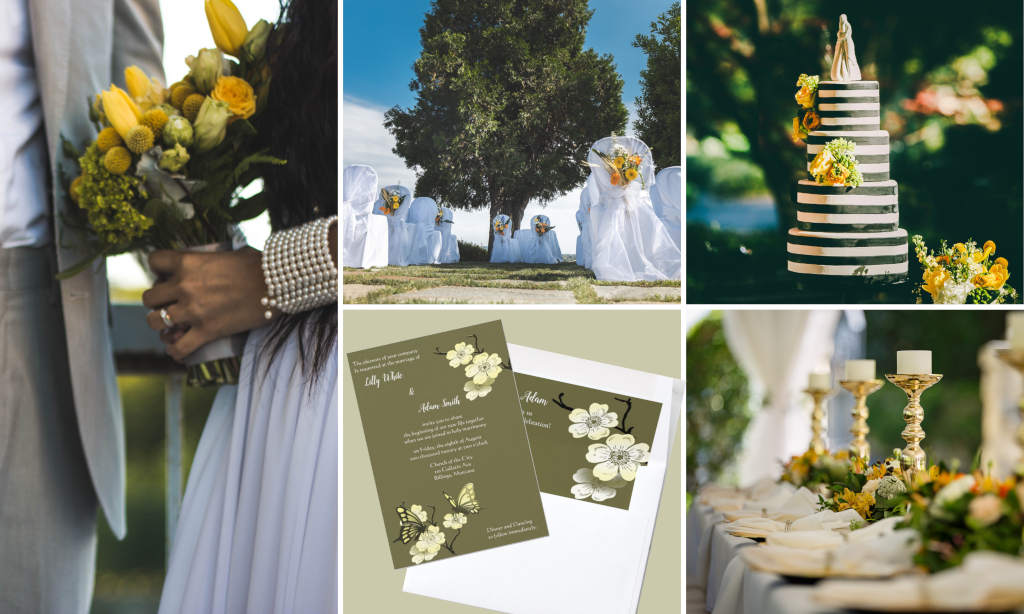 Fifth, Shades of Teal Green
Fifth, the freshness of shades of teal green induced the composition. Teal green accents pair up with white, giving the event a light-hearted and fresh tone.
To demonstrate, the mood board displays the creative wedding invitation paint-splatter design in green.
Sixth, Shades of Red and White
Sixth, a field smothered in white and accentuated with deep-red inspirited this composition. The spring vision highlights a classic color combination in red, white, and black.
The complementing wedding invitation in detail features a timeless stripe design, horizontal flowing white stripes on a red background.
If nothing strikes a chord, then visit our Pinterest board for more ideas on spring weddings.
Provided that you have a wedding theme and need a custom design or help to customize an existing design, then let's get in touch!
Your Spring Wedding Day Celebration and Its Future Promise
Indeed a spring wedding day sparks immediately vivid imagery of gardens and nature awakening after the long winter months. Since spring sensitizes all your senses with birds chirping, bees humming, and the liveliness of crawling and flying insects. Gardens that overflow with budding blooms and shooting greenery, infusing the air with sweet flowery scents. What a wondrous time of the year when you intentionally take it in.
Choosing to put your wedding day into the spring season, the period of new beginnings will give you many future occasions to celebrate your anniversary day during spring.