In the post about yellow home decor, KBM D3signs focuses on decorating living room spaces with yellow throw pillows augmented with African art prints by Tilly Willis.
Pillow hues and patterns aim to meet color, shading, and ductus prevalent in the art print.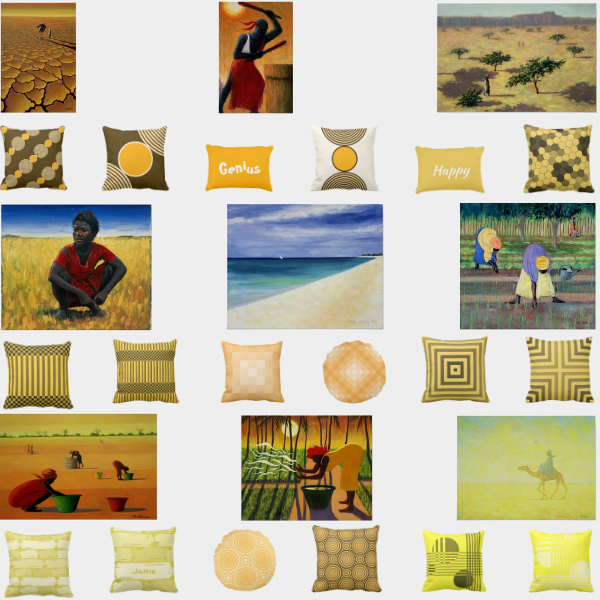 Why choose yellow home decor?
The first thought associations upon hearing the word yellow are warmth, sun, summer, and a happy emoji smiley face. Despite vivid emotional reactions to the hue yellow ranks in the Yougov survey on the lower end of the favorite colors.
Nonetheless, yellow as the brightest color of the visible spectrum can stimulate a friendly, energetic, communicative, and joyous environment. That makes it a great color to accent with for any living room.
Who is Tilly Willis?
Born and raised in Somerset in the South-West of England, Tilly Willis still resides there. Her family of artists nurtured in her an interest in art. Like this, it came naturally to study at the Somerset College of Art to set the foundation. After completion, she went on to study Fine Art at The Byam Shaw in London.
Since then, she works as an artist who finds many of her inspirations while traveling. Also, her interest includes still life, portraits, and enjoying working outdoors to catch the ever-changing light in the garden and landscape. A love for Africa developed during her travel to Kenya in her twenties. Today she still regularly visits Senegal. The artist explores life in Africa with her sketchbook and paintbrush, returning stylized African artworks. Her painting style, in addition to the vibrant color palette, makes her artwork stand out.
Nine suggestions to blend yellow pillows with African art prints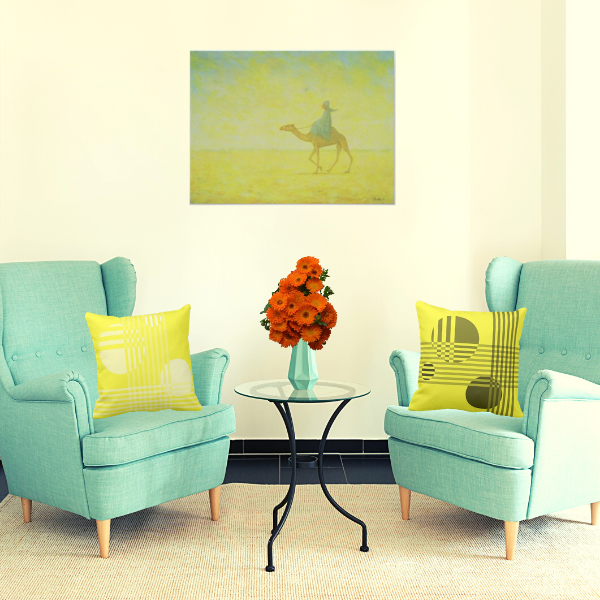 The Journey – displays a camel-back journey through the desert. In bright yellow with hints of turquoise and orange, the art print adorns a seating area with turquoise armchairs that show bright-yellow accent pillows with a circle and striped pattern. Decor mirroring the hues of the art print gives an overall refreshing feel.
Warming and comforting hues
Saharan Journey – tells the story of a human lead camel walking on cracked earth, in desperate need of water, into the distance. The poster promotes hues in yellow and yellow-brown with orange accents and decorates a white-walled and wooden-floored space with a yellow-orange armchair. One accent pillow shows a magnified pearl, while the second one shows rows of dark yellow pearls or a circle pattern. In both designs, these pop up from a yellow-brownish background.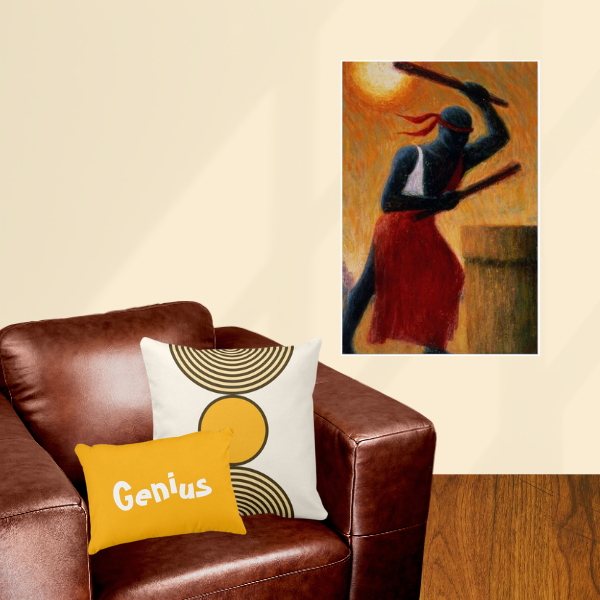 The Drummer, drumming under the afternoon sun, is an energetic painting in ebony black accentuated by white, red yellow, and warm yellowish-brown neutrals. It decorates a space with a dark red armchair. Armchair accents consist of yellow throw pillows with pearl patterns on a yellowish-white background reiterating the poster colors.
Calming and cooling blue blended with warming and communicative yellow
Girl in Red – the print has an energetic color palette of the three primary colors, yellow, blue, and red. The calming blue colored couch with yellow pillows mirrors the invigorating energy. Meanwhile, the pillow checker and stripes surface pattern corresponds with the character of the field.
The poster print – Indian Ocean – shines with a color symphony in the white clouded sky-blue, turquoise-blue-green Ocean contrasted by a whitish-yellow sand beach. It adorns the wall above a blue couch decorated with yellow pillows in a pixel pattern, while the flooring is of light-wooden panels. It makes a stylish and timeless space.
Yellow and green living room ideas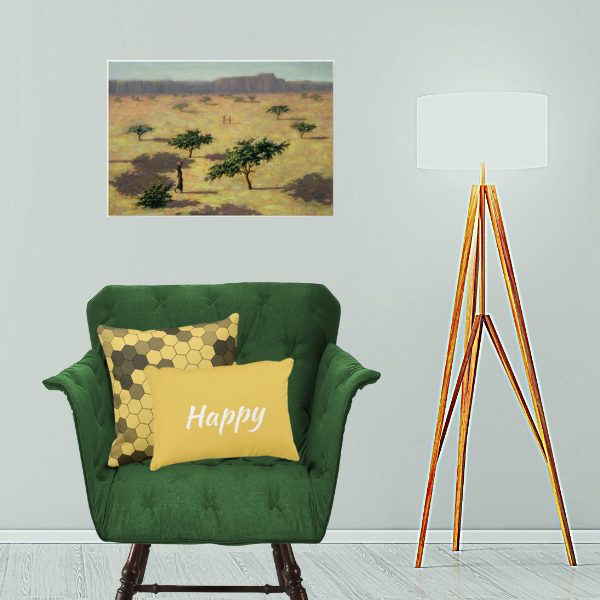 Sahelian Landscape Mali – vast grassland, sprinkled with trees and contained by a mountainous wall in the distance. The art print emphasizes the wall above a green armchair accented by a hexagon or honeycomb-patterned yellow pillow. The surface pattern reflects the peculiarity of the tree pattern.
Woman's Work – on vast yellow-colored fields, women dressed in vibrant red and green while collecting their harvest in buckets of similar hues. The print, full of hues that exude high energy, decorates the wall above a medium-green two-seater accessorized with yellow cushions that show a brick wall surface pattern.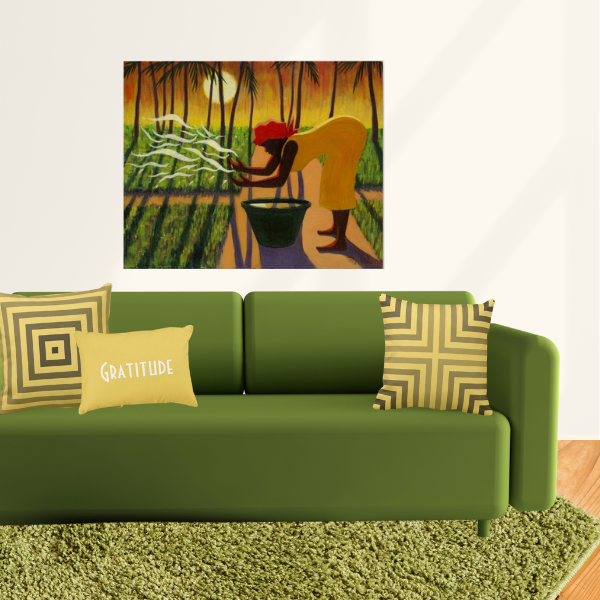 The Spirit Garden – the art print is full of earthen tones from yellow to sandy orange, browns, and greens. In the center, the gardener demands focus due to the heightened vibrancy of the colors yellow, brown, green, and red surrounding her. In response, a green couch and a green area rug furnish the white-walled and wooden-floored room. Meanwhile, the accessorizing yellow cushions in box patterns resound elements like the shadow cast by fencing palm trees and the cross between patches.
Women Gardening – sets the mood for more traditional lounge furniture in brown. The print lights up with blue and yellow accents. It is a valid reason to choose yellow cushions with a nested circle pattern in light and subdued. Ultimately, these mirror the round shape and the characteristic of the darker fertile earth.
What makes the yellow pillows by KBM D3signs stand out?
All yellow throw pillows are part of its pattern collection at the Zazzle store FallForIt showcasing the pattern and its variations in ten hues. Additional pattern variations include two or four pattern variations.
There each variation returns the fill color subdued or lightened, and with the colors black and white. And if none of the colors work for you, you can color it your way by modifying the fill color.
This feature, altogether, permits you to duplicate an existing home decor color or add to a new color scheme to support your decor ideas.
Furthermore, the pattern collections feature oblong and round pillows, poufs, cubes, and blankets. The ten different colorings include pink and grey, blue, green, orange, purple, brown, red, turquoise, and yellow.
For instructions on how to revise the fill color, please follow the links here: desktop devices or mobile devices. If you require hands-on help or you would like a custom design contact us directly on Telegram https://t.me/kbmd3signs_chat.
At KBM D3signs, we love feedback, so please feel free to post your color and decor idea.