Vincent Van Gogh art has the focus in this edition of Art Meets Pillows. Eight prints of famous impressionist paintings decorate the wall in sample living room spaces. And are thereupon paired with selected pillow designs by KBM D3signs.
Who is Vincent Willem Van Gogh?
Van Gogh is a painter of post-impressionism, and his artwork became posthumously one of the highest traded. The vibrant colors and the unique brushstroke bring an exceptionally dynamic and movement to the painting. Simultaneously the eye of the beholder merges the colors.
Of Dutch descendants, Vincent Willem van Gogh was born on the 30th of March in 1853 in Zundert. Spending his last years in France, Vincent died at age 37 from a self-inflicted chest wound on the 29th of July in 1890 in Auvers-Sur-Oise.
During the decade he worked as a painter, van Gogh created about 2,100 artworks, including around 860 oil paintings. In particular, the painter focused on painting and drawing landscapes, still life, and portraits. In the last two years of his life, however, van Gogh was most productive. His most recognized paintings came to completion. It is also the period Art Meets Pillows chose artworks from to create decoration ideas.  
Arles February 1888 to May 1889, 187 paintings
Positively van Gogh was artistically at his height. His paintings reflect his skills as a painter and his love to work outdoors. Indeed, by merging his impressionist influences, gained during his stay in Paris with a newfound love for color, a painting style emerged that became his own.
Four selected works of this period:
Twelve Sunflowers
Pink Peach Tree in Blossom
Fishing Boats on the Beach at Saintes-Maries
Encampment of Gypsies with Caravans
Vincent van Gogh art meets pillows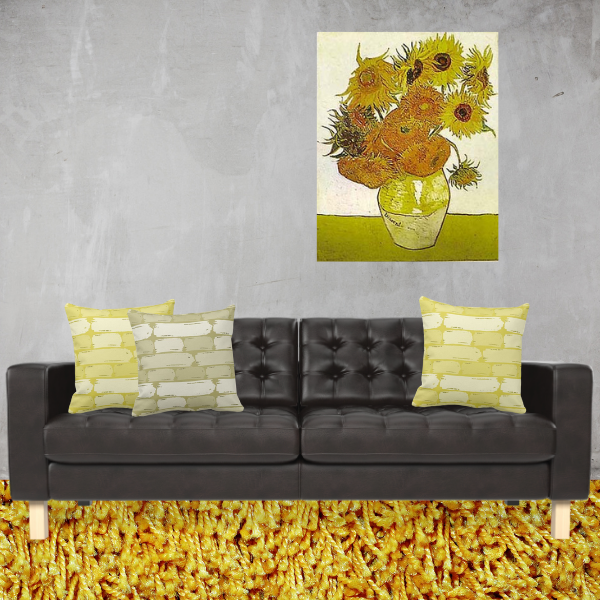 A series of sunflower paintings found inspiration in preparation for the arrival of his friend Paul Gaugin. The sunflower rustic flair encouraged accessorizing the black leather couch with yellow and brown pillows that show a brick wall pattern.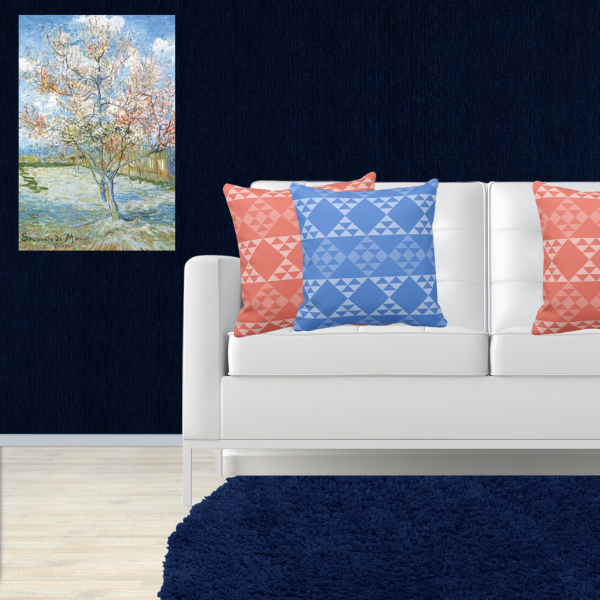 It is a masterpiece in capturing the lightness of a peach tree blossoming. The living room decor idea shows a midnight blue feature wall against which a modern white couch stands. Mimicking the airiness present in the art print, a blue and a pink pillow with an ethnic pattern decorates the sofa. Both show a triangle pattern.
The peaceful coastal scene with its guiding perspective feeds the imagination of sea travel. Hanging above a grey modern two-seater yellow and orange pillow references the eye-catching colors in the painting. Meanwhile, the pixel pattern corresponds well with the existing color shades.
Here a resting camp with feeding animals, wandering kids, and the adults sitting in the afternoon shade.
A rustic living room space refers to the pre-valent colors by exhibiting a red two-seater with green and brown pillows that show a layer print pattern.
One year in Saint-Rémy de Provence from May 1889 to May 1890, 142 paintings
The most challenging year probably, while the most creative one in the artist's life, was the year he spent in the asylum of Saint-Remy. There the artist confined himself after cutting off his ear. In lucid periods he would, in arrangement with the care personal, work outdoors, while other times, he would paint from memory.
Three artworks from this period
Wheat Field with Cypresses at the Haute Galline Near Eygalieres
Irises
Starry Night
Auvers-Sur-Oise May to July 1890, 77 paintings
Vincent returned to live near Paris, where his brother Theo resided. Both brothers deemed it best for Vincent to live under the care of Dr. Paul Gachet. Undeniably works from this period are among the most loved ones.
The chosen painting: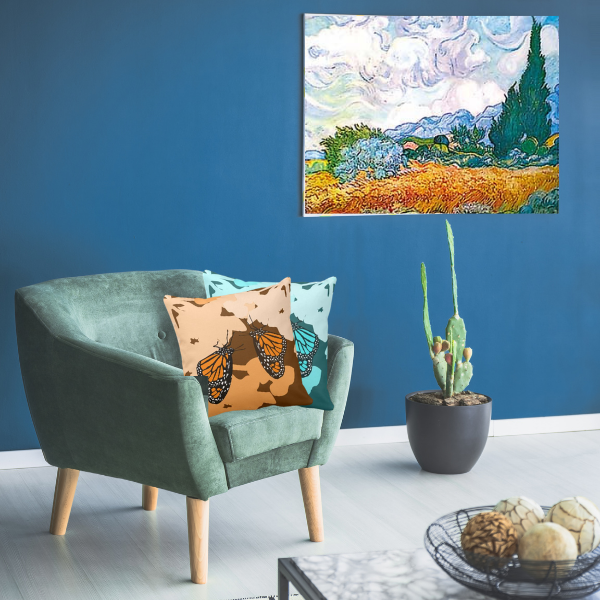 This expressive landscape shows the wheat field moving in waves under the influence of the wind. Fringed by cypresses and wind chased clouds. In response to color and flowing forms, an orange and turquoise pillow pair with Monarch butterflies feeding on milkweed decorates a grey armchair.
One of the artist's most known paintings is Starry Night which van Gogh painted from memory. The round starry swirls correspond well with the pillows in yellow and turquoise. Both have a beads pattern and accessorize the blue reading armchair under the painting.
A vivid portrait of irises from the asylum garden captured already eyes on their first exhibition. In the example, a grey reading armchair displays a blue and green pillow with angular patterns. Both reflect some of the energy from the painting.
Summer comes to mind when looking at the Church at Auvers. Blooming summer green weeds and a deep blue sky frame the church and a sole woman nearing the building. Responding to the existing hues, pillows in blue and lime-green accessorize the blue couch. Meanwhile, the pattern shows fragmented circles.
What makes the pillows by KBM D3signs stand out?
Both pillows are part of a collection of ten colorations. Additionally, there are two pattern variations, where each returns subdued or lightened and in black and white. If none of the colors work for you, you can color it your way by modifying the fill color.
This feature, altogether, permits you to match an existing home decor color or a new color scheme to support your decor ideas.
In its entirety, KBM D3signs arranged a collection of the presented pillow ideas in the store, Fall for It, at Zazzle.
Furthermore, the store holds complete pattern collections where the products come in ten color variations and is published further on oblong and round pillows, poufs, and blankets. The ten different colorings include pink and grey, blue, green, orange, purple, brown, red, turquoise, and yellow.
For instructions on how to revise the fill color, please follow the links here: desktop devices or mobile devices. If you require hands-on help or you would like a custom design contact us directly on Telegram https://t.me/kbmd3signs_chat.
At KBM D3signs, we love feedback, so please feel free to post your color and decor idea.