Turquoise and orange pillows are a great and inspiring summer combination. Given this, KBM D3signs presents six living room decoration ideas using vivid colored wall decor by Chris Rice to pair up with throw pillows in turquoise and orange.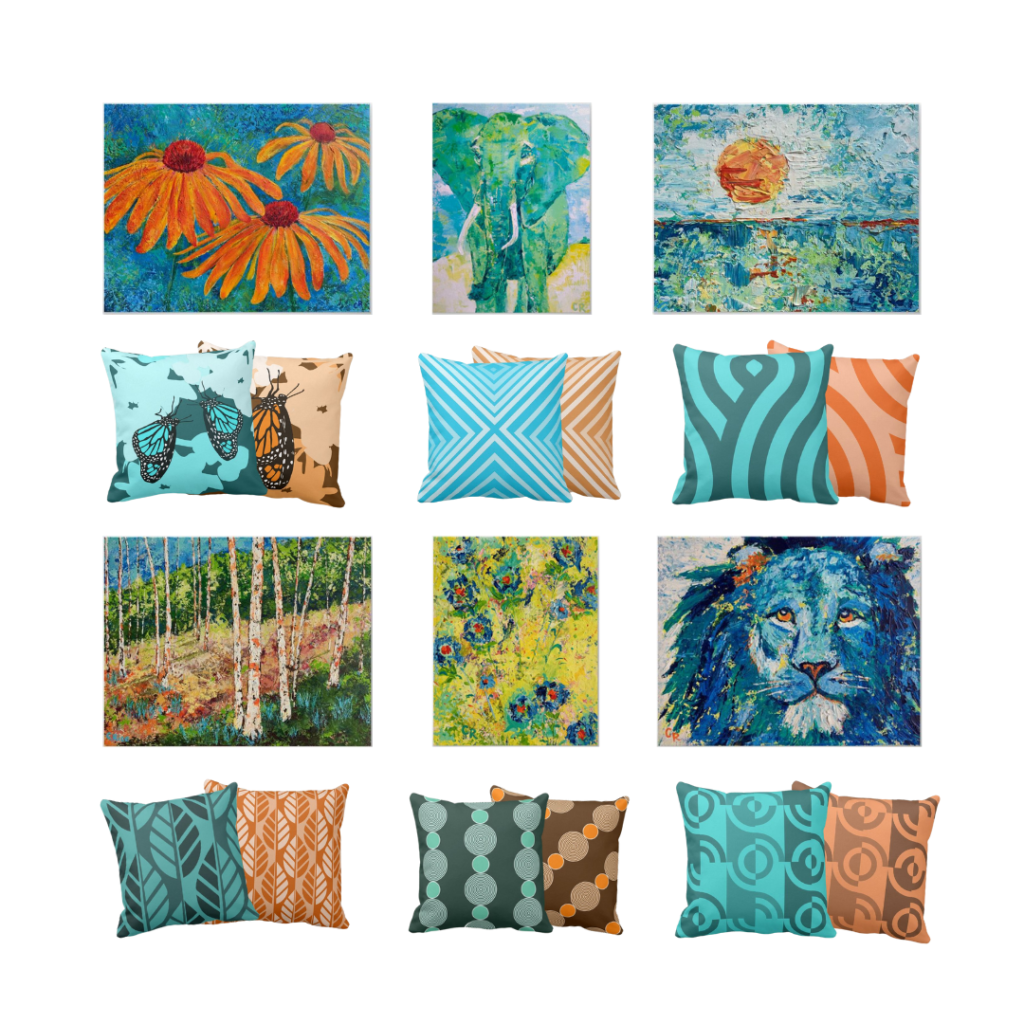 Why choose turquoise and orange pillows for your summer living room decor?
Orange finds its place as a secondary color between red and orange. For this reason, the color has characteristics of each of the colors, such as joy, communication, and spreading loving energy. Pairing orange with its complementary color turquoise supports the summer vibe. The energetic expression of turquoise relates to communication and creativity.
Both colors show desirable attributes for a family living room to inspire a vivid, communicative and creative space filled with love and laughter.
Who is Chris Rice?
Musician. Painter. Author.
"Mine is a life inspired by the beauty and color of nature, the contemplation of God, and the humor tucked into small everyday moments. Driven to communicate all of this through creative means, I am overwhelmed by the privilege, and happy to find my work reaching so many people in meaningful ways."

— Chris Rice
Chris Rice was born in the 60ties as the second son of four in a suburb of Washington DC. After his undergraduate studies in psychology, Chris uses multitudes of methods to explore and express his creativity. The artist experienced his career kickoff as a musician in Nashville. Since then, Chris has added success as an author, poet, and painter. While his enthusiasm for hiking and rock climbing recharges and nurtures his creativity.
Six decoration ideas on blending turquoise and orange home decor
The Coneflower Trio has a vibrant expression with orange petals around a boysenberry red center set against a saturated turquoise sky. The art print accentuates a friendly light-flooded white living room. A boysenberry red armchair furnishes the space, and a pair of throw pillows serve to accent the furniture. These show a monochrome Monarch Butterfly print.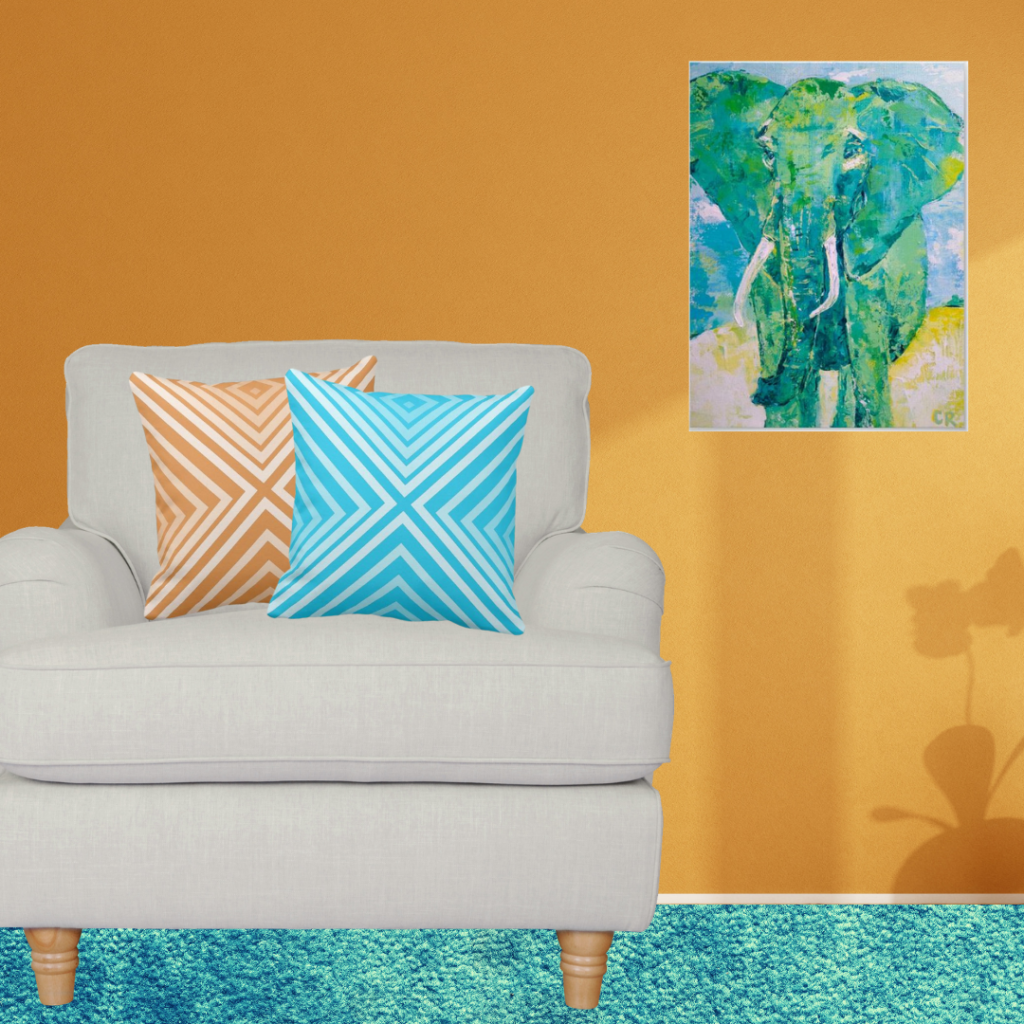 Be Strong captures the heaviest land mammal, the African bush elephant. The artwork decorates a friendly yellow-walled living room with turquoise carpet and white furniture. A throw pillow pair, complementing the armchair, shows a detail of the cornered pattern design by KBM D3signs.
Possibilities of dark red and brown lounge furnishings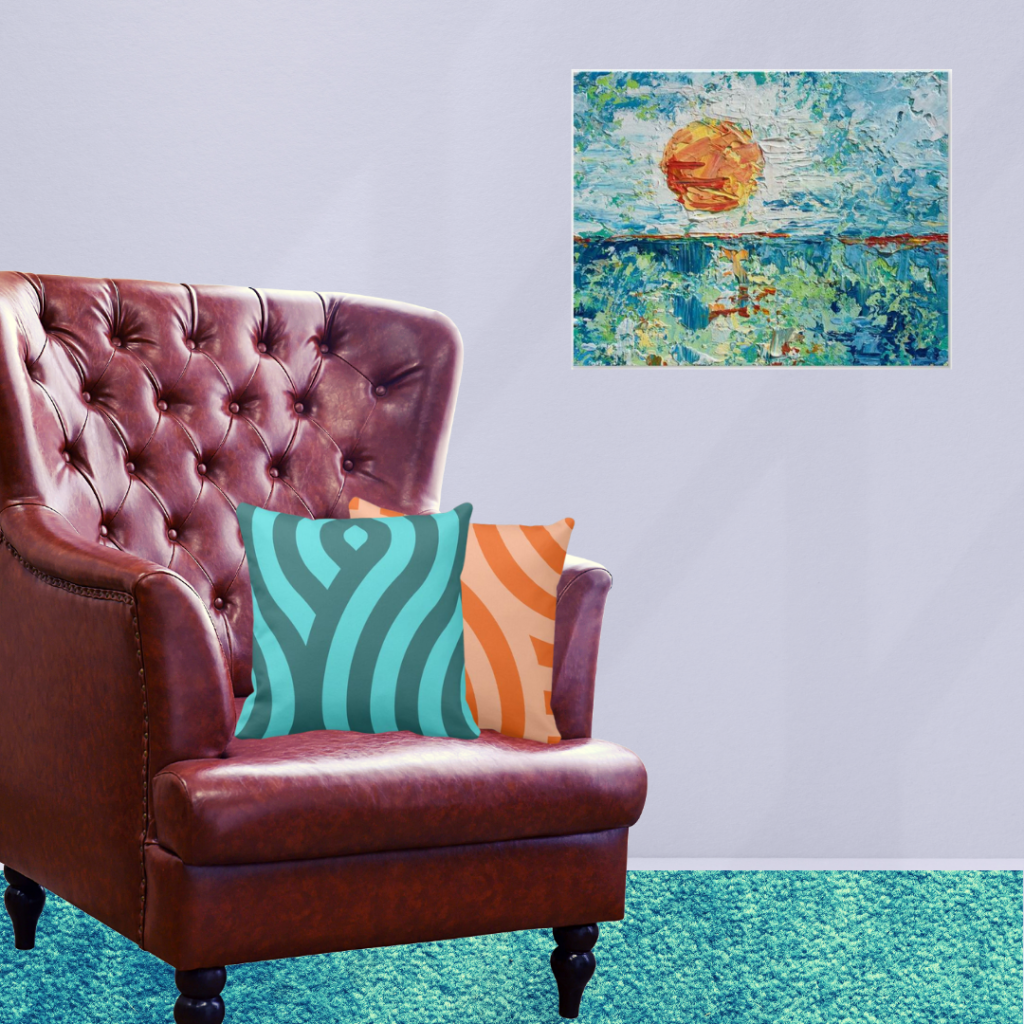 Day's End shows a seascape with the promise of a distant land on the horizon. It is a feast of layered colorations in turquoise to green and orange. The art print decorates a living space with a watery blue-grey wall and turquoise carpeting. There, pillows in turquoise and orange accent a high-backed armchair in a dark reddish-brown. The throw pillows show details of a wave pattern design.
Morning Grove captures a birch forest in the early morning light. The art print decorates an ivory-colored wall with turquoise carpeting above a dark brown armchair accented with throw pillows with a leaves surface pattern.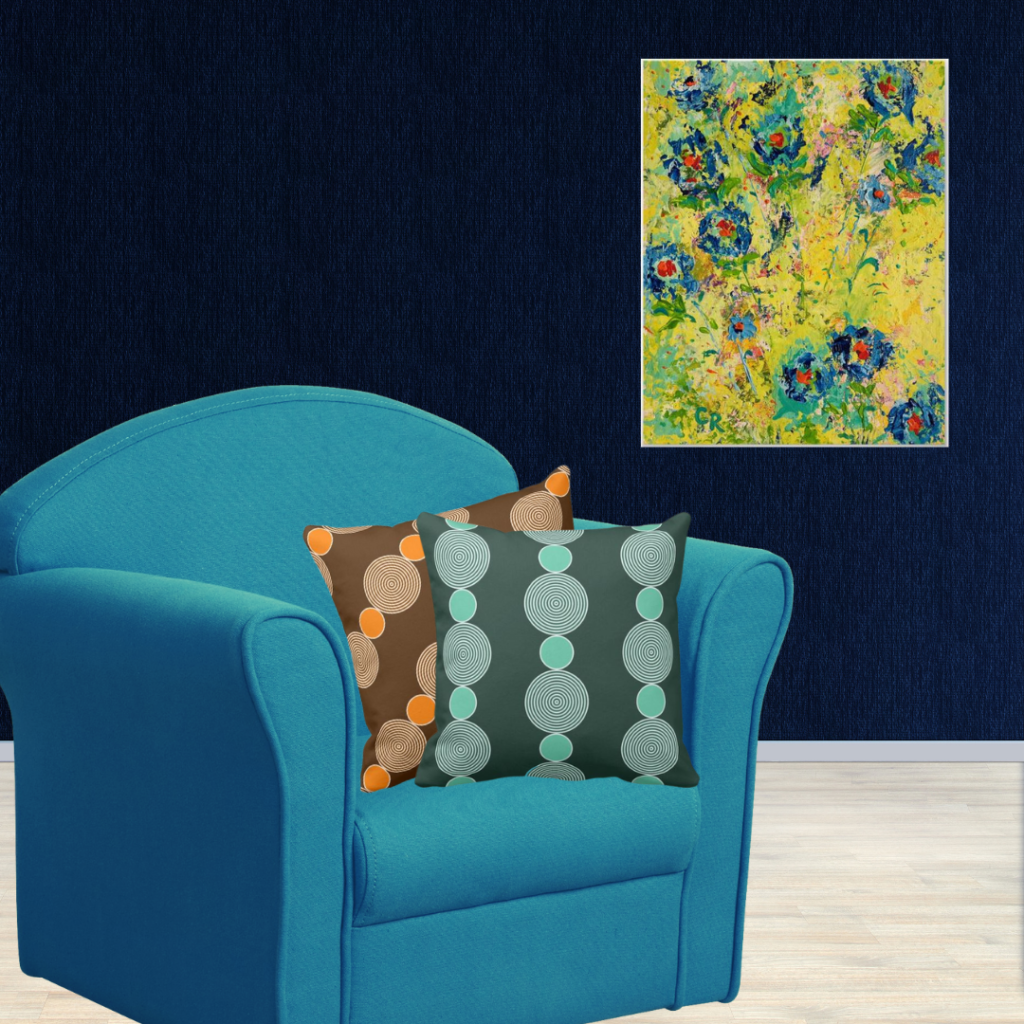 Blossoming Blue dust these fragile florals over greeneries. The artwork highlights the dark blue feature wall of the living room space with whitish wooden flooring. A turquoise-blue armchair furnishes the room accessorized with a pair of throw pillows that display a beads pattern.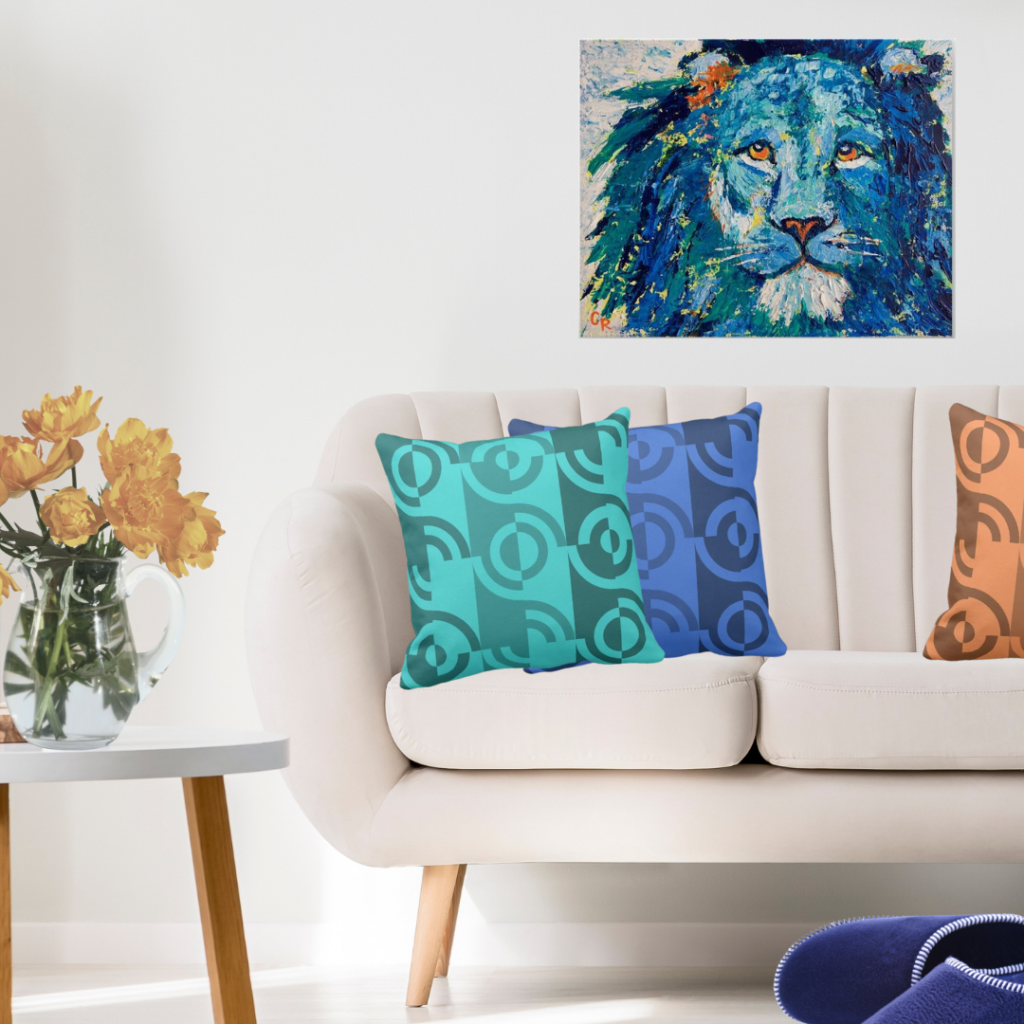 Brave portrays a lion in abstract color hues of blue, and turquoise with orange accents. The artwork decorates a white wall, floored, and furnished living room. The complementing accent pillows are turquoise, blue, and orange with a fragmented circle surface pattern.
What makes the pillows by KBM D3signs stand out?
All turquoise and orange pillows are part of their pattern collection at the Zazzle store FallForIt. There each pattern comes in eight more hues apart from turquoise and orange. These include pink and grey, blue, green, purple, brown, red, and yellow decorating square, round, and oblong-shaped pillows. Additional home decorations include round and cubed comforters and blankets to stay warm on colder evenings.
Each pattern exhibits variations in placement, including focusing on a specific detail, and variation of direction, like horizontal, vertical, or diagonal. Some differences come through in the pattern itself. And include the pattern display in white or black in addition to shades of white or black. A fact that returns the custom fill color either paired with black or white and subdued or lightened.
This feature, altogether, permits you to duplicate an existing home decor color or add a new color scheme to support your decor ideas.
For instructions on how to revise the fill color, please follow the links here: desktop devices or mobile devices. If you require hands-on help or you would like a custom design contact us directly on Telegram https://t.me/kbmd3signs_chat.
At KBM D3signs, we love feedback, so please feel free to post your color and decor idea.