We Found For You on our Hunt Through the Zazzle Marketplace
Finding the four best wedding invitations on the Zazzle marketplace was fun and a more demanding task than expected.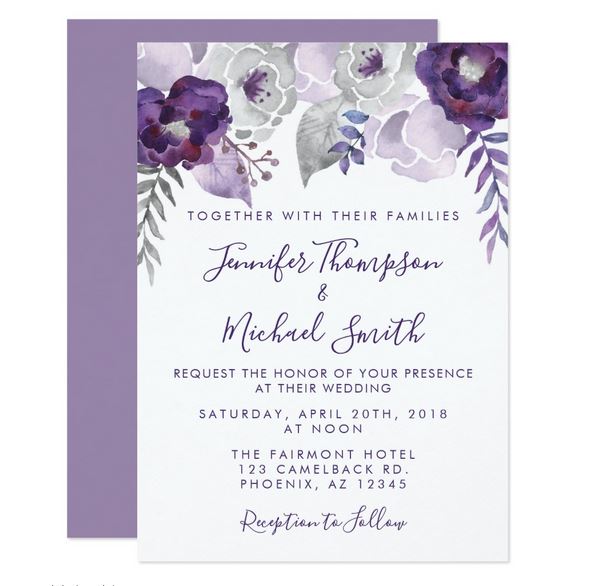 First Find:
Watercolor wedding invitations by Melissa Williams are remarkable.
The one that caught our eye has a floral design in lavender hues. The stationery set is well organized, and the light and dark shades, attract and guide the eye.
It is an exceptional job.
---
Second Find:
Ujean K. has outstanding works on display in her stores. The nautical theme stood out in clarity, composition, and unique delivery.
Loved the dominant coral color with fragments of navy blue and generous white space for balance. Beautiful!
---
Third Find:
Yellowfebstudio convinces with an abstract design of irregular shapes and lines painted in hues of light blue on Kraft paper. The wedding invitation exudes a modern flare. The design stands out and attracts.
Love the clarity of composition and chosen font.
---
Fourth Find:
Christina Anderson is the creator of an exceptional minimalist invitation design in black and white.
The series captures a black and white photograph and deliberate use of font, placement, and size.
---
Scale tipping points for Best Wedding Invitations:
The invitation had to draw my eye on first sight, second and third sight. 
To be considered uniquely beautiful, the color mix had to match.
Spaces between design and text had to feel balanced.
The font had to be legible, and the design complemented in form and color. 
The three designs had to be from different designers. 
Each invitation filled a place in a wedding stationery design collection. In short, it had to be part of a whole.
Considering It Is True That Zazzle Is Home To A Large Designer Community
Many of the designers are very talented and have an exceptional eye for detail. Plus, the wedding invitation department is enormous, which demanded patience to look through. Some designers have exceptional solitary work, and to find an invitation that is part of something bigger required more effort.
All in all, selecting three of the best wedding invitations out of an avalanche of creations proved to be more engaging than planned. Funnily once I found an exceptional card, it turned into a magnet for works by the same designer.
For all who are still in their wedding planning stage, KBM D3signs prepared a wedding planning checklist. Learn how to make the wedding checklist yours or use it as a draft to start your own list.