A pink, purple, and orange decor is a colorful and innovative decor solution to emphasize this captivating landscape print. Called 'Brightwater', it is an art print by Leah Spicer and available at prints.co.nz.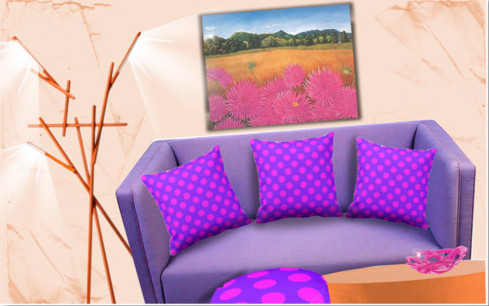 The artist zooms in on a dense blossom blanket that cascades into a summer-dried pale orange-brown flatland. Finally, green hills re-collect a sweeping gaze.
In response, the pink purple orange styling approach picks up on the round blossom shapes with pink polka dots. The pink dots set a vivid contrast to a purple background. In this example the throw pillows are set against a softened purple two seater. As shown above an orange-brown colored lamp stand and coffee table as well as additional purple accessories conclude the styling idea.