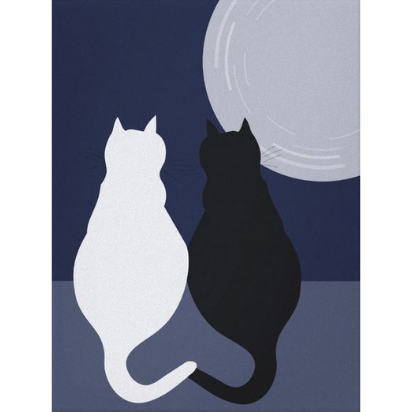 Black and white cats sit companionably together under a moonlit sky. The blue wall decor shows off monochrome hues from white to dark blue and black.
To explore the full collection of customizable digital art prints by KBM D3signs, please follow the thumbnails. Notably, too, these art prints are available on wrapped canvas as well as a poster. That potentially makes a cheaper wall decor solution.
How to customize your black and white cats on kitchen wall decor?
The white, black, and blue canvas print is a modern wall decor symbolizing companionship, love, and togetherness. The art print is available as a framed wrapped canvas or more budget-conscious in poster quality.
However, it is worth mentioning the print shows the monochrome shades of dark blue. That means the blue is visible in its original color and lightened by white or subdued by black. If the color meets your taste as is, then that's perfect.
On the other hand, if you prefer a different hue, continue reading to learn a method that allows influencing the background color. Due to the templates using white and black to achieve monochrome color tones, mid-range background colors return the best possible print results.
For convenience, KBM D3signs published a step by step guide that gives instructions in word and image on how to change the background color using a mobile device or a desktop. To request help with the customization, please follow the link to inquire.
For more inspiration on kitchen wall decor ideas, visit the Zazzle Marketplace.
The framed and wrapped canvas print features
Comfortably the wrapped canvas print comes in fourteen standard sizes and also allows for custom measurements to suit any kitchen wall space.
Additionally, the frame thickness comes in three sizes ranging from 0.75 to 2.5 inches.
Features for the cheap orange and black art poster
Choosing an attractive monochromatic print by KBM D3signs as a poster makes a great cheap blue wall decor for a kitchen. The poster paper qualities range from value paper in matte to semi-gloss poster paper. And from an archival heavyweight paper in matte to premium canvas with a gloss finish.
Easily liven up any kitchen wall space with twenty-two standard sizes and the option to order to measure.