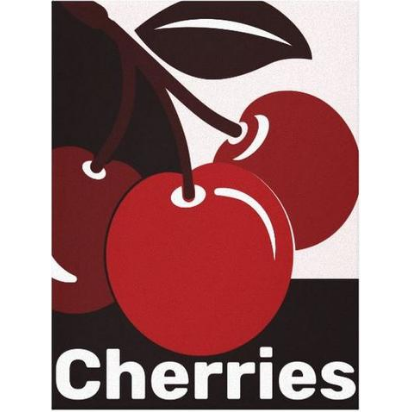 The red cherry decor for the kitchen wall shows a triplet of cherries with a descriptive caption in white. The canvas print makes a beautiful fruit wall art for kitchens.
Moreover, find theme related kitchen wall art in the linked collections. Equally important, these are available on wrapped canvas as well as a poster print. Which, in turn, makes a cheap red kitchen wall decor solution.
How to customize your red fruit wall art?
The red cherry decor as a classy kitchen wall decor is available in poster quality or on a framed wrapped canvas.
It is worth noting there are three templates. The first combines monochrome hues close to black, red, and close to white. The second one shows the red hue subdued by shades of black. And the third one favors a pinkish pastel-colored result through the red color lightened by white. If you like the color as is, then that's perfect, and no further reading is necessary.
In the instance that your kitchen requires a different hue of red, continue reading. There is a solution by modifying the red background color. Due to the templates using white and black to get monochrome color tones, mid-range background colors work best.
For you, KBM D3signs prepared step by step instructions that give insights in word and image on how to personalize the background color using your desktop or mobile device.
Apart from modifying the red background color, change or remove the caption. Also, choose a font best suited to support your kitchen style. A trick that lets you use the red cherry decor for a country-style kitchen, contemporary style kitchen, or traditional style kitchen wall art decor. Further, adjust the font-size until it is right, and even customize the color to white, black, or any. To request help with the customization, please follow the link to inquire.
For additional inspiration on unique kitchen wall decoration, browse the Zazzle Marketplace.
Features of the framed and wrapped canvas print
Comfortably the wrapped canvas print comes in fourteen standard sizes and also allows for custom measurements to suit any wall space.
Additionally, the frame thickness comes in three sizes ranging from 0.75 to 2.5 inches.
Features for the budget cherry print as a poster
Choosing an attractive monochromatic print by KBM D3signs as a poster makes a great budget kitchen wall decor. The poster paper qualities range from value paper in matte to semi-gloss poster paper. And from an archival heavyweight paper in matte to premium canvas with a gloss finish.
With twenty-two standard sizes and the option to order by exact measurements, it is possible to re-decorate any kitchen wall space.