Good Day At The Bay is a designer print title by Greg Straight.
Greg is a New Zealand artist who has a keen interest in the surfing sport. And one of his favorite surfing beaches is Maori Bay. The small bay borders Muriwai on the West Coast in Auckland. Therefore it is natural that the sea theme carries over into his artwork.
Crisp, clean lines are a signature of his artwork. The print uses two colors and shades of each that is blue and brown.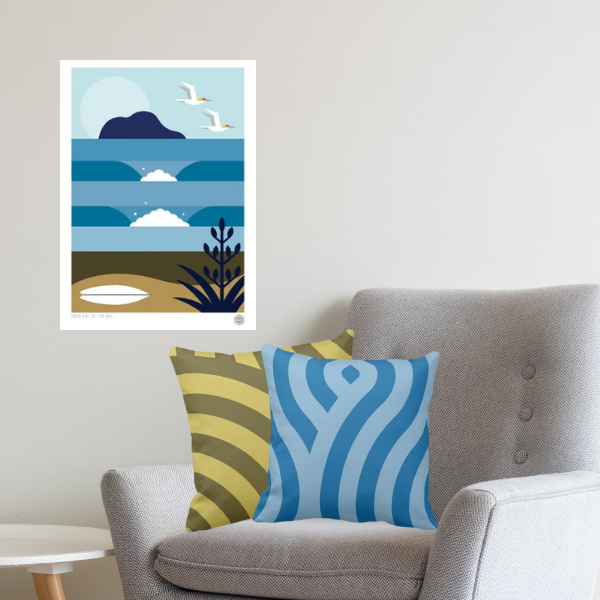 Here, the blue and brown theme finds reflection in the home decor accessories of the throw pillows. One appears in shades of brown, and the second one appears in shades of blue. Both enjoy a bold striped wave pattern accenting a light grey armchair in the white-colored living room.
What feature makes the pillows stand out?
Brown and blue waves pattern accessorizing A Good Day At The Bay designer print.
The living-room decoration idea pairs the bay designer print with a blue and brown throw pillow set.
Their best feature is to allow customizing the fill color. What does this mean for you? If you like the pattern design, but the color does not work for your living-room, then color it your way. A modification of the fill color changes the cushion color.
Choosing the blue pillow will return your coloration choice with a monochrome pattern lightened by shades of white. Alternatively, altering the brown color on the second cushion results in your selected color in a monochrome surface pattern darkened by black.
Altogether, this feature enables one to match existing decor or adjust the decor item effortlessly to a new interior decor project.
Both pillows are part of the waves pattern collection by KBM D3signs and are available in the store Fall For It at Zazzle.
For instructions on how to modify the fill color, please follow the links here: desktop devices or mobile devices. If you require hands-on help or you would like a custom design contact us directly on Telegram https://t.me/kbmd3signs_chat.
---
New Zealand Wall Decoration