Professional home care business card and marketing materials that include three template ideas. Three colorations are ready to promote your professional caregiver services for seniors.
In essence, each of the colorations pairs a dark purple with a pastel. All in all these pastel hues consist of green, orange or blue.
FAQ About The Business Card Idea
Why invest in business cards?

Ease Of Use

For our aging generation, it is often easier to take a business card than to deal with your service details and contact information in a digital form.

Prospective Clients May Not Carry Their Smartphone

In an age where everyone seems to carry their mobile phone around, you might encounter clients who do not. The good news is, be prepared and have your business cardholder filled, to hand out a calling card whenever needed.

Sketchy Connectivity

Carrying printed contact information makes you prepared for remote areas, connectivity holes, and internet disruptions or in situations like hospitals where cell phones are in airplane mode.

First Impression
A professional visual identity adds weight to a first impression. It helps in building trust that you take your service business seriously.
Are The Home Care Business Cards Customizable?
Yes. The biz card templates allow for easy exchange of logo and service descriptive images. Additionally, choose the preferred print paper.
Are The Color Pairs Easy To Read?
Yes, a test with the color contrast checker confirmed excellent readability for each pair. Purple #271F30, green #C3FB9D, orange #FFB570, turquoise #BEDAC0
The Colors, Are These Customizable?
Yes. After replacing text and images, follow the link customize further. Then modify the background color and shape color. The shapes consist, often, of two colors the body and the border both need altering.
What To Do About The Fonts?
If you prefer a different font, font size, or font color, change it. Check the color contrast for easy readability. Additional double-check that the font and font size support clear reading too.
Marketing Materials Complementing The Home Care Business Card
KBM D3signs prepared a series of products that complement the biz card in color and style in order to align with your visual identity. Once you reach the next step in your business development, it is easy to expand your marketing kit. 
Ready to advertise on the go? The car magnet with your service and contact information indeed does just that. Meanwhile, a rack card is placed best in places frequented by prospective clients. And the Refer A Friend Card is an incentive to get clients through worth-of-mouth recommendations by your existing clients. With a bonus that allows a winning feeling for all.
Presently many services venture to expand their businesses or client base by offering workshops. Whenever your services' name is involved use the opportunity to connect your brand with the occasion. In brief here are some ideas. With this in mind, guide the way and give an overview with a banner. To emphasize, the weight and value of the taught information put complementary printouts in a presentation file with space to include your business card.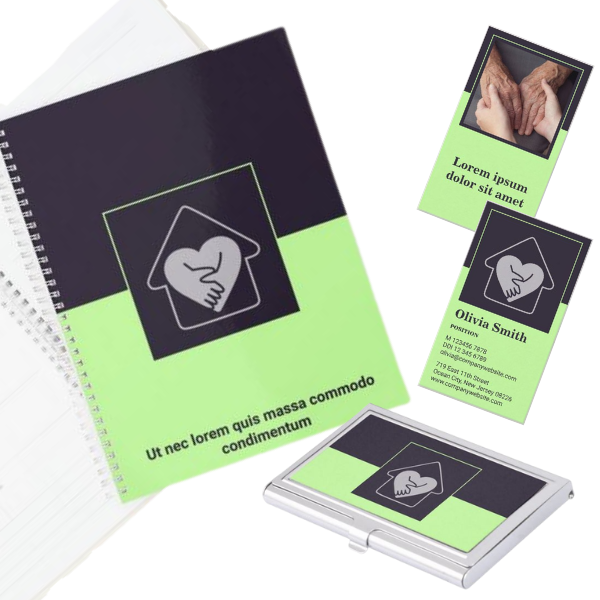 Promotional items, on the other hand, aim to linger for an extended period. In summary, these items comprise totes, magnetic notepads, planners, photo booklets, coffee mugs, keychains, and more.
Stay on brand when sending a thank you message or season greetings.
If you require hands-on help for product customization, expansion, or you would like a custom design, then contact us directly on Telegram.