Choose a Life Coach business card with a photo that all in all works best for the information your target customer seeks. For the most part, business cards share contact details. Then use them to share what the service is about. Also where to find out more, or even get a taste of the service provided are important information to convey.
Altogether, KBM D3signs prepared landscape, portrait, folded, and a magnetic biz card. Each card template allows you to add a profile photo, ideally a black and white cover photo, and text easily to the template with further customization possible.
Why use a business card with a photo? 5 Reasons
1. A photo assists in visually recollecting to whom the business card connects. 
2. Many small businesses build their brand around a single person.
3. Being recognized gives a competitive edge in some fields.
4. Professional profile photos support an excellent first impression.
5. It allows sharing about you or your business by choosing a custom background.
Marketing Items Complementing The Business Card With Photo
Complementing marketing items are great to expand a small business marketing tool kit as it grows without the initial need for additional hires. All items are as customizable as the business card.
The product collection shows accessories that match the modern business card style. And include a business card holder, personal planner, and pen. Spread the word effortlessly about your services. A car magnet with contact and service information passively introduces your business for the same purpose use rack cards or flyers. The refer a friend card easily allows existing clients to feel motivated to share your coaching services.
Practical promotional products include a fridge notepad, tote, or coffee mug. These items easily stay around and in use and keep your services present until needed.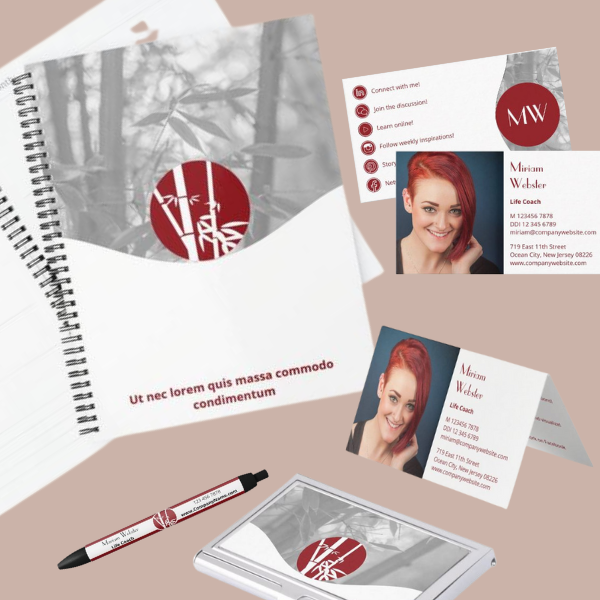 Keep in contact by sending a card of thanks or season greetings when the time comes to stay present with current and prospective recurring clients.
Whenever a workshop or seminar becomes an additional promotional or income branch then accessorize these in your brand colors. A roll-up banner straightaway leads the way by becoming identifiable and offering direction. Meanwhile, a presentation folders, or water bottle label add style and weight to the event.
The marketing items are various. For the complete collection, click through to our Zazzle store Cocoon It. Should you require additional promotional items that are missing, then contact us. We are happy to expand or create a custom design.
What Makes The Life Coach Marketing Items Stand Out?
The template design lets you on the whole personalize photos, logo, text, font, and font size. Does the color obviously fail to work? Then change the font color and adjust the fill and shape color.
For instructions about revising the fill color, in fact, follow the link: desktop devices or mobile devices. If you require hands-on help for a product expansion, or you would like a custom design, then contact us directly on Telegram https://t.me/kbmd3signs_chat.
At KBM D3signs, we love feedback, so please feel free to post your color and decor idea.
---
Small Business Marketing Materials