Love wall decor and love home decor focus on the letters L O V and E. Playfully, the letters interweave to a seamless repeat pattern.
Three living room impressions show wall decoration uncovering a seascape scene of a beautiful New Zealand beach.
Stylish black, white and blue
Modern blue, grey, and white
Traditional blue and brown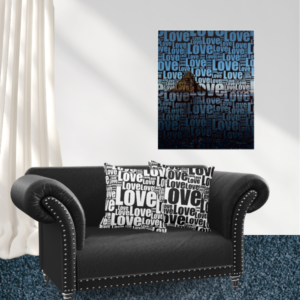 Love Wall Decor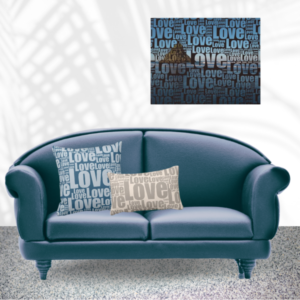 Love Beach Landscape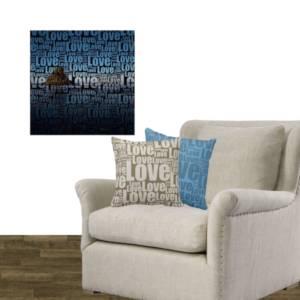 Love Wall Decor Seascape
First, Love Wall Decor In Stylish Black, White, And Blue
The first stylish living room decoration shows a black two-seater in a white room with dark steel blue flooring. Two pillows with the Love repeat pattern in white on black and reversed. Meanwhile, the wall decorates the seascape in a portrait format.
Second, Modern Blue, Grey, And White
A modern white room with grey flooring surrounds the blue couch. The seating furniture displays a square throw pillow in blue with a light blue pattern and a lumbar pillow in antique white with a grey typographic love pattern. On the wall hangs a beach motif in landscape format.
Third, Traditional Blue And Brown
Brown and blue are the hues for the traditional living room setting. One brown and one blue throw pillow decorate the sandy brown armchair. The medium brown cushion shows in a lighter tone the typographic pattern. Meanwhile, the medium blue pillow displays it darkened. A square poster print decorates the wall with the beach scene.
Ideas Using the Love Topography Pattern
Learn how to Customize Designs by KBM D3signs
Can I Customize The Wall And Home Decor?
Yes.
How To Customize Displayed Wall Decor?
The design comes as a template that allows you to load up a photo and replace the seascape.
Can I Personalize The Coloration Of Home Decor?
Indeed you can. On the product page, follow the text link – Customize further – once there, use either the color picker or enter a Hex code. The result will show the pattern either in black, or white and the color selected. Alternatively, the modified color shows the typographic pattern design lightened or subdued. Click through for step-by-step instructions.
If you require hands-on help for product customization or expansion, or you would like a custom design, then contact us directly on Telegram https://t.me/kbmd3signs_chat.