A kids bowling birthday party certainly means a lot of fun. Here with this article we will explore how to plan a bowling party for your child's birthday.
When it comes to celebrating a child's birthday, finding the ideal party theme that combines excitement and entertainment can sometimes be a challenge. One timeless and fun option that has captured the hearts of children for generations is a bowling birthday party. Bowling parties are a fantastic way to create lasting memories while providing a fun and social activity for kids of all ages. In this article, we'll walk you through the process of planning a successful kids' bowling birthday party, from choosing the right age group to what to bring and what to expect on the big day.
Bowling Party Invitation For Kids
What to Consider When Planning a Kids Bowling Birthday Party?

When planning a kids bowling birthday party, there are several important aspects to consider:

Invitations: Design creative invitations that feature bowling pins, balls, and a playful theme to set the tone for the party.

Guest List: Determine the number of guests you'll be inviting and contact the bowling alley in advance to make sure they have enough lanes available.

Food and Beverages: Many bowling alleys offer food and beverage options. However, if you have special dietary needs or preferences, consider bringing your own.

Decorations: While the bowling alley may provide basic decorations, consider adding a personal touch with balloons, banners and table settings that match the bowling theme.

Party favors: Prepare goodie bags with small toys, stickers and candy for each guest to take home.

Can I customize the Kids Party Invitation?
Yes, customization is possible in two steps. In fact, all items in the Bowling Party Collection allow for customization.
First, use the template and fill in the text and image placeholders that appear in the birthday party invitation.
Second, for further customization, follow the link – Edit Design or Edit with Design Tool.
Personalize the template
In fact, each template allows you to replace the given text and images with your own.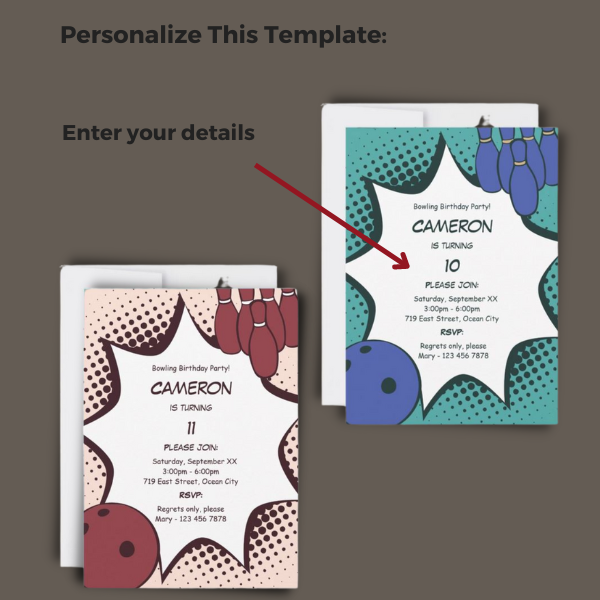 Red Kids Bowling Party Invitation, Template Modified to Blue and Green
Edit Using Design Tool
Within the design tool, you can adjust the background fill color to a color of your choice. You can also customize the font color and element color ( pins, bowl as well as the flash shape).
Bowling Party Invitation, Edit
For assistance in customizing the bowling birthday party supplies, we prepared a step-by-step guide on the following page.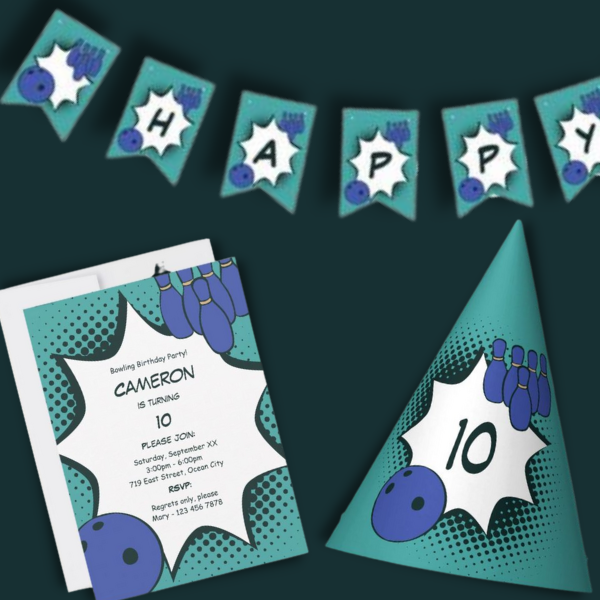 Blue-Green Bowling Party Invitation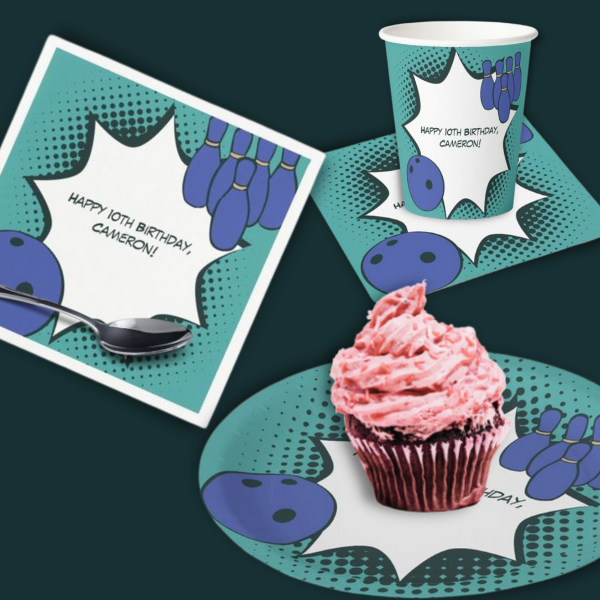 Bowling Party Table Decor
Bowling Party Favors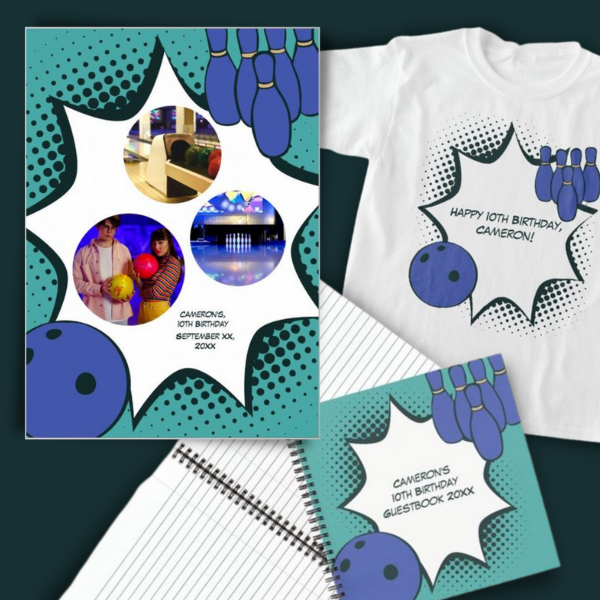 Blue-Green Kids Bowling Party Memorabilia
All in all, the products in the mood board compositions are part of an extensive collection. If you would like additional products that are available on Zazzle, please contact KBMD3signs. We are happy to add products or discuss an alternative custom design.
Remember, we love feedback. Send us a picture of your celebration.
Find more kids' birthday party invitations from the Zazzle store Color Cocktail or explore kids' Zazzle birthday invitations store-wide.
What else do I need to bring?
To ensure a seamless and enjoyable experience, please remember to bring the following items:
Birthday Cake: Coordinate with the bowling alley to see if they will allow you to bring a birthday cake or cupcakes.
Camera: Capture all the fun and candid moments with a camera to create lasting memories.
Party Supplies: Don't forget items like candles, matches, and a cake cutter.
What to Expect
On the day of the party, expect an atmosphere filled with laughter, friendly competition, and excitement. Kids will be eager to take their turns on the lanes, celebrate strikes and saves, and enjoy the camaraderie of their friends. Be prepared to offer a little assistance, especially to younger kids who may need help rolling the ball.
As the party progresses, kids will likely have the opportunity to explore the arcade games, which can be a fun diversion between bowling sessions. The time spent waiting for turns can also be a great opportunity for kids to socialize and enjoy each other's company.
What Is the Appropriate Age for Bowling?
In general, children ages 5 and older tend to fully enjoy the experience as they have developed the motor skills necessary to roll the ball down the lane and understand the basic rules of the game. However, with the help of bumpers and lightweight balls, younger children can join in the fun without feeling left out. Otherwise, bowling parties are remarkably versatile and can be adapted to different age groups, making them suitable for a range of children's birthdays.
What to Look for When Choosing a Bowling Alley?
Choosing the right bowling alley is an important step in planning a successful party. Look for alleys that offer special birthday party packages, which often include lane rentals, shoe rentals, and food options. Consider the following factors when choosing a bowling alley:
Party Packages: Most bowling alleys offer customized party packages that include bowling, shoe rentals, party invitations and sometimes even decorations. Choose a package that fits your needs and budget.
Availability: Be sure to reserve lanes well in advance. Four to six players is often the number of players calculated for a lane. Advance booking guarantees success, especially if you're planning a party during peak hours or on weekends.
Atmosphere: Choose a lane that has a lively and family-friendly atmosphere, as this will contribute to the overall enjoyment of the party.
Amenities: Check to see if the alley offers amenities such as bumpers and lightweight balls for younger kids. And, if necessary, something to keep the kids occupied between games.
The Bottom Line
A kids' bowling birthday party is a classic choice that guarantees a day of laughter, fun and shared memories. Regardless of the age of the children attending, the excitement of knocking down pins and the friendly competition will ensure that everyone has a great time. By considering the appropriate age group, choosing the right bowling alley, carefully planning the details, and being prepared for a day of bowling fun, you'll be well on your way to throwing the perfect birthday party for your child. For more party theme and activity, decor and birthday cake inspirations explore the Kids Birthday Party board on Pinterest.