Are you planning a creative art birthday party for your eight-year-old artist? Hosting an art-themed party is a fantastic way to nurture your child's creativity and provide an unforgettable experience for both your child and his or her friends. To make sure the party is a big success, here are some valuable tips, guidelines, and materials to consider: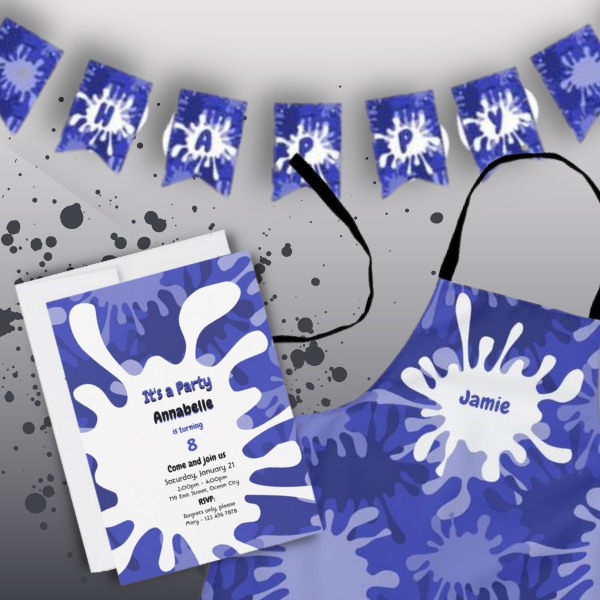 How to Plan an Art Birthday Party in 10 Steps?

1. Choose a theme
2. Pick the perfect venue
3. Send creative art party invitations
4. Gather art supplies
5. Prepare guided art projects
6. Fun art games and activities
7. Art themed snacks and cakes
8. Art themed party favors
9. Goodie Bags
10. Capture the memories
Choose a Theme
The first step in planning an art themed birthday party is to choose a theme that will capture the imagination of your young artist. Popular themes include animals, outer space, underwater adventures, or even famous artists like Vincent van Gogh, Gustav Klimt, or Paul Klee. A theme can help set the tone and inspire the creative process.
Pick the Perfect Venue
Decide whether you want to host the art party at home or in an art studio. Home parties offer a more personal touch, while art studios provide access to professional supplies and expertise. Consider the size of your guest list and your budget when making this decision.
Send Creative Invitations
Keep the excitement going by sending art-themed invitations. Encourage guests to wear their favorite paint-splattered or artistic outfits to set the tone for a colorful and creative celebration.
Art Supplies
Providing a variety of art supplies is critical to the success of any art party. Consider providing the following supplies:
Canvas or art paper: For painting masterpieces.
Acrylic paints: These are vibrant and dry quickly, perfect for young artists with limited patience.
Paint brushes: Include a variety of brush sizes for different painting techniques.
Watercolors: Ideal for delicate and translucent effects.
Colored Pencils: Great for detailed work.
Markers: Perfect for outlining and adding vivid detail.
Smocks or aprons: To protect clothing from paint splatters.
Palettes: Small containers or paper plates for mixing colors.
Easels: Space permitting, easels provide a comfortable work surface.
Craft supplies: Glue, scissors, colored paper, and other items for mixed-media creations.
Guided Art Projects
Plan some structured art projects based on your chosen theme. Providing step-by-step instructions or hiring an art teacher can be beneficial. This ensures that kids stay engaged and have a clear direction for their creations. Allow room for personalization and creativity within each project.
Art Games and Activities
Keep the energy high with art-related games and activities. Consider hosting a "painting relay," a "blindfolded drawing challenge," or a "guess the painting" game where kids recreate famous works of art.
Snacks and cake
Offer art-themed snacks and birthday cake. Cookies shaped like palettes, cupcakes with edible paintbrushes, and a cake with your child's favorite artwork can be fun and delicious.
Party favors
Send guests home with a creative memento of the party. Art-themed party favors can include mini sketchbooks, colored pencil sets, or small canvases with a thank-you note from the birthday child.
Capture the memories
Don't forget to capture all the art fun with plenty of photos and video. Share these memories with guests or save them for a special birthday scrapbook.
Goodie Bags
Create goodie bags filled with art supplies and a small piece of each child's artwork. This will serve as a wonderful reminder of the creative fun they had at the party.
With these art ideas for an eighth birthday party, you'll create a memorable and imaginative celebration that will make your child and her friends feel like true artists. Embrace the power of creativity and let the colors, shapes, and textures flow at your next art-themed birthday party!
Art Theme Birthday Party Accessories
The Art Birthday Party invitation and accessories for kids in blue feature an artistic splash of color to support the theme. All party supplies are part of a themed collection that includes birthday invitations and decor, paper tabletop accessories and art party favors. Blue artful paint splatters make an inspiring art birthday theme that promises to get creative. Shaded splatters are included in the invitation design. A dominant splatter bubble then hosts all the party invitation details.
Art Themed Birthday Party Decorations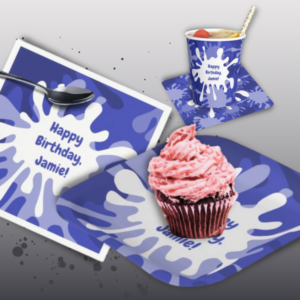 Blue Party Table Decor
Kids Party Favors
Here you will find an art invitation, a happy birthday banner and a splatter apron. All represent the party theme. Stay with the birthday theme and decorate the table with matching paper plates, cups, coasters and napkins. Then, as the party draws to a close, there are also art party favor bags or boxes filled with goodies such as buttons, mints, and chocolates to thank each guest in style for making the party a success.
Find more kids' birthday party invitations from the Zazzle store Color Cocktail or browse Zazzle children's birthday invitations store-wide.
Can I Customize The Kids Birthday Party Invitation?
Yes, customization is possible in two steps. In fact, all of the items in the Art Birthday Party Invitation collection allow for modification.
First, use the template to fill in the text that will appear on your children's art party invitation.
Second, for further customization, follow the link – Edit using the design tool.
Personalize The Template
In fact, each template allows you to replace the given text with your choice of words.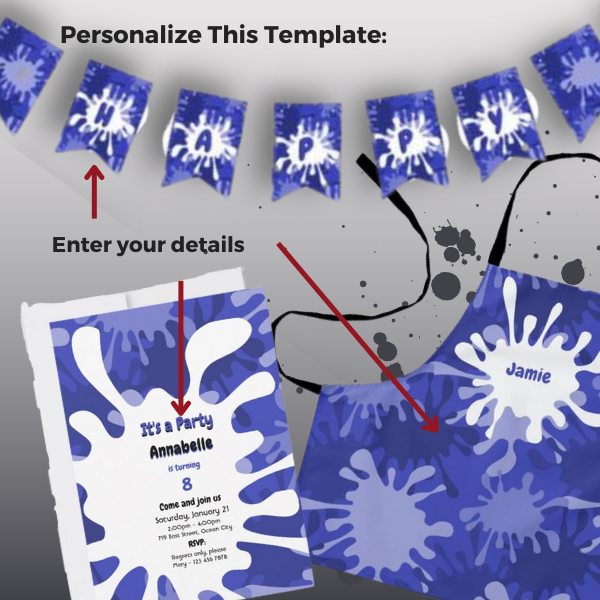 Edit Using The Design Tool
Within the design tool, you can change the color of each product. You match the color by using either a color picker or you enter the #Hex code of the color you like. In fact, your color will replace the current blue shade. You can also adjust the font color by adding the same #Hex code. This is also the place to change the font style and size. The font size usually depends on the font style.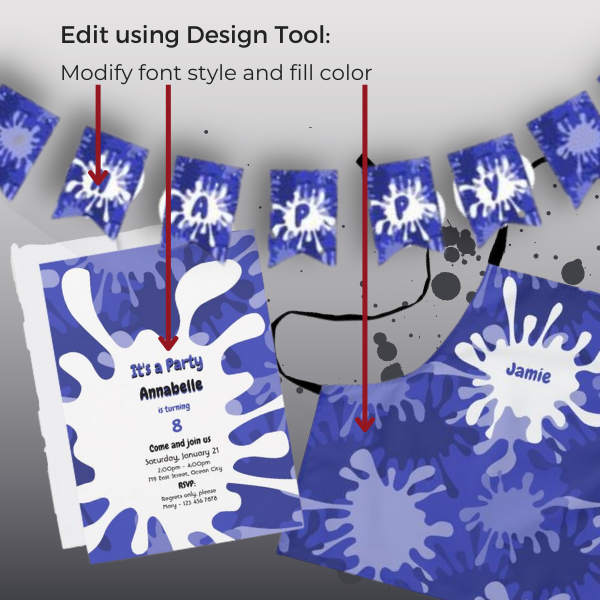 For assistance in customizing the blue art birthday party supplies, we prepared a step-by-step guide on the following page. 
Shop Zazzle Birthday Invitations
Art Themed Birthday Party Decorations And Favors
All in all, the products in the mood board compositions are part of an expanded collection. If you require additional items, and these are available among the Zazzle products, then message KBMD3signs. We are happy to remedy that or to discuss an alternate custom design.