Decorating ideas using a fresh geometric repeat pattern template and add a pillow color of your choice. Then take the chance and match the home decor with artworks by one of New Zealand's contemporary artists.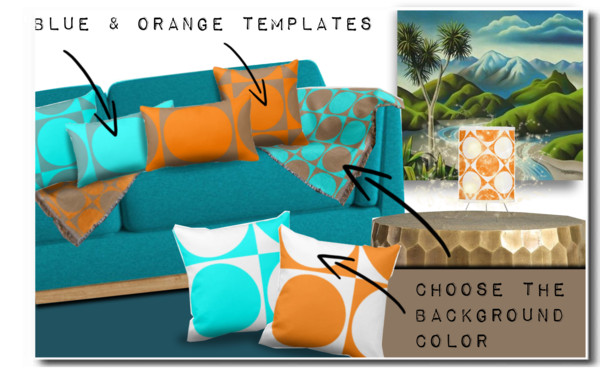 Styling Ideas and Color Combinations

Within this post explore styling with different pattern sizes and a range of colorcombinations. Mood boards shown, grew out of the design, a specific piece of furniture as centerpiece or a beautiful artprint. Like the above 'Dreamy Blues' by New Zealand artist Mike Glover.
Design Specifics:
3 Templates alow to personalize the background and the pattern size on each product within the collection:
Blue + …
Orange + …
White + …
Orange and Brown Home Decor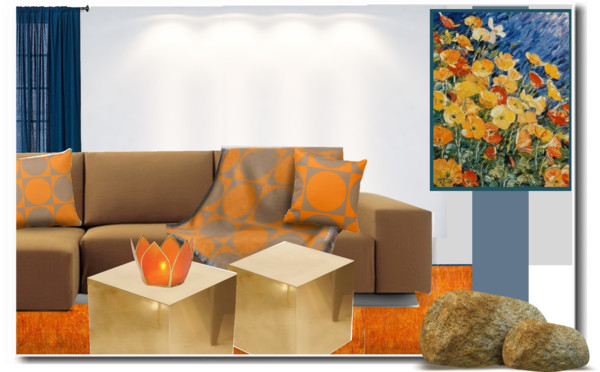 Earth tones orange and brown give this space a grounding energy. The golden cofetable cubes transmit a warming elegance. A quirky vivid factor is added with the 'Sunlit Poppies' by Richard Ponder.
Blue and Brown

Pablo Picasso's 'Blue Nude' with its earthen tones and the hint of blue inspired this living space decoration. An off-white wide sleeper sofa is complemented with a darker rug in a striped color melange in brown, off-white and antrazit . Accent pillows show a blue and brown graphic patter in squares and circles.
Light Blue and Dark Blue

Center piece of this living room is a burgundy colored armchair that corresponds beautifully with the blueish abstract rug. The throw pillow and pouf in blue squares and circles pattern pick up the blue color. The filigran wire table ads an aspect of transparence. While the floral backdrop of Manuka blossows surrounded by their bueish-green leaves connects present colors.
Black and White, Squares and Circles Design

Black and white are the timeless colors for this bedroom idea board with a hint of orange. The head bord is topped with a black and white artprint 'Aroha Ferns' by artist Glen Jones.