African nature photography prints meet pillows. The wildlife wall decor accessorizes a modern living room style complemented with throw pillow designs by KBM D3signs.
Here, nine throw pillow pattern designs in various color combinations pair up with African landscape and safari photo prints. It is an exciting combination to bring into your home decor.
Nine Nature Photography Prints
Close-up of a herd of zebras
Two elephants eye to eye
Glowing sunset and giraffe family
Victoria Falls at sunrise
Pair of lions at sunset
South African black-footed penguins arriving at the beach
An exciting view towards the landscape domineering Kilimanjaro
Majestic lion portrait
Elephants gathering at the waterhole at sunset
Close-up Of Zebra Herd And Black And White Pillows With Box Pattern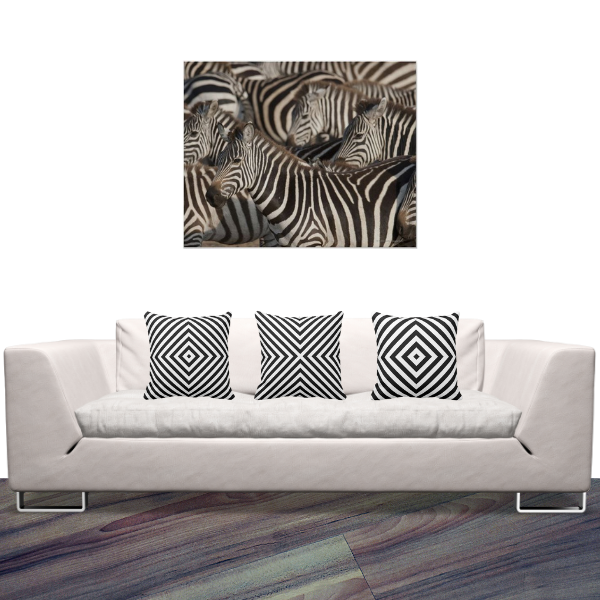 A merging sea of zebra bodies makes this close-up of a herd a remarkable wall decor. Paired-up with pillows that show a distinct black and white box pattern design, it is a stunning minimalist-style living room.
Close-up Of Elephants Seeing Eye To Eye Photography With Grey And Brown Pillows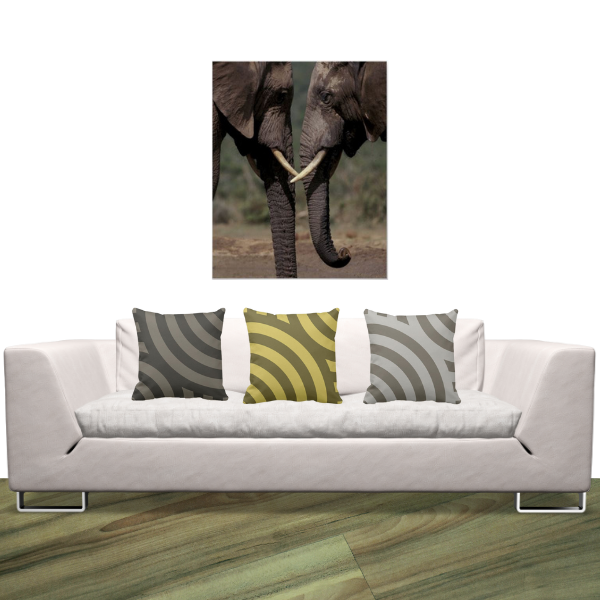 The stunning close-up photography shows two elephants seeing eye to eye. It makes an intriguing wall hanging for sophisticated home decor complemented with grey and golden-brown pillows presenting a striped quarter-circle pattern.
Silhouette Of Giraffe Family At Sunset With Yellow And Orange Pillows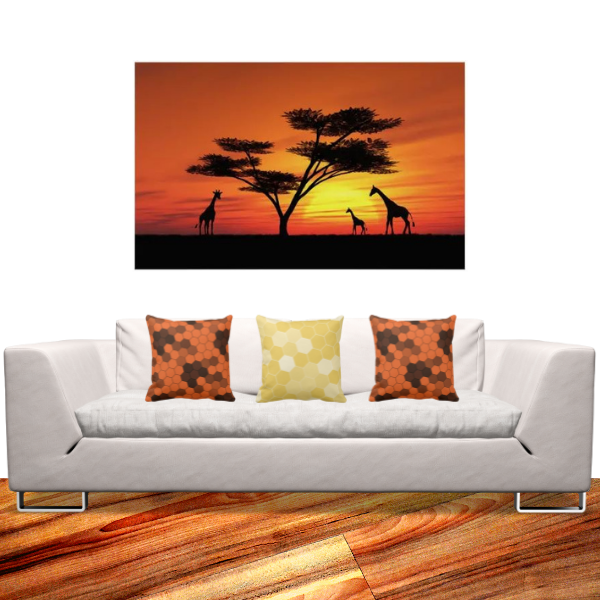 A glowing African sunset lets the giraffe family appear as silhouettes. In accordance with the formidable shades, geometric hexagon-patterned throw pillows accessorize the seating furniture.
Dreamy Sunrise At Victoria Falls With Purple, Pink, And Yellow Pillows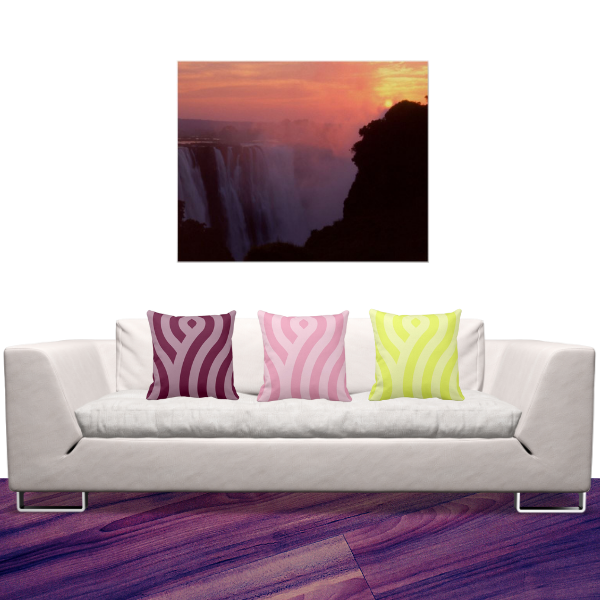 Intense contrasting shades of Victoria Falls empower the impression of the dreamy sunrise in soft yellow, pink, and purple. In response to the wall decoration, the wave pattern detail print on the accent pillows repeats this energy elegantly.
Pair Of Lions At Sunset With Yellow, Orange, And Red Pillows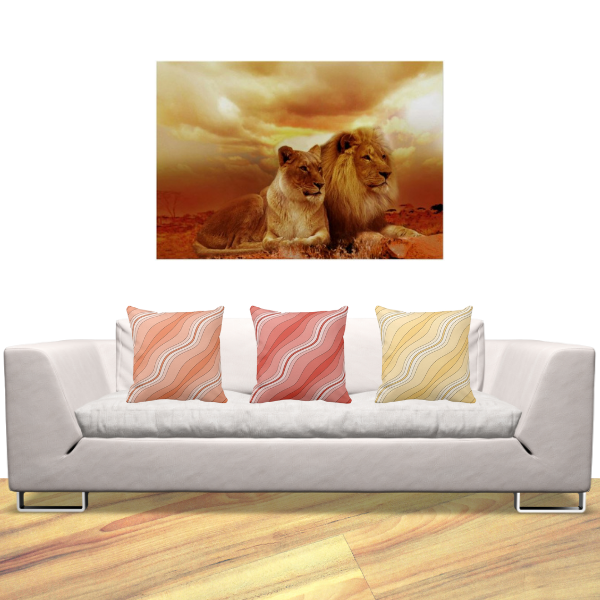 In peaceful harmony, a pair of lions rest side by side with a dramatic cloud formation as a backdrop. The safari photo wall decor displays a feast in orange, orange-brown, and yellow-white. Seeing that the wall decor is striking a yellow, orange, and red pillow with a flowing layer pattern decorates the couch. Overall the living room has joyful energy.
South African Black-footed Penguins With Yellow, Brown, And Blue Pillows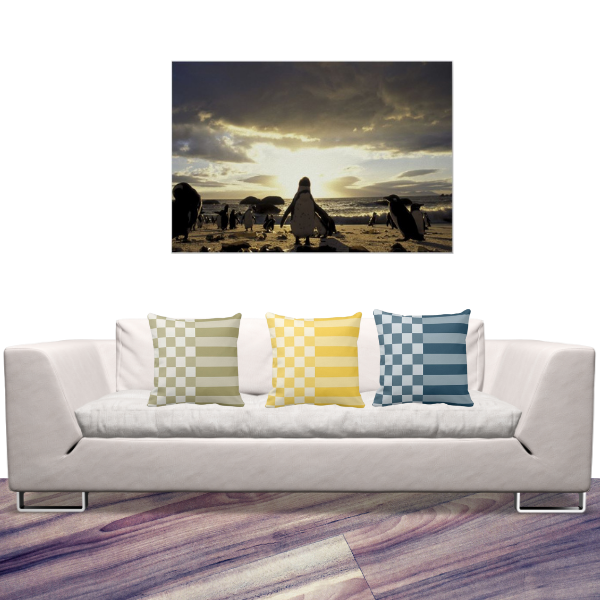 A moody sunset with South African black-footed penguins reaching shore set a tranquil ambiance as wall decor for the living room. Meanwhile, pillows in brown, yellow, and blue with checkers and stripes patterns accessorize the furniture.
Photography Of Kilimanjaro Landscape And Turquoise, Green, And Blue Pillows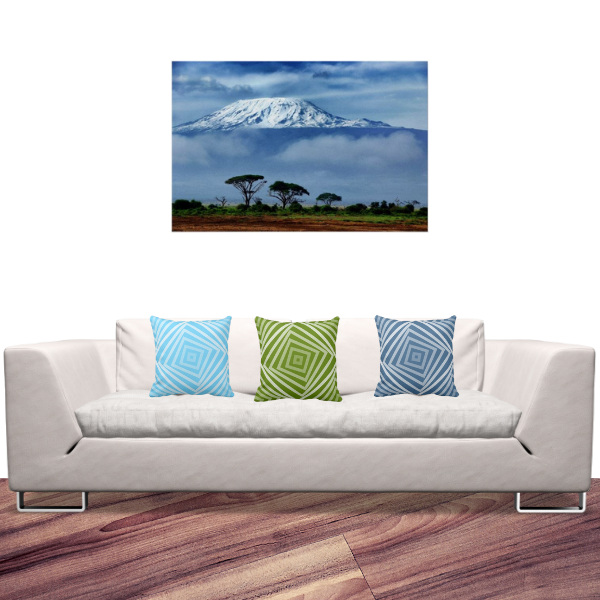 The stunning wall decor shows a landscape with the domineering Kilimanjaro. The photography reports on the beauty and uniqueness of the land. A clear view to the mountain top, then a layer hulled in thick clouds with grassland and forest leading towards the solitaire mountain. In response, turquoise, green, and blue pillows with a spiral box pattern design serve as accents to add a modern yet playful tone.
Portrait Of Lion In High Grass With Brown Pillows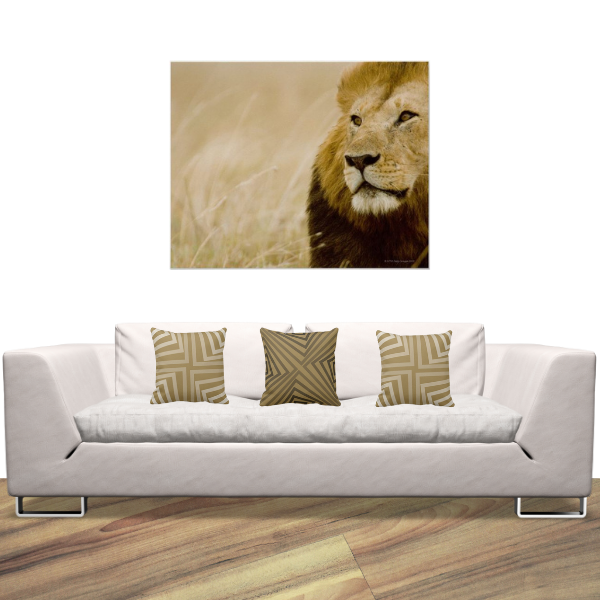 A majestic lion portrait surrounded by blurring high dry grassland makes up the wall hanging. Owing to the hues, brown pillows with angular pattern designs complement the wall decoration.
Print Of Elephants Gathering At The Waterhole With Yellow And Brown Pillows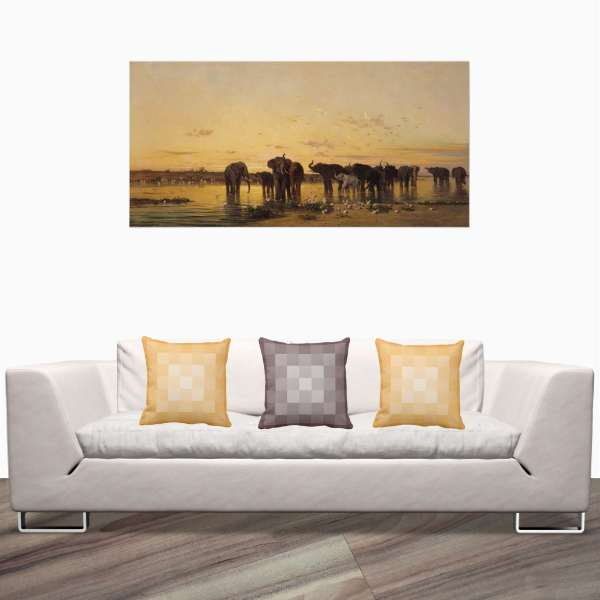 The safari photography decorating the wall shows a peaceful evening scene at the waterhole with fading daylight where a herd of elephants gathered. In order to capture the mood, pillows in brown and yellow with a pixel pattern design make up the accent decor for the couch.
African Safari Photography
As the second-largest continent and the second-largest population spread over more than 54 countries, with a multitude of habitats. The main habitats are jungles, forests, grasslands, and deserts.
Then there is no surprise that the most popular wildlife Africa has to offer, including elephants, buffalo, leopards, lions, rhinoceroses, and many more, is accessible through Kenya Masai Mara Tour Packages into National Parks and Game Reserves.
Color It Your Way! You Saw A Pillow Whose Surface Pattern Design Is What you Seek, And The Hue Is Off?
KBM D3signs can be of help. First, follow the link of the pillow design you favor, then adjust the fill color. The result is a pillow showing the pattern design in white or black or a monochrome of the fill color, either lightened or subdued.
Before you start, check out the pattern collection in the store Fall For It. There each pattern design comes in ten hues and black and white with additional variations in pattern sizes. So check them out. If none works for you, then color it your way. Apart from square pillows, each design includes round and oblong cushions, round and cubed comforters, and blankets. Yet, it is not limited to these.
For instructions about revising the fill color, please follow the link: desktop devices or mobile devices. If you require hands-on help, for a product expansion, or you would like a custom design then contact us directly on Telegram https://t.me/kbmd3signs_chat.
At KBM D3signs, we love feedback, so please feel free to post your color and decor idea.