Polka dot decor is fun to use. Here KBM D3signs brings a new spin to the vintage pattern to attract multiple attributes.
Typically polka dots are same size color-filled circular shapes that form a pattern by having a consistent distance to the next circular shape.
For additional variations, the surface patterns meet different-sized dots interchange with filled and empty shapes or serve as a frame for a photo collage. Other times a pattern design meets with horizontal or vertical stripes. Instant customization comes with personalizing photos, initials, monograms, or names. And all pattern designs allow you to color it your way.
Nine Bathroom Decoration Ideas
Classy red on white and white on red polka dots with monogram
Personalizable polka dots serve as a photo frame
Classic black on white and white on black polka dots with monogram
Chic white dots and stripes on the green with a monogram
Earthy brown and white polka dot layer mix
Retro white dots on turquoise with names to celebrate your partnership
Girly pink polka dots with personalized name
Trendy white on blue and blue on white dots with customizable name
White dots on sunny yellow dots and stripes with personalized initials and name
Classy Red Polka Dot Pattern On Bathroom Decor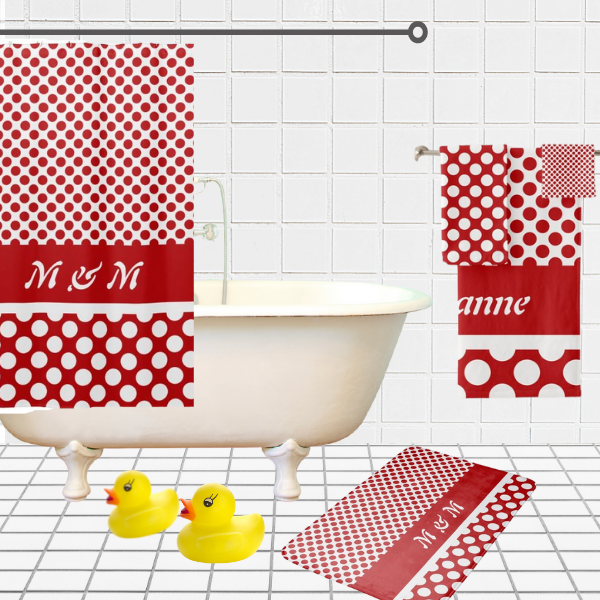 The bathroom in strawberry red and white has a classy look. It shows a mix of red dots on white and larger white dots on red. A red horizontal divider provides space to enter initials monograms or even a name.
Personalizable White Framed Photo Collage On Gray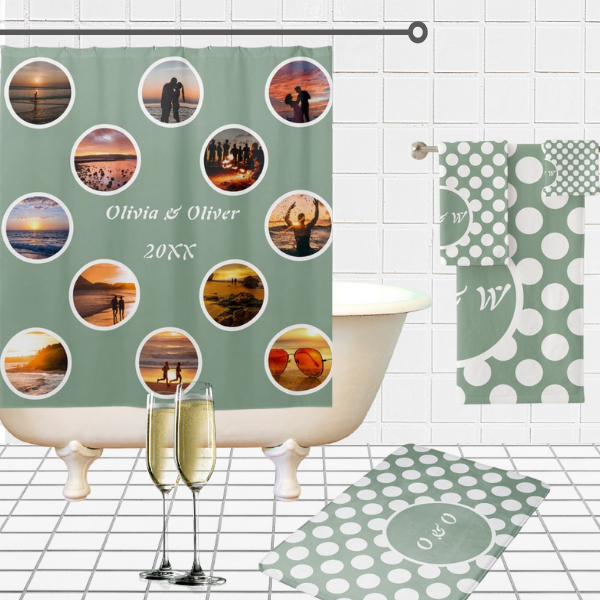 The shower curtain featured here is a beautiful way to celebrate the year leading to a marriage or anniversary by giving a photo space for each month to add the photo of the month. In the center, enter the names and the year. Complementing accessories show white polka dots on gray background with personalizable initials.
Classic Black And White Bathroom Decoration Ideas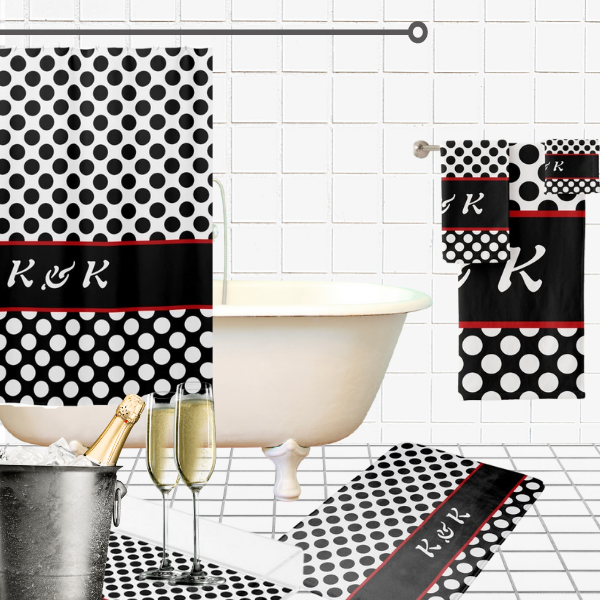 The classic, black and white, bathroom decor combines two equal-sized dots pattern. Black dots appear on white and white dots on black. A red-framed field gives space to fill in initials and separates the two circle patterns.
Chic Green And White Decor For The Bathroom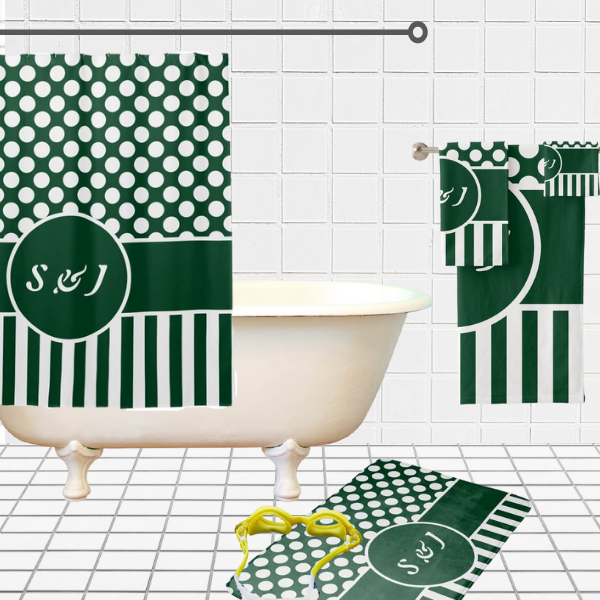 A horizontal green space divides the circular shapes and stripes against a green background. Embellished with a round shape to hold the defining initials make up the particulars of the chic design.
Three Layers Of Earthy Brown And White Circles Pattern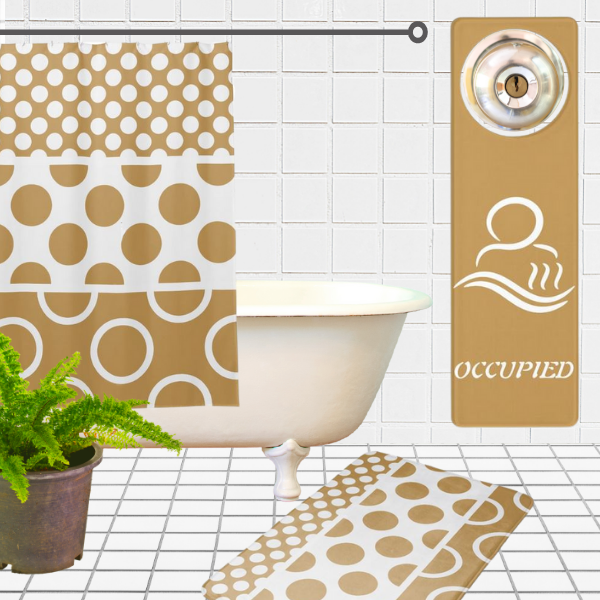 The earthy brown and white bath decoration shows a pattern consisting of three layers. These make a stylish pattern combination that consists of white dots on brown, larger brown dots on white, and even larger circles outlined.
Turquoise And White Polka Dots On Retro Bath Decor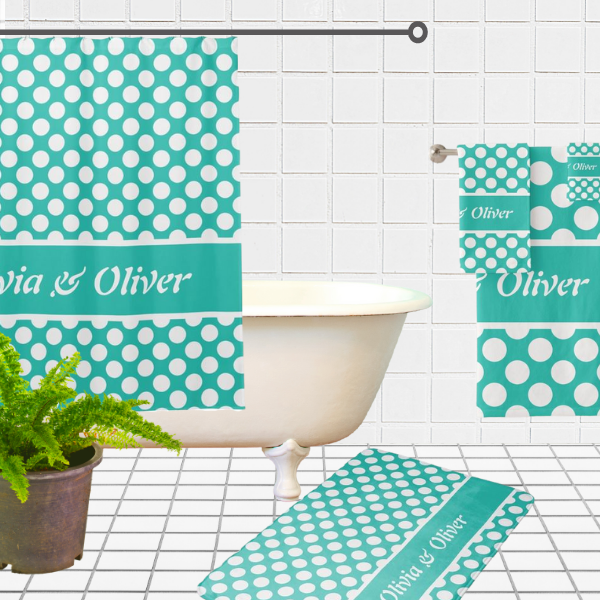 White circular shapes on a turquoise background with a turquoise-colored space to hold the couple's name make a beautiful vintage bath decor.
Girly Pink And White Polka Dots For Just Taking A Dip!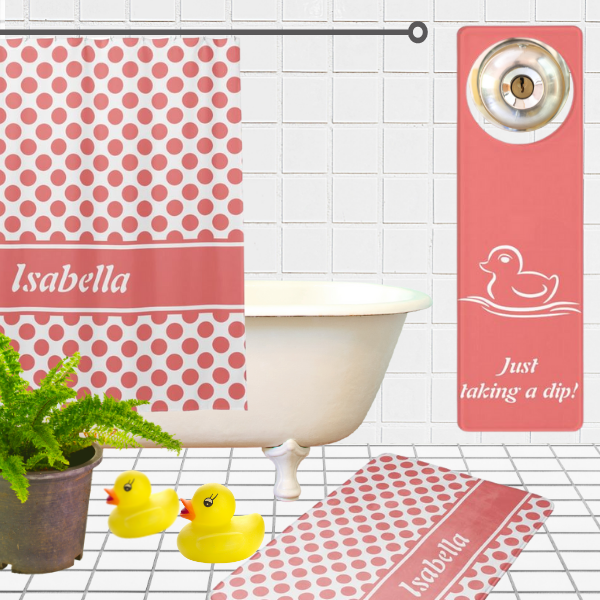 Here girly pink dots with a horizontal pink custom name bar determine the decor. The bathroom door sign provides the message Just Taking A Dip!
Trendy Blue And White Polka Dot Pattern For The Bath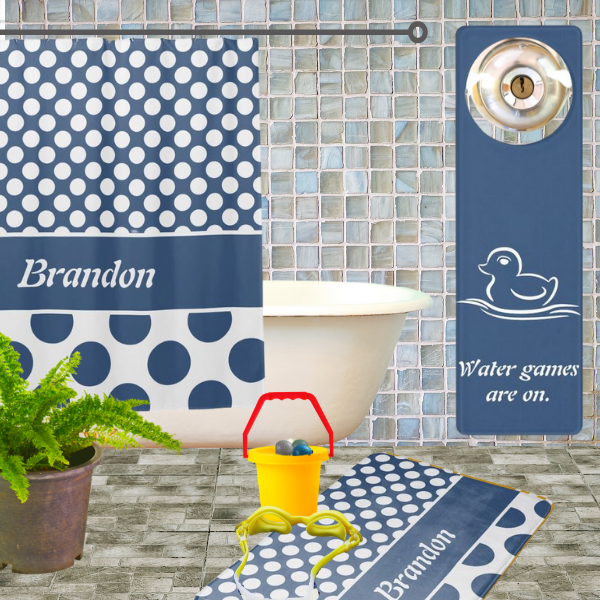 A young and trendy pattern shows dots in white on blue and larger dots in blue on white separated by a white-framed blue field with a custom name. A color-matching bathroom door hanger gives a note that the Water Games Are On.
Spreading Happyness With Yellow And White Dots And Stripes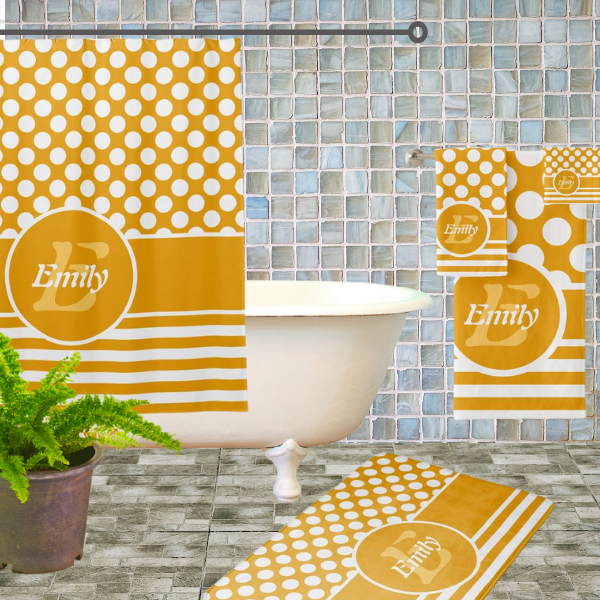 A bathroom in yellow and white spreads happiness. Here white dots and horizontal stripes are connected through a yellow field with a round shape that holds the custom initial and name.
Shop At Zazzle
Polka Dot Decor For Your Bath
Polka Dot Decor For The Bathroom To Color Your Way!
Products to decorate a bathroom are tools to make it yours and include: bathroom door signs, shower curtains, towel sets, bath mats, drawer knobs, and light switch covers. Since the store theme at Zazzle is Take A Dip, it covers bathing accessories for a day at the beach or pool. So you find beach bags, flip flops, beach towels, frisbee, and playing cards to complete the fun.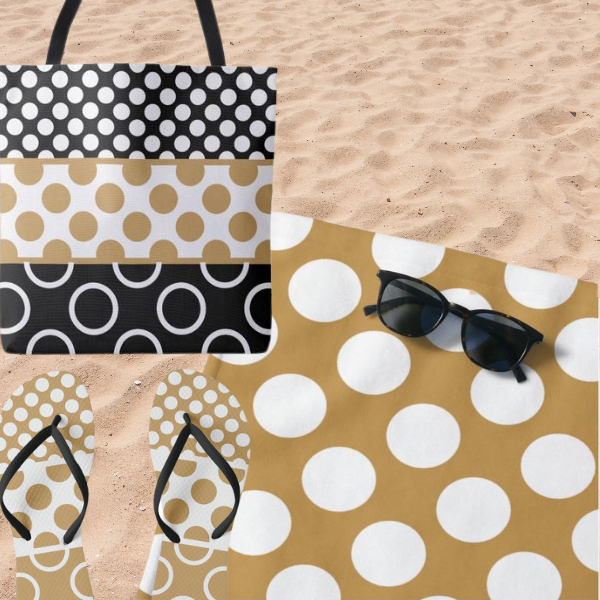 You do like the design, and the color is off?
KBM D3signs designs are for you. After the instant customization of photos and text, there is further customization possible. Follow the text link to customize further. For some designs, it is enough to select your fill color. Others are layered designs and a second color (or the same) appears through an additional layer of a shape, which allows color customization, too.
Once you are satisfied, click Done.
For instructions about revising the fill color, please follow the link: desktop devices or mobile devices. If you require hands-on help or product expansion, or you would like a custom design contact us directly on Telegram https://t.me/kbmd3signs_chat.
At KBM D3signs, we love feedback, so please feel free to post your color and decor idea.