The bathroom wall decor ideas complement bathroom accessories in ten color variations showing a polka dot pattern. All ten poster designs have themes related to water activities at the beach, sea, or in the bathtub, in addition to the decor color that makes the wall decoration pop.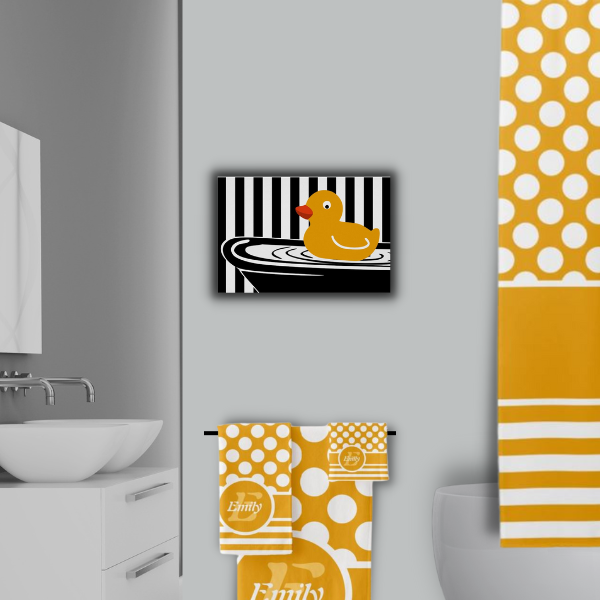 Ten Bathroom Wall Decor Ideas
Yellow Bathtub Duck
Turquoise Sunglasses At The Beach
Two Beach Chairs In Grey
Whale Fin At Sunset
Imagine & Manifest! Message In A Bottle
Blue Sailing Boat In The Ocean
Purple Bathtub Sailing Boat
Red Flip-Flops At The Beach
Jandals At The Beach
Vacation Photo Collage
Polka Dot Bathroom Accessories And Wall Decor
Altogether the color palette for the polka dot bathroom accessories consists of a matching shower curtain, bath mat, towel set, vanity tray, flip-flops, and fixtures such as drawer knob and light switch, as well as bathing accessories for taking a dip at the beach. Colors range from yellow, turquoise, grey, pink, green, blue, purple, red, brown, and black and white. Each color shows a color-coordinated wall art print.
Get Help With The Customization Of A Bathroom Wall Decor Idea
Coolors has a fantastic app to match colors.
Also, find step-by-step instructions for the customization process.
If you like the design style yet require hands-on help for product customization or expansion, or to discuss a custom design, contact KBM D3signs on Telegram https://t.me/kbmd3signs or fill out the form to get in touch. 
Above all, have fun expressing your feeling about color! 
Does the customization process or the surface design meet your expectations?
Overall share your experience, design happiness, or decor achievement so that KBM D3signs can improve their template designs.