Polka dot decor is fun to use. Here KBM D3signs brins a new spin to the vintage pattern to attract multiple attributes.
Typically polka dots are same size color-filled circular shapes that form a pattern by having a consistent distance to the next circular shape.
For additional variations, the surface patterns meet different sized dots interchange with filled and empty shapes or serve as a frame for a photo collage. Other times a pattern design meets with horizontal or vertical stripes. Instant customization comes with personalizing photos, initials, monograms, or names. And all pattern designs allow you to color it your way.
Nine Bathroom Decoration Ideas
Classy red on white and white on red polka dots with monogram
Personalizable polka dots serve as a photo frame
Classic black on white and white on black polka dots with monogram
Chic white dots and stripes on the green with monogram
Earthy brown and white polka dot layer mix
Retro white dots on turquoise with names to celebrate your partnership
Girly pink polka dots with personalized name
Trendy white on blue and blue on white dots with customizable name
White dots on sunny yellow dots and stripes with personalized initial and name
Classy Red Polka Dot Pattern On Bathroom Decor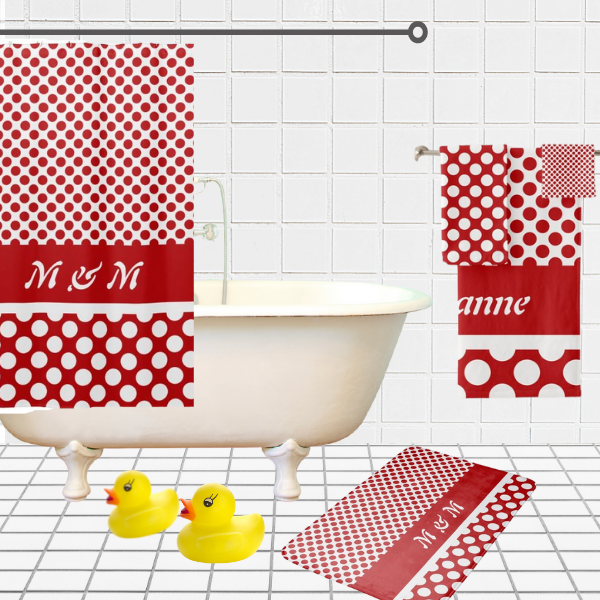 The bathroom in strawberry red and white has a classy look. It shows a mix of red dots on white and larger white dots on red. A red horizontal divider provides space to enter initials monogram or even a name.
Continue reading "Polka Dot Decor For Bathroom Personalized By Color, Photo, Initials, Or Name"