The modern bathroom wall art ideas beautifully complement the – Torn – bath decor. In the collection, tears become the artistic tool to create layered pattern compositions. As a result, KBM D3signs presents attractive multi-patterned and multi-colored wall decor to match the – Torn – bathroom decor and bathing accessories. Ultimately each single art print can also stand alone.
Message in a Bottle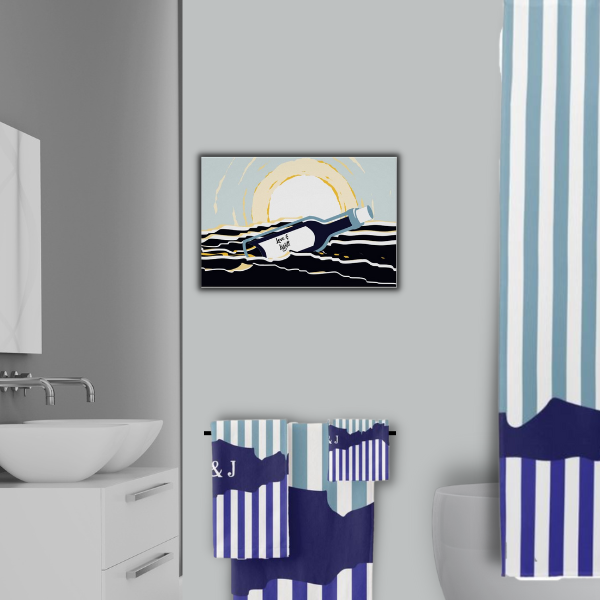 Here, the – Message in a Bottle – shows a bottle with a message floating in the ocean at sunrise. The dominant colors are blue, pastel yellow, black, and white complementing the three shaded blue striped and named bathroom accessories.
Six Wall Decor Ideas To Let A Plain Bathroom Stand Out
Message in a Bottle
Whale Fin at Sunrise
Three Playfully Jumping Dolphins
Relaxing with a Cocktail in a Beach Chair
Mr. & Mrs. Beach Chairs
Beach Vacation Photo Collage
Whale Fin at Sunrise
For – Whale Fin at Sunrise – the domineering color is yellow, and the fin stands against a glowing sun in a calm sea. A bright yellow three-torn pattern decorates the bath decor in connection.
Three Playfully Jumping Dolphins
The – Three Playfully Jumping Dolphins – have a peaceful sea against a rosy sunrise. It goes with a modern grey and pink torn design centered around the motivational typography pattern – Courage.
Relaxing with a Cocktail in a Beach Chair
The poster – Relaxing with a Cocktail in a Beach Chair – hangs in the bathroom decorated with accessories showing black and white stripes framing a tile pattern.
Mr. & Mrs. Beach Chairs
Here the poster – Mr. and Mrs. Beach Chair – accessorizes the wall for a bath decorated with a turquoise green tear design.
Beach Vacation Photo Collage
Personalize the – Beach Vacation Photo Collage with square photos of your Instagram feed featuring your last holiday on the sea. The collage complements here the beach decor design.
All – Torn – decor ideas are examples. You can also use all bathroom wall art posters as you, please. Alternatively, customize their coloration and texts to make them work for your bath.
Customize The Bathroom Art?
Name and invitation are placeholders within the designs that allow replacing the text. And when following the – Edit design – link, all existing colors allow manipulation. Give it a try!
Get Help With The Color Customization
Coolors has a fantastic app to match colors.
Also, find step-by-step instructions for the customization process.
If you like the design style yet require hands-on help for product customization or expansion, or to discuss a custom design, contact KBM D3signs on Telegram https://t.me/kbmd3signs or let's get in touch by email.
Above all, have fun expressing your feeling about color!
We thrive on feedback. Follow the share and review link to forward your experience as text and an image.
What to share?
How does the surface design meet your expectations?
Tell us about your experience in using the design template.
Your design happiness
Your home decoration achievement using one of the designs.
Altogether your feedback allows KBM D3signs to improve the overall design user-friendliness.