Mangaweka art print by Robin White has the focus in Art Meets Pillows.
The painting, Mangaweka, is from 1973 and shows a teal-colored truck parking in front of a wooden building with yellow panels between green frames. Fringing the road, the building's pedestrian cover separates the artwork into two halves. The ground floor is strictly oriented towards the street, while green hills and clear blue sky envelop the second level.
Born in 1946, Dame Robin White studied Fine Art in Auckland and is one of New Zealand's most important printmakers.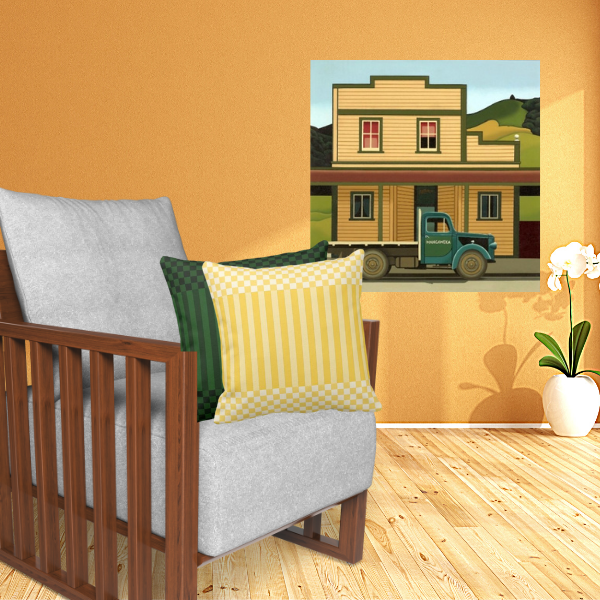 Art Meet Pillows picked up on the rural atmosphere and on the dominant yellow and green color. With this, a wooden framed armchair shows a green and yellow pillow decor. Apart from the coloration the pillows too pick up on the wooden plank texture in their stripes and checker pattern.
What makes the green and yellow pillows stand out that accessorizes the Mangaweka art print?
The living-room decoration idea mirrors the sunny yellow and green of the print, while the monochrome stripes pattern reflects beautifully the wooden plank arrangement.
A fabulous throw pillow feature is, that both allow customizing their fill color.
What does this mean for you?
If you like the pattern with the stripes and checkers, but the color does not work for your living room decoration, then color it your way. A modification of the fill color changes the cushion color and with this the pattern color.
Both pillows will return the selected fill color with a monochrome pattern resulting in the surface pattern lightened by white or subdued.
Altogether, this feature enables one to match existing decor or adjust the decor item effortlessly to your new interior decor project.
Designed by KBM D3signs, the stripes, and checkers pattern design is available in the store Fall for It at Zazzle. There it is published on ten different hues. Among these, you will find: apart of green and yellow, blue, orange, purple, khaki-brown, red, turquoise, pink, and grey. Each color promotes the pattern design in four different placements. The pattern appears in black or white and in shades of black or white in each coloration. In short, each coloration shows one pattern placement in black, white, and monochrome shades, either lightened or subdued.
For instructions on how to modify the fill color, please follow the links here: desktop devices or mobile devices. If you require hands-on help or you would like a custom design contact us directly on Telegram https://t.me/kbmd3signs_chat.