Diane Adams is the painter of Beyond The Cascade art print. Adams is a well known contemporary New Zealand artist.
Hues in mud-brown, moss-green, and grey-blue dominate the print. Here, a landscape in the Southern Alps unfolds. Cabbage trees break up the front of the mountainous scene. And the cascade follows a meandering stream that leads the viewer towards the snow-capped Southern Alps at the horizon. The overcast sky takes the chance that the sun can light up the landscape's dull coloration.
Beyond The Cascade is a new release by the artist, who loves hiking and gains her inspiration from her excursions. Many of her better-known prints are testimony to her passion for the beauty of New Zealand.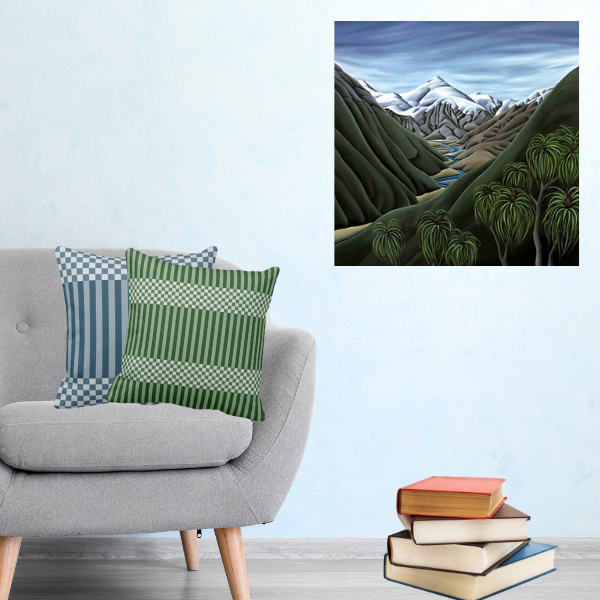 The living room shows the art print Beyond the Cascades on the wall behind a grey armchair. Meanwhile, a green and blue pillow, with stripes and checkers surface pattern, accessorize the space. The accent pillows respond to the dominant colors of the art print.
What makes the green and blue pillows stand out that accessorize the Beyond the Cascade art print?
The living-room decoration idea echoes the blues and greens with lighter infusions of the square art print.
Indeed it translates to green and blue, while the lighter color makes the surface pattern.
Their best feature yet is to allow customizing the fill color. What does this mean for you? If you like the pattern with the stripes and checkers, but the color does not work for your living room, color it your way. A modification of the fill color changes the cushion color.
Both pillows will return the selected fill color with a monochrome pattern resulting in the surface pattern lightened by white.
Altogether, this feature enables one to match existing decor or adjust the decor item effortlessly to a new interior decor project.
Designed by KBM D3signs, the stripes, and checkers pattern design is available in the store Fall for It at Zazzle. There it is published in ten different hues. Among these, you will find: apart of green and blue, orange, purple, yellow, khaki-brown, red, turquoise, pink, and grey. Each color promotes the pattern design in four different placements. The pattern appears in black or white and in shades of black or white in each coloration. In short, each coloration shows one pattern placement in black, white, and monochrome shades, either lightened or subdued.
For instructions on how to modify the fill color, please follow the links here: desktop devices or mobile devices. If you require hands-on help or you would like a custom design contact us directly on Telegram https://t.me/kbmd3signs_chat.