Decorate with a set of 3 art prints or a triptych? What is the difference? There is, of course, a tiny difference. With an art print set of three, you decide to get three different art prints as a theme and group them. Each artwork is separate and singularly available. And it is up to you if you feel they work well together and group them consciously when hanging the art. Guiding thoughts here may be color variations of a topic, related topic, or simply size and shape.
On the other hand, a triptych is one product. The triptych is one piece of art printed split and printed on three panels either stacked on top of each other or side by side.
All of the wall hangings displayed have something in common. Customize them by choosing your background color or replace the images with yours.
9 Wall Hanging Ideas With Sets Of Three
Abstract art of an unfurling fern frond
Fruit art prints for dining or kitchen
Stony cave connecting beach and sea
Sunset beach as digital art
Isometric room with five colored bouncy balls
Splatter art
Rugged coastal beach photo
New Zealand bush walk photography
New Zealand holiday photo collage
Set Of Three Art Prints Grouped, Times Two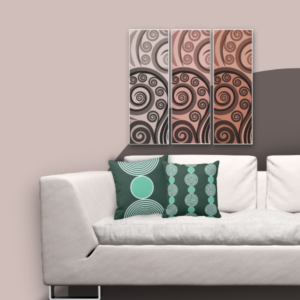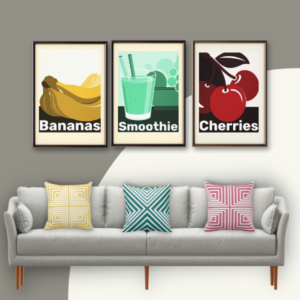 Continue reading

"Decorate With A Set Of 3 Art Prints Or A Triptych? Is there a difference?"