Here, brown and white pillows accessorize ten landscape photographs.
All throw pillow patterns and photo posters complement each other in color and expression.
Throw Pillow Surface Pattern in Brown and White
Torn surface pattern
Wicker pattern
Shell pattern
Large Wicker pattern
Wavy stripes pattern
Ethnic triangle pattern
Nested circle pattern
Minimalist circle pattern
Nested box spiral pattern
Nested angular pattern
Torn Surface Pattern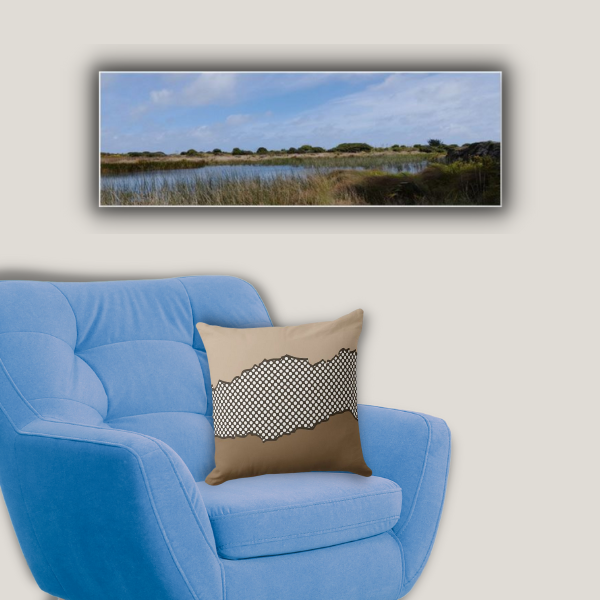 The first example shows the – Torn – surface pattern and a photo poster of the wetlands at Whatipu Reserve West of Auckland.
Wicker Pattern
Second, a summer holiday photo collage joins the stylized wicker-pattern pillow.
Shell Pattern
Third reflects a coastal decor theme with digitally reworked beach crevasse photography and a shell-patterned pillow.
Wicker Style Tile Pattern
Fourth, a New Zealand photo print of rugged coast complements a wicker-style tile pattern.
Wavy Stripes Pattern
Fifth, an elegant wavy stripes pattern accessorizes a living room with a dark green armchair and a secluded New Zealand beach photo of Anawhata.
Triangle Pattern
Sixth, a triangle pillow pattern accessorizes a maroon-brown armchair aside from a photograph of the Castle Point Lighthouse in New Zealand.
Nested Circle Pattern
Seventh, a nested circle pattern accompanies a sunny beach photo of Piha Beach.
Minimalist Circle Pattern
Eighth, a minimalist circle pattern complements a sunny turquoise-blue-green and brown New Zealand coastline poster.
Nested Spiral Box Patterned Pillow
Ninth, a quirky throw pillow showing a nested box spiral design patterned complements the square driftwood photo poster.
Angular Nested Patterned Pillow
Tenth, the angular nested patterned pillow joins with a serene beach photo of cliffs that reflect on the surf-swept beach.
All in all, the examples are decoration ideas for sparking more ideas.
Modify The Brown Pillow Color!
Brown is the color of the pillows, and their surface pattern color is white.
Overall, midrange colors work best for modifying the fill color and matching a color palette.
To achieve it, follow the – Edit design – link, and select your fill color.
All designs allow the addition of text. You find all wall decor within the Zazzle store Kiaora New Zealand. There the photo collage works as a template and has image and text placeholders. For an optimum outcome, choose square images like in Instagram posts. Like that, your collage recounts your holiday story.
Get Help With The Color Customization
Coolors has a fantastic app to match accent colors.
Also, find step-by-step instructions for the customization process.
If you like the design style yet require hands-on help for product customization or expansion, or to discuss a custom design, contact KBM D3signs on Telegram https://t.me/kbmd3signs or let's get in touch by email.
Above all, have fun decorating with color and matching wall decorations!
We thrive on feedback. Follow the share and review link to forward your experience as text and an image.
What to share?
How does the surface design meet your expectations?
Tell us about your experience in using the design template.
Your design happiness
Your home decoration achievement using one of the designs.  
Altogether your feedback allows KBM D3signs to improve the overall design user-friendliness.