How to incorporate the black and green color palette into various elements of your interior design is the subject of this article. Black and green, when combined in a color palette, exude an elegant and refreshing vibe that can transform any space into a sophisticated oasis. The juxtaposition of these two colors creates an attractive contrast, adding depth and intrigue to your home decor. Let's dive in and discover the endless color inspiration for this color in four nature-inspired palettes and apply them to four home decor examples.
Four Green Color Palettes with #Hex Codes
Each color collage contains nine to ten hues ranging from warm to cold or more earthy brown-green. You will also find a hue close to jet black and one close to white.
Green Frog Color Palette
First, a close-up of a frog with colors ranging from black, grayish green to apple green and dark green.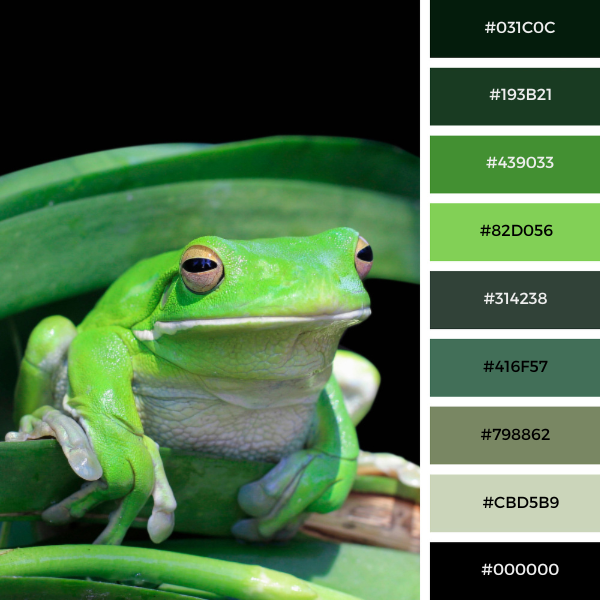 #Hex color: #031C0C Rich Black, #193B21 Phthalo Green, #439033 May Green, #82D056 Mantis, #314238 Kombu Green, #416F57 Amazon, #798862 Camouflage Green, #CBD5B9 Pastel Gray, #000000 Black.
Valley and Water Fall Landscape Color Palette
Second, we have a landscape showing a valley with a stream. Earthy brown-green and gray-green tones dominate.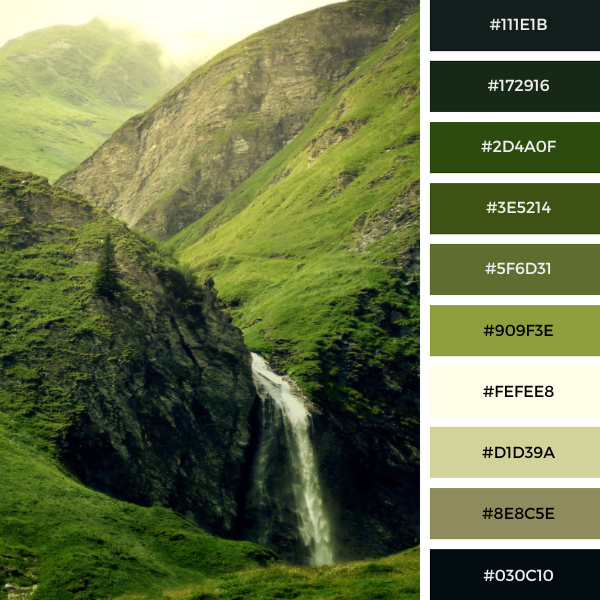 #Hex color: #111E1B Eerie Black, #172916 Dark Jungle Green, #2D4A0F Lincoln Green, #3E5214 Army Green, #5F6D31 Dark Olive Green, #909F3E Moss Green, #FEFEE8 Cosmic Latte, #D1D39A Medium Spring Bud, #8E8C5E Moss Green, #030C10 Rich Black.
Airy Foliage Color Palette
The third image shows airy foliage that returns a warm green palette with a strong influence of yellow.
#Hex codes: #3C5003 Dark Bronze, #416201 Metallic Green, #4B6702 Avocado, #597C00 Avocado, #658406 Avocado, #9DB312 Citron, #CAC86F Dark Khaki, #EFEFEE Bright Gray, #1B1804 Black Chocolate.
Grass Color Palette
The fourth and final image shows a cool green palette of grass with water droplets.
Hex color: #02241D Dark Green, #003627 Sacramento State Green, #144639 MSU Green, #016C4C Bangladesh Green, #019267 Green-Cyan, #17866C Deep Green-Cyan Turquoise, #49A183 Zomp, #71BFA6 Green Sheen, #C3E2D9 Columbia Blue, #081413 Rich Black.
Learn more about color theory and the color tools we use if you want to choose your own color palette collage or create a palette and find the corresponding #Hex code values. A mood board is an essential tool for interior designers to find the right balance between colors and materials. So learn more about how to create a virtual one or use a mood board template on Canva.
How Can You Implement A Black and Green Color Palette?
All in all, there are four main methods of implementing the color palette. Some are more permanent than others.
Accessories and Accents
Accessories and accents are the most flexible. Of course, they are a fantastic way to incorporate the colors black and green into your home decor, especially with a neutral-colored wall, floor, and furniture. It gives you the opportunity to change things up whenever you feel like it or as the seasons change. Use wall art, its frames, throw pillows, throw blankets, vases, bowls, or flowers and their pots.
Matching wall art, throw pillows, and other accessories to your chosen palette works well with print-on-demand design templates from KBM D3signs. Their Zazzle store Fall for It! has a large collection of home decor items that allow for color customization. Contact them for custom designs.
Other ideas include incorporating green plants in black ceramic pots to add a refreshing natural element to the room. Use accessories to strategically guide the eye through your space and enhance the overall color scheme.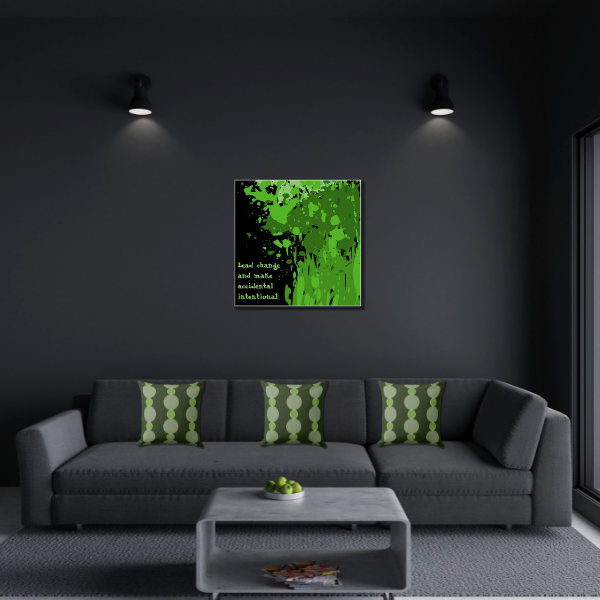 Anthracite and Green Home Decor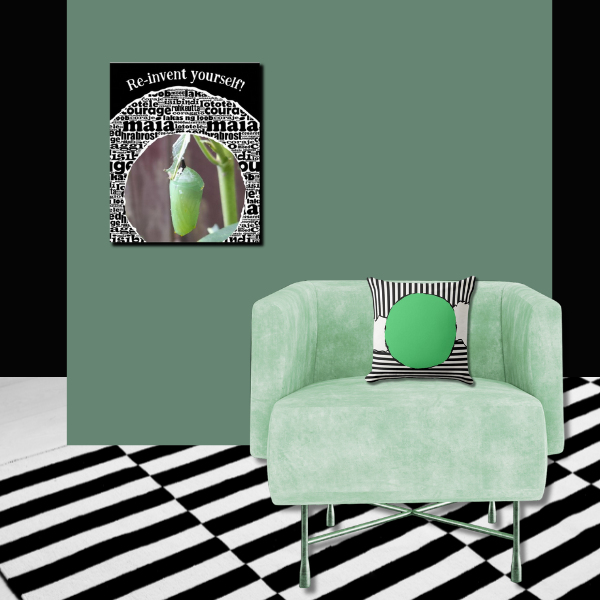 Black, White and Green Home Decor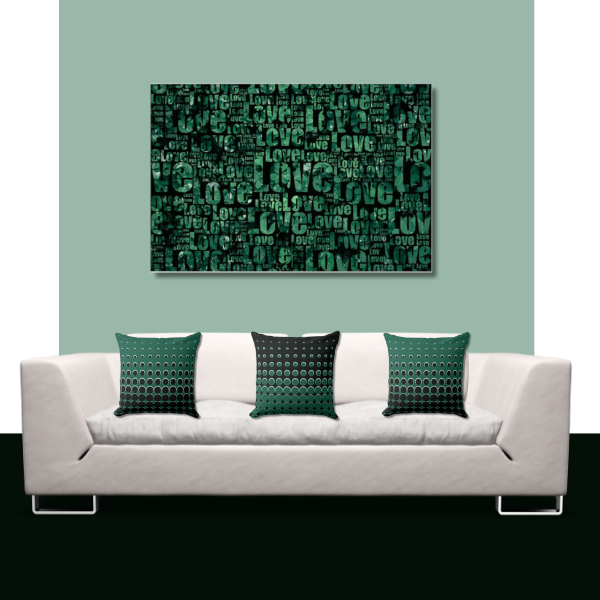 Cool Black and Green Home Decor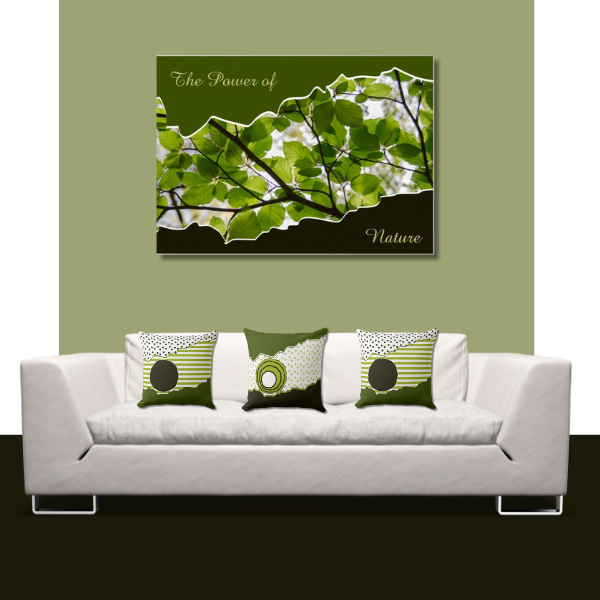 Earthy Warm Green Brown Black Home Decor
Anthracite and green decor, showing a neutral anthracite room with green accents of abstract splattered wall art and green circle patterned throw pillows.
Cool green and black and white space, a cool green statement wall sets the stage for a modern mixed media art print, and a light green chair with an accent pillow.
Black floor and cool green statement wall frame a love typography photo poster print and three halftone throw pillows on a white couch
A warm green statement wall with a near-black floor and neutral white furniture showcases a photo collage of foliage and – The Power of Nature – text and pillows in a ripped pattern.
Bold Walls
When it comes to making a statement, painting your walls in a black or deep green hue can instantly elevate your space. Opt for a black accent wall to create a dramatic focal point that anchors the room. Alternatively, consider a deep green for a touch of nature-inspired elegance. These rich colors provide the perfect backdrop for showcasing artwork, mirrors, or shelves filled with vibrant decorative pieces.
Furniture and Upholstery
Incorporating the colors black and green into your furniture and upholstery can make a big difference in the overall look of your home. Incorporate a black leather sofa as a luxurious centerpiece in your living room, or choose a green velvet chair for a touch of opulence. Mixed together, they create an overall visual balance that radiates style and refinement.
Floors and Rugs
Incorporating blacks and greens into your flooring can create a striking visual impact altogether. Opt for black hardwood floors to create a bold foundation that sets the stage for the rest of your decor. Alternatively, choose a deep green area rug to add warmth and depth to a room with light-colored floors. The contrast between the light flooring and the green rug creates an intriguing focal point.
To Sum Up
The black and green color palette offers a myriad of ways to enhance your home decor. Choose to paint your walls, incorporate furniture and upholstery, or add wall art by KBM D3signs, accessories, and accents. To clarify, this captivating duo will infuse your space with style and sophistication. Embrace the elegance of black and the refreshing appeal of green to create an overall harmonious and visually stunning environment.
Incorporating the black and green color palette into your home decor will undoubtedly leave a lasting impression. So embrace this striking combination to transform your home into a haven of timeless beauty.
Frequently Asked Questions (FAQs): Black and Green Color Palette in Home Decor
What are the key considerations when using a black and green color palette in home decor?
When working with a black and green color palette, it's essential to strike a balance between these two contrasting hues. Consider using black as an accent color or for statement pieces to avoid making the space feel too dark. Additionally, pay attention to lighting; adequate illumination can help create a harmonious atmosphere.
How can I make a small room appear more spacious with a black and green color palette?
To make a small room seem more spacious with black and green, opt for lighter shades of green and use black sparingly. Choose a predominantly green color scheme with touches of black in decor accents or furniture legs. Using mirrors and reflective surfaces can also amplify the feeling of space by bouncing light around the room.
Are there specific decor styles that work best with a black and green color palette?
The black and green color palette is versatile and can be adapted to various decor styles. It works particularly well in contemporary and modern settings, as it exudes a sleek and sophisticated vibe. However, it can also be incorporated into traditional or eclectic styles for a unique and timeless look. The key is to balance the usage of these colors to match the overall aesthetic you desire.