Custom wall art prints based on our template designs let you discover a world of creativity. And these are exclusively available on the print-on-demand platform, Zazzle. We offer a diverse collection of artwork that allows you to unleash your inner artist, providing a personalized and unique experience.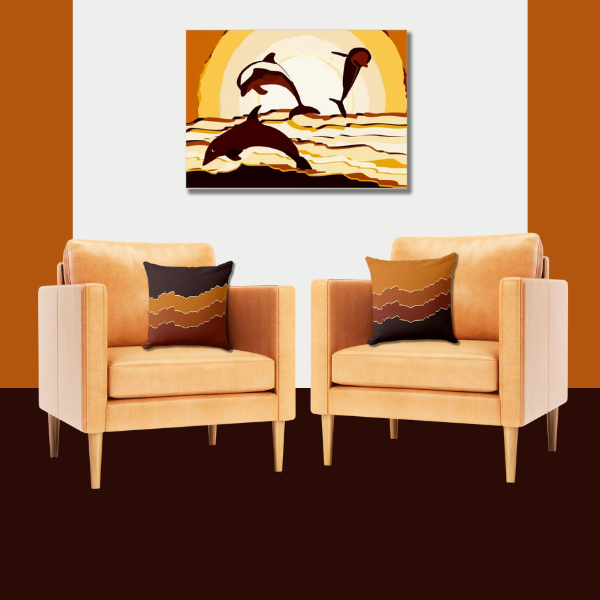 What customization options are available on the KBM D3signs custom wall art prints only available at Zazzle?

Wall art templates offer a number of personalization options. As template designs, they give you the freedom to add or replace text or swap out images. For additional customization, follow the Edit with Design Tool button to change the background and element colors. Finally, choose the size and print media that best suits your needs. From affordable, downloadable digital works of art to posters, framed or unframed. Or choose canvas or acrylic prints, there is something for everyone.
Explore Our Artistic Themes
Immerse yourself in our ever-growing collection of themes, inspired by Auckland's stunning west coast landscapes and seascapes. Organized as eclectic photo collages, or meticulously geometric organized designs. Our Instagram collages boast sharp square or rounded corners. Other collage variations have additional layered shapes, typography, and/or artistic elements. Additionally, you'll find bold and vibrant digital masterpieces that play with colors and layers, inspired by everyday objects, nature's beauty, and garden elements like flowers and butterflies.
Embrace the Playful Exploration
Our design process encourages a playful exploration of possibilities. If you find a design that resonates with you, that's fantastic! However, we invite you to put your own stamp on it. Modify the artwork with motivational words, incorporate personal images, and experiment with various color combinations. If you're not satisfied with the outcome, feel free to start anew, until you achieve the perfect piece of art.
Creating Harmonious Spaces
We've carefully curated natural color palettes in multiple combinations to inspire your creativity. If you're feeling adventurous, we also recommend color tools to help you generate your very own palette. To ensure your creation harmonizes with your home space, consider making a mood board for a delightful visual experience.
Personalized Art for a Memorable Touch
By customizing the artwork with your chosen images, text, and colors, you infuse it with your unique personality. Whether it's a gift for someone special or a meaningful addition to your own space, our custom wall art prints are a heartfelt expression of creativity and thoughtfulness. Show your loved ones how much they mean to you by crafting a one-of-a-kind art piece that speaks volumes.
Join the KBM D3signs journey of creativity and expression today! Unleash your imagination and design the perfect custom wall art print for your living room, kitchen, dining room, bedroom, kids' room, or bathroom. The possibilities are boundless, and the result will be a masterpiece that reflects your individuality.