Blue and orange wall art combines a dynamic color pair. It is a striking visual contrast achieved by the complementary colors that have a captivating effect.
When it comes to influencing the aesthetics of your living space, wall art plays a pivotal role in setting the mood and creating a captivating atmosphere. In this article, we explore the fascinating world of blue and orange and offer creative ideas for incorporating this vibrant duo into your wall art throughout your home.
Expressive Abstract Blue and Orange Wall Art
One of the most popular ways to incorporate blue and orange into your wall decor is through expressive abstract art. Look for pieces that feature bold brushstrokes, fluid lines and vibrant splashes of blue and orange.
The following examples feature digital paint splatter art hung as a set of two and while the second one as a large dominant wall art piece.
Splatter Art, Livingroom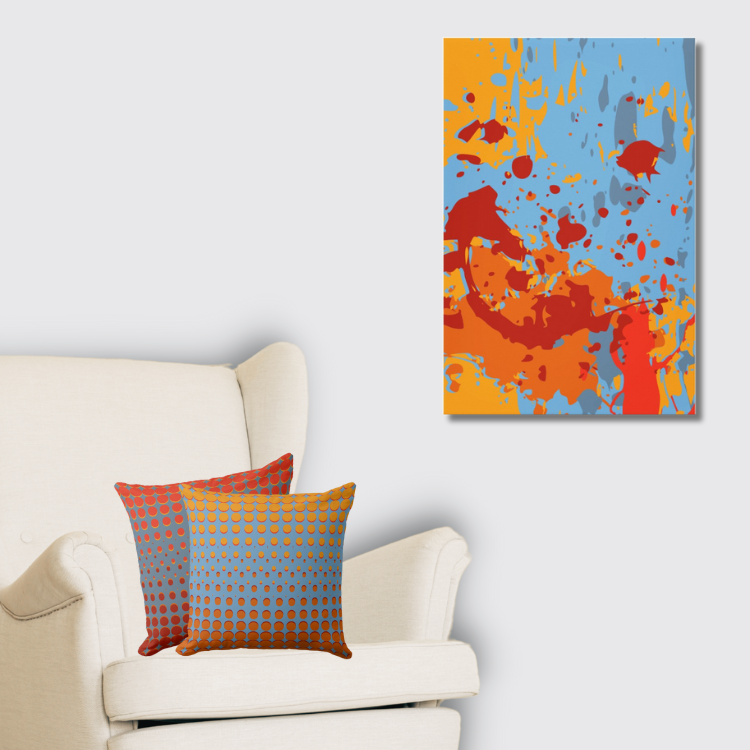 Large Splatter Wall Art in Spring Blue & Orange
Such artwork effortlessly adds a modern and energetic touch to any space, making it an ideal choice for living rooms, home offices, or even bedrooms. Hang a large abstract canvas on a prominent wall or create a gallery wall by combining smaller pieces for an eye-catching arrangement.
Nature Inspired Prints
Blue and orange perfectly emulate the beauty of nature, making them an excellent choice for nature-inspired wall art. Choose prints that depict stunning sunsets, vibrant fall landscapes, botanical elements, or breathtaking ocean scenes. These pieces bring a serene and calming ambiance to your home while bringing a touch of nature inside.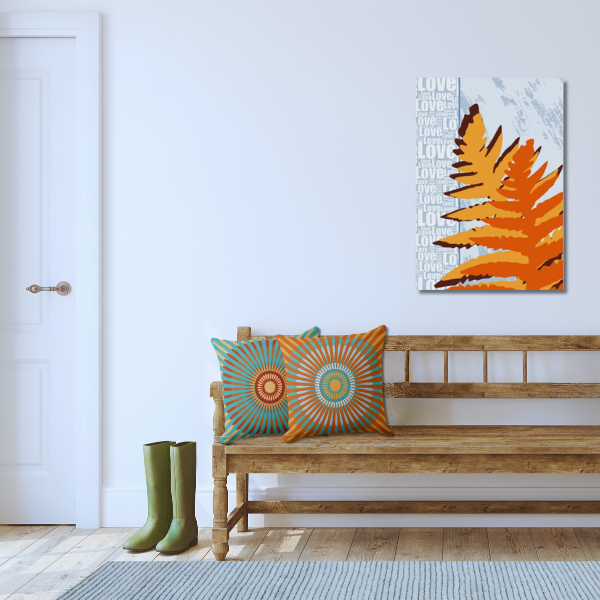 Love Fern, Entryway
The featured entry art is a nature-inspired collage titled Love Fern. It uses a typographic pattern, texture and stylized fern leaves to express a connection to nature and its brilliance in color. A set of two star flower throw pillows complements the poster print.
Bouquet with Butterflies, Set of Three, Bedroom
For the bedroom, a series of orange and blue wall art, a set of three floral wall art featuring variations of an abstract bouquet of flowers with pollinating butterflies. The bedroom set also includes a pair of floral throw pillows.
Motivational Wall Art
A Journey Begins With a Single Step is a blue and orange motivational poster. The wall art depicts the gentle slopes of sand in a desert. In the distance, a pair of camels references traveling.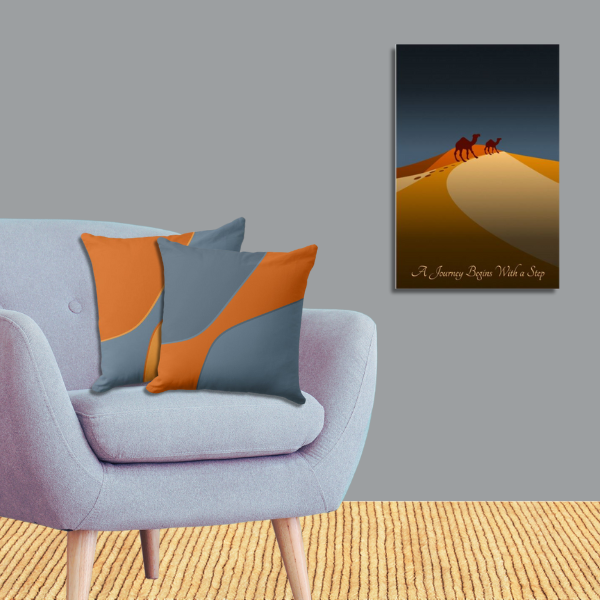 A Journey Begins With a Step
Then there is a fun blue and orange wall art based on jigsaw pieces with the equation Curiosity & LOVE = Magic. Here, a landscape poster print decorates the space above a bed. An accent pillow with Mr. and Mrs. and the elopement date.
Curiosity and Love is Magic
How to Customize the Featured Wall Art
KBM D3signs' mission is to create templates for custom wall art. What does that mean to you? All art allows for some level of customization. Included are text changes and following the edit with design tools brings you where you can change the fill color and all element colors. You can use a blue and orange color palette with #Hex codes by KBM D3signs or learn about the tools we use to create them by picking the colors from an image you load.
Pop Art Delight
For those who love a bold and eclectic look, consider incorporating pop art with shades of blue and orange. Think iconic images, comic book-inspired prints or retro posters that incorporate these vibrant colors. Pop art adds a fun and energetic vibe to any room and can be a great focal point in your living room, game room, or home entertainment room. Experiment with different sizes and arrange them in a grid or cluster for a visually appealing display.
Geometric Wonders
Embrace the power of geometry by incorporating blue and orange geometric wall art into your decor. Choose pieces with intricate patterns, symmetrical shapes and clean lines. These pieces add a contemporary and stylish element to your space. Overall, they work well in modern living rooms, dining rooms or even home offices. Consider using several geometric pieces to create an interesting focal point. Or use a single large piece as a statement piece.
Subtle Accents
If you prefer a more subdued approach, you can still incorporate blue and orange into your wall decor as subtle accents. Look for art prints that incorporate these colors in a more subdued or pastel form. These pieces can be framed and grouped together to create an elegant and sophisticated display. Hang them in your bedroom, dining room, or any area where you want a pop of color without overwhelming the space.
In Summary
Overall, blue and orange wall art offers a vibrant and visually stunning way to enhance your home decor. It incorporates the sense of tranquility of the blue and the vibrancy of the orange.
Whether you opt for expressive abstracts, nature-inspired prints, motivational wall decor, pop art, geometric wonders or subtle accents, incorporating these colors into your wall decor can transform your space. The outcome is a captivating oasis of style and creativity. So unleash your imagination, experiment with different styles and arrangements. And most of all let the charm of blue and orange wall art breathe new life into your home. For more tips about how to choose wall art visit our guide here.
Wall Art For Your Home By KBM D3signs