Fall wall decor ideas include a pumpkin, apples and a pair of cats are shown as three wall decor examples in three kitchen settings.
In the first kitchen, we see white cabinets with a vintage flair. In the second example, a dark, modern kitchen presents itself with cabinet fronts in wenge. The third kitchen shows a traditional style with light grey cabinets. Each kitchen forms the frame for an art print with fall in mind.
Can I Modify The Canvas Print Color?
The coloration of the canvas prints is exemplary. If you like one of the art prints, but the color fails to work for your purpose, then solve it by customizing the background. Instructions on how to initiate the change are available for mobile devices as well as for desktop devices.
One more point. Some of the prints show a caption, which allows editing. Either remove it, change the word, modify the font to adopt a kitchen style like vintage or eclectic as well as adjust its font size and font color.
1. An orange pumpkin print, the most traditional fall wall decor
The monochrome orange pumpkin print on canvas complements the white vintage-style kitchen well. While the canvas print theme is seasonal, the color allows adjustment to any mid-range hue to match your kitchen color and style.
In the presented example, the white kitchen cupboards have a pale orange to brown melange granite patterned bench top. A seasonal fall display consists of pumpkins, pumpkin-orange colored candles, and colorful fall leaves along with the window sill that, in its entirety, harmonizes with the pumpkin print.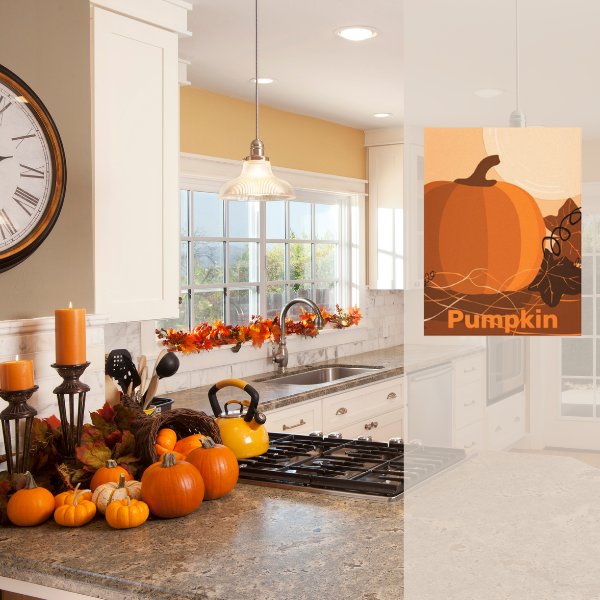 Continue reading

"3 Fall Wall Decor Ideas, Pumpkin, Apple, And Cats"