Yellow wall art has the power to transform any living space, infusing it with a burst of energy, warmth, and joy. Whether you prefer subtle touches or bold statements, incorporating yellow wall art into your decor can create a captivating, uplifting, and visually appealing atmosphere. In this article, we'll explore several creative ideas for incorporating yellow wall art into your living space. You'll be able to embrace its vibrant charm and make a striking statement.
Embrace the Hues of Nature
Bring the beauty of nature into your home by decorating your yellow walls with art inspired by flora and fauna.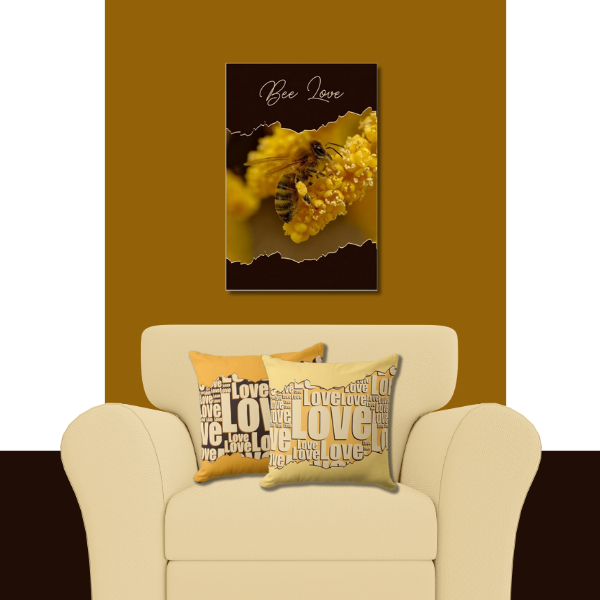 Admire the Bee Love poster, a macro photograph of the nectar-gathering insect. It bursts with golden yellow hues from a contemporary brown ripped frame. A set of two throw pillows echoes the ripped effect with a typographic pattern of the word Love spilling out.
This nature-inspired yellow artwork brings a touch of organic elegance to your living room, creating a harmonious and inviting atmosphere.
Abstract Expressions
For those looking for a contemporary and artistic touch, yellow abstract wall art is an excellent choice. Hang three individual splatter art prints to create a triple set for personal interpretation.
Meanwhile, the art evokes emotion and adds a unique flair to your decor that resonates with the halftone patterned throw pillows that add a touch of comfort. These creations will effortlessly become the focal point of your room, sparking conversation and stimulating visual interest.
Playful Pop of Color
Add a playful and energetic vibe to your space by incorporating a collage of eleven colorful and whimsical yellow photos arranged in a honeycomb pattern. It exudes a sense of fun and lightheartedness.
This artistic approach will infuse your home with a contagious enthusiasm that will make it a vibrant haven for residents and guests alike.
Adding a playful yellow color study of bananas in a set of three to a black kitchen can inject just the right energy to decorate a kitchen wall in a black kitchen and make it stand out.
Stylish Minimalism
If you prefer a more understated aesthetic, yellow wall art can still find a place in your home decor. Opt for sleek and minimalist yellow stylized desert imitation art that combines simplicity and elegance.
Well-placed, a single abstract yellow print against a neutral background can create a striking visual contrast and add a touch of sophistication to your living space. A pair of matching muted yellow throw pillows adds a touch of comfort. The subdued yet powerful presence of yellow provides a subtle nod to creativity without overpowering the overall ambiance.
Overall, incorporating yellow wall art into your home decor is a surefire way to infuse your living spaces with vibrant energy and captivating splendor. Whether you opt for nature-inspired motifs, abstract expressions, playful pops of color or stylish minimalism, yellow artwork can transform your walls into captivating focal points. So let your imagination run wild and explore the endless possibilities that yellow wall art brings to your home. Unleash its radiant charm and watch your space come alive with the warmth, joy, and creative spirit that yellow represents.
Embrace the vibrancy of yellow wall art and embark on a journey of artistic exploration in your own home, where every corner becomes a gallery of captivating beauty.
How to Customize Wall Art and Pillows?
All art prints and yellow throw pillows are customizable. The artworks invite photo and text modification, while following the edit using design tool enables to adjust the background color and element color. Follow the step-by-step instructions! For customization help or to inquire about a custom design, please use the contact form.
Wall Art For Your Home By KBM D3signs