Pink wall art has emerged as a captivating trend in contemporary home decor, offering the perfect balance of elegance and creativity. With its soft, feminine tones, pink art adds a touch of sophistication and warmth to any space. Incorporating pink wall art into your home decor can breathe new life into your living space, whether you're looking to add a subtle pop of color or make a bold statement. To enhance the aesthetic appeal of your home, this article will explore several ideas for implementing pink wall decor.
The Focal Point: Making a Striking Statement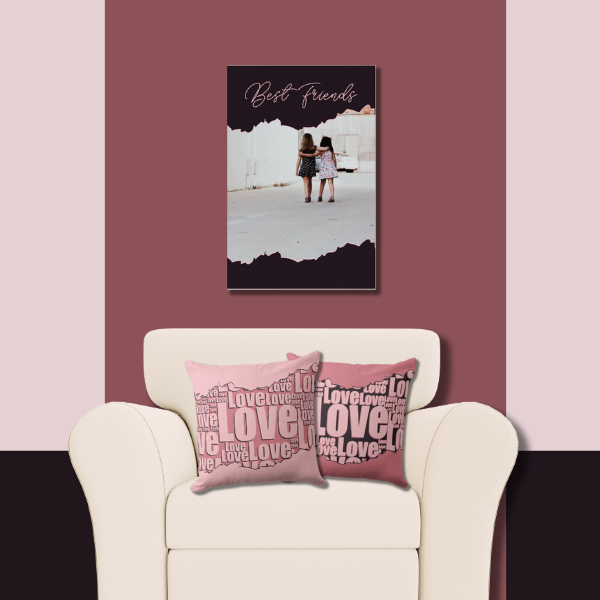 To create an intriguing focal point, choose a large pink artwork and place it prominently. A vibrant, oversized canvas or framed poster print with a photographic memory, abstract patterns or botanical motifs can effortlessly draw attention and become the centerpiece of a room. Use pink as the dominant hue in your artwork. You can make a visually striking statement that catches the eye and sets the tone for the entire room.
Pink Wall Art Hamonizing Complementary Color Schemes
Pink can be beautifully complemented by a variety of color schemes. This can help you create a harmonious and balanced ambiance. Consider pairing pink with neutral tones such as white, beige or gray to create a soft and sophisticated atmosphere. The two interior design details document this.
Love Roses by KBM D3signs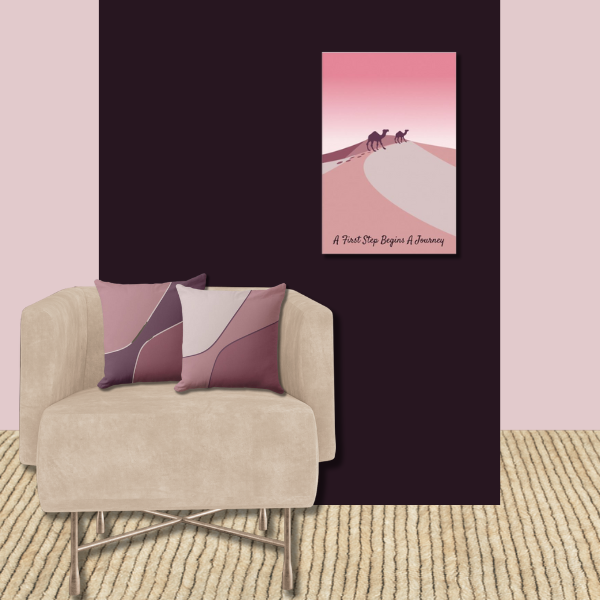 A First Step Begins a Journey by KBM D3signs
In the first example, you can see the Love Roses by KBM D3signs. It is a photo of roses that masks a typographic pattern using the word love. Neutral colors of white and gray define the space. And throw pillows in a pink halftone pattern highlight the gray furniture.
In the second example, pink is paired with a light sand-colored floor and furniture. A statement wall in dark mauve frames a minimalist art print in shades of pink, A First Step Begins A Journey. Two pillows with an abstract rounded pattern in pink and mauve highlight the chair.
Going for a Bold Look
Alternatively, for a bolder look, pair pink with contrasting colors like teal or navy blue for a dynamic and visually appealing contrast.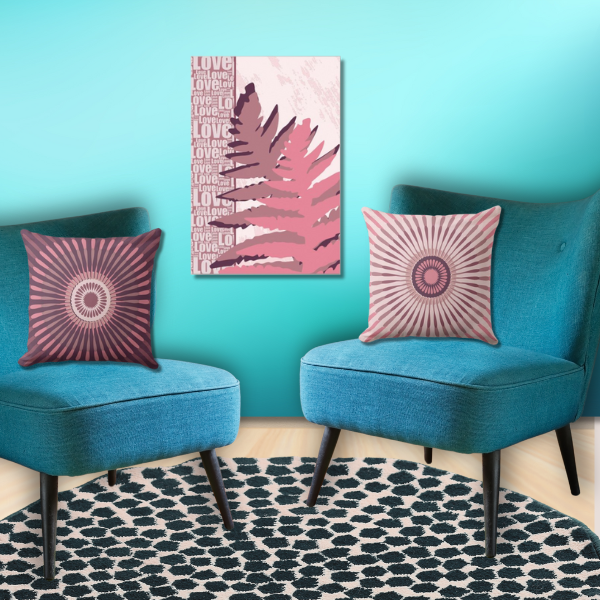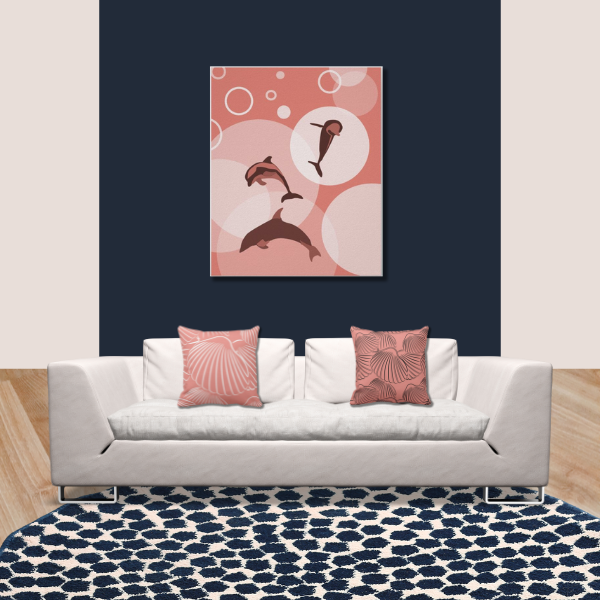 A teal interior is a wonderful base for the Love Fern by KBM D3signs print and two floral star throw pillows. Meanwhile, the color combination of a pink poster print framed by a navy wall is eye-catching.
Experimenting with different color combinations will help you find the perfect balance that fits your personal style and existing decor.
Gallery Walls: Curate a Visual Symphony
Select a custom photo collage, as shown in the example. Create a storyboard by color, by event, or by any theme that is important to you or worth telling.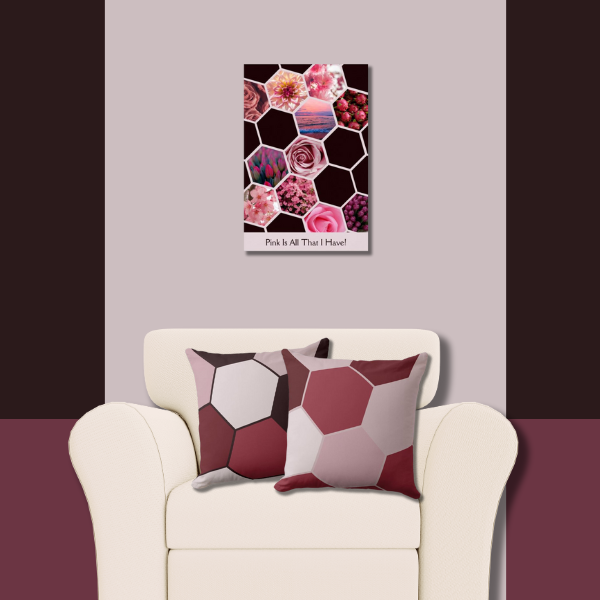 Alternatively group several works of art with a pink theme to create a gallery wall. Mix and match different sizes and styles for a curated yet eclectic look. Include a combination of pink paintings, prints, photographs and even sculptures to add depth and personality to the wall. Arrange artwork in a cohesive way that allows them to interact and tell a visual story. A well-curated gallery wall can transform an otherwise blank wall into a vibrant display of art, making it a focal point in your home.
Blend Patterns and Textures: Adding Depth and Dimension
To add depth and dimension to your home, mix and match different patterns and textures with pink art. Incorporate textured elements such as a plush rug, velvet pillows or woven wall hangings to create a tactile experience. Combine geometric patterns, floral designs or even metallic accents to create a sense of visual intrigue. By layering different textures and patterns, you can enhance the overall aesthetic of your space while increasing the impact of your pink wall art.
Pink Wall Art Summary
Incorporating pink wall art into your home decor is a wonderful way to add elegance, creativity and a touch of femininity to your living spaces. Whether you choose to make a bold statement with an oversized piece or create a cohesive gallery wall, pink art has the power to transform the ambiance of any room.
By experimenting with complementary colors, mixing patterns and textures, and curating a visually pleasing display, you can create a personal and captivating space that showcases your unique style. Embrace the allure of pink artwork and watch it breathe new life into your home, leaving a lasting impression on all who enter.
So why wait? Discover the magic of pink art today and unlock the transformative potential the color pink holds for your home decor! The beauty is that all of KBM D3signs' pink wall art prints come with placeholders, allowing you to get creative by inserting your photos and text. And for all applications, following the – Edit using design tools – you can change the fill and element colors. Check it out!
Personalize Your Wall Art
For more information on how to personalize art and pillows, check out our step-by-step guide. Find examples of pink color palette collages with #Hex codes or get a tutorial on the color tools we use to create a color palette.
Wall Art For Your Home By KBM D3signs