New beginnings are symbolically connected to the unfurling 'Fern Frond' that is also the name of the design. In New Zealand a spiral reflects exactly this state of a new fern leaf and is known as koru.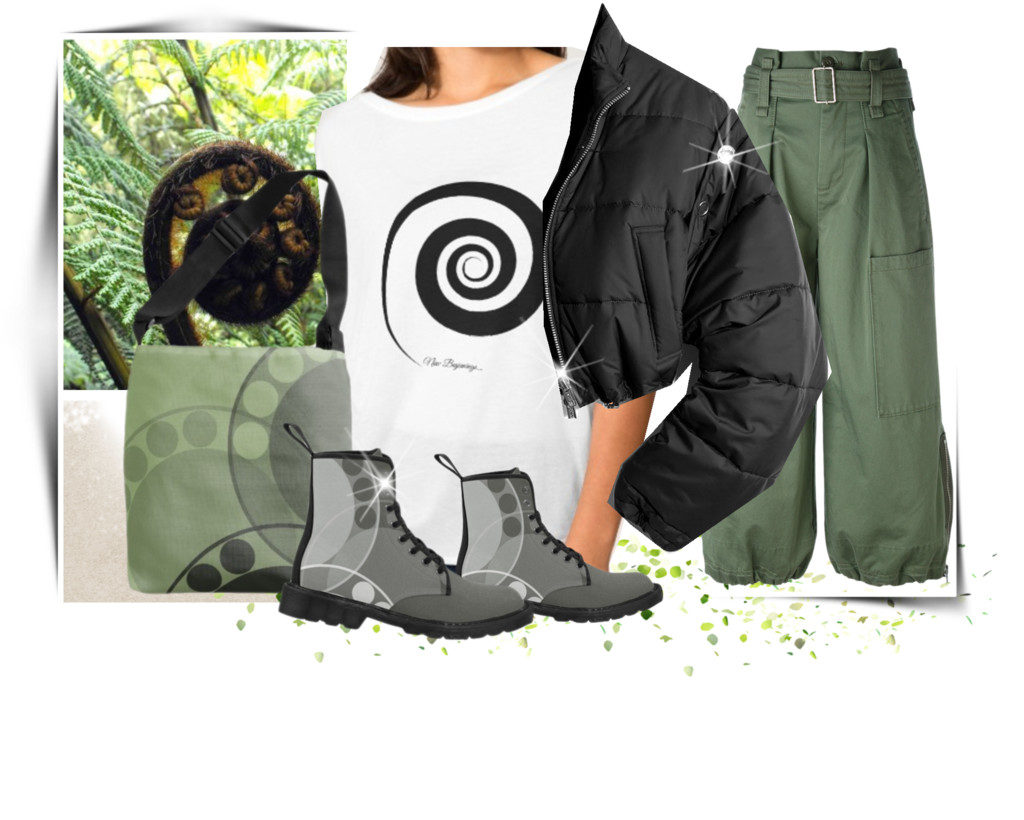 With this in mind the tote parades the leaf design. Basic circular shapes capture the essence of fern leaves before unfurling. Significantly small circles follow the outer line of a larger circle and represent the small delicate leaflets. Once fully extended these form the fern leaf blade. In order, to achieve visual depth in a monochromatic design the circular shapes overlap and return a variety of shades.
In this case the mood-board reflects the spirit of the design 'Fern Frond'. Equally important to the composition is the statement t-shirt that shows a black circular spiral with the descriptive text 'New Beginnings'.
New Beginnings, A Statement For A New Year
The year change inspired the mood-board and the contest kick-off for the year at the past  Polyvore group 'Color and Pattern'. As a result the contest theme is 'New Beginnings is a 'Statement T-shirt' .
In support of the theme items showing prints that relate to the contest motto .
The Dr. Martins boots please find at ArtsAdd. Meanwhile the tote and the statement t-shirt are available at Zazzle.
However, you have a fondness for the design and would like to inquire about color adjustments? Please use the contact form.
By interest to learn more about the design idea behind and the design series click through to 'Fern Frond'? Once there, take the chance to learn about design idea origins and get plenty of styling ideas. Ideas come in form of mood boards using the design in home and fashion sets.