The Sunset Room mood-board takes inspiration from the glowing colors of an African sunset.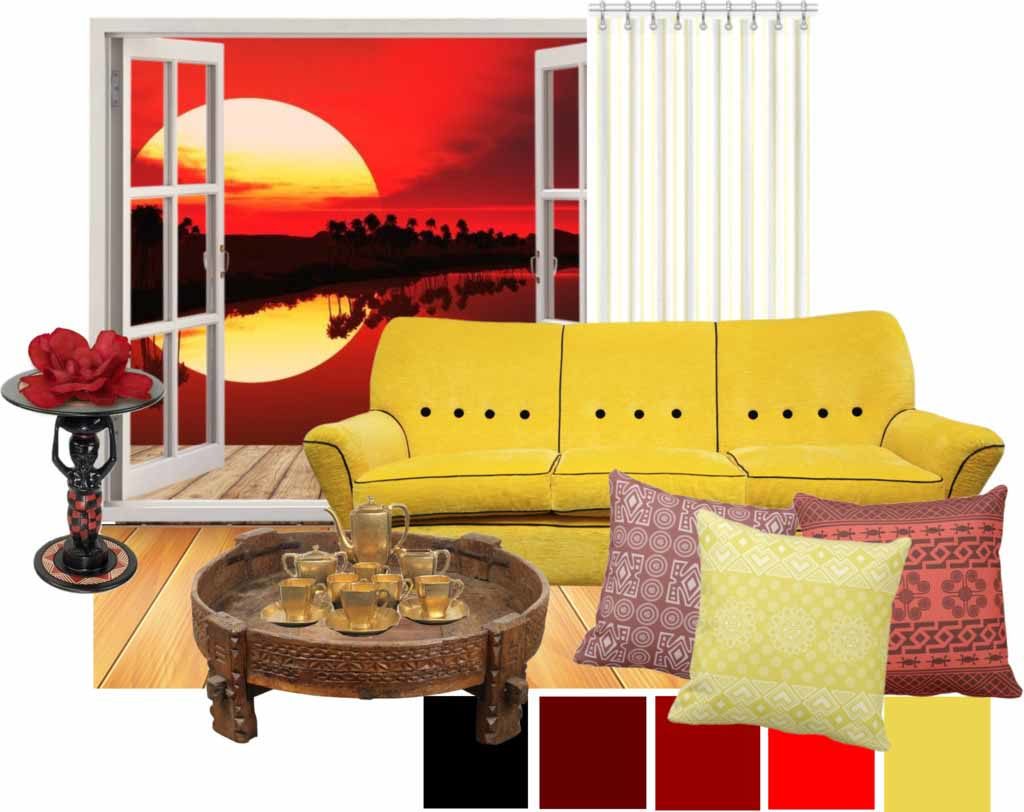 A deep yellow sofa is the vibrant focal point . The sofa seats three and shows black edging accents. Furnishings go hand in hand with the African theme. First there is a deep wooden coffee table that is decorated with traditional African carvings. Next there is an African sculptured side table.
Accordingly KBMD3signs chose throw pillows showing an African inspired monochromatic pattern to accessorize.
The Sunset Room Explores African Inspired Accessories
The above Sunset Room explores setting accents with African inspired surface designs. Bright colors from the color palette of a setting sun form the background. Vibrant shades of red-orange, red-brown and yellow give the base-color to the cushions.
Meanwhile the monochrome surface pattern are the result of template designs by KBMD3signs. Carefully chosen and arranged African symbols form decorative pattern for the throw cushions. Moreover, trough the Zazzle.com technology it is possible to adjust the base-color to one of personal preference. At the same time the monochrome surface pattern stays intact.
Furthermore for the window decoration we chose a white curtain with vertical yellow dotted lines. Following the link will bring to it's product page on Artsadd.com.
Let us know what you think about colors and design. If you need help with personalizing the color or are in search for a custom design contact us!