A set of 4 art prints holds the magic to enchant your space. A set is a wonderful way to add style, cohesiveness and visual interest to a room. Here are some of the highlights and benefits of using a set of four art prints in your decor:
Aesthetic Cohesion
A carefully curated set of four art prints typically works together as a unified collection. This cohesion brings a harmonious and balanced look to your space, creating a sense of completeness and order.
A Set of 4 Art Prints Creates a Clear Focal Point
By hanging the art prints as a set, you can easily create a stunning focal point in the room. The eye-catching arrangement attracts attention and often becomes a natural conversation starter.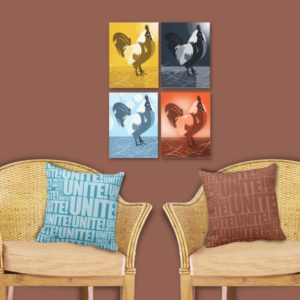 Easy Pairing
Because the prints are designed to complement each other in theme and size, you don't have to spend time finding matching pieces one at a time. They come as a pre-designed set that's guaranteed to look great together.
Versatile arrangement
Four art prints offer versatility in how you arrange them. You can display them in a geometric grid pattern, horizontally or vertically, or in a parallelogram formation, depending on your wall space and personal preferences.
How Do I Display a Set of Four Prints?

That depends a lot on whether you choose four individual prints that can be hung individually or as a set, or a quad.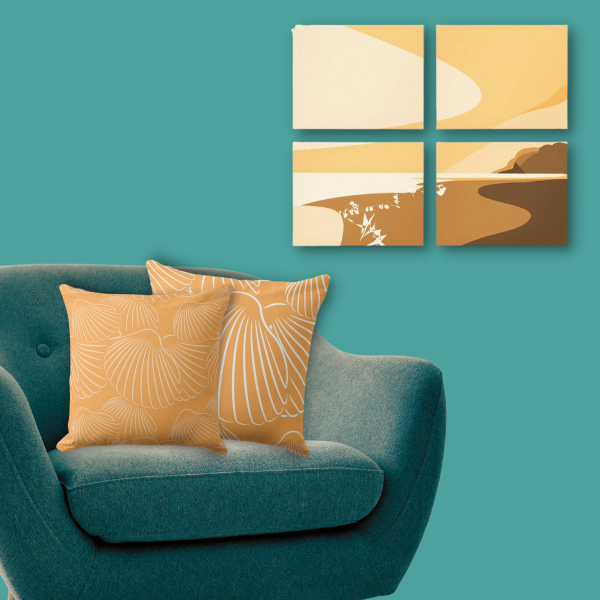 A quad is a canvas print where the original artwork is spread across four prints for effect. On the Zazzle print platform, the material is a stretched canvas. Because it is a print that is split for effect, it usually looks best when hung in a rectangular grid.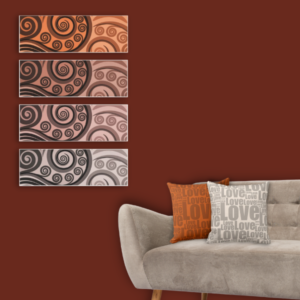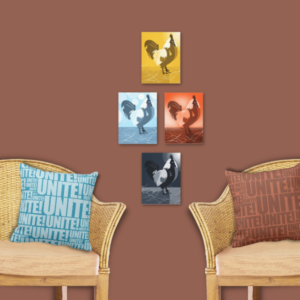 The custom art prints, on the other hand, offer a wider range of materials. These include posters, photo prints, faux or stretched canvas, or acrylic wood or metal. Your choice depends on print effect, quality, and affordability. Most importantly, how you choose to hang them is up to you and the space you have available. Ideas include as a double pair, stacked on top of each other, side-by-side in a straight line, in an upside-down line, or in a paralleogram arrangement.
Both the Quad and the Set of Four Art Print Solutions Have the Following in Common:
They Enhance Visual Appeal
Art in general has the power to add depth, color, and texture to a room. A thoughtfully curated set of four art prints or a quad in the right place can enhance the aesthetic appeal of your space, making it more visually interesting and captivating.
And always remember to consider the size of your wall and the dimensions of the prints when choosing a set. The goal is to find prints that resonate and work in the space you have allotted for them to enhance the ambiance of your living or working space.
Express Your Style
Art prints come in a variety of styles, from abstract and contemporary to classic and vintage. Choosing a set that matches your taste allows you to express your personality and preferences through your decor.
Cost-effective
Purchasing art as a set can be more cost-effective than buying individual pieces. This can be especially important if you like to change your decor often.
Three Quad Wall Artwork
Theme Enhancement
If the prints share a common theme or subject, they can reinforce the overall theme of your room. For example, nature-themed prints can enhance a botanical-inspired room, while cityscape prints can complement an urban decor theme.
Easy Installation
Hanging four art prints is generally easier than creating a gallery wall with multiple pieces. Once you decide on the arrangement, all you need to do is hang the four prints, saving time and effort.
Easy to Update
If you decide to change your decorating style or refresh your space, replacing a set of four art prints is easier than dealing with larger collections or gallery walls.
How Can I Customize KBM D3signs Art Prints?
Yes, you can. All of the artwork and pillows featured here are designed by KBM D3signs and allow for color customization by changing the fill color. To check out nature-inspired color palette ideas, follow the link. And to generate a color palette yourself to match the designs to your color scheme find out about the color tools we like and use. Under Color Theory we discuss the basic principles of what colors work well together and why. For all visual decision makers, we have created a mood board template. For more customizable home decor design templates in action, visit our Fall For It! Store at Zazzle. Have fun decorating your home or creating personalized home decor gifts for birthdays, weddings, or a new home!
We would love to hear from you about your set of four creation and hanging successes.
Wall Art For Your Home By KBM D3signs