Modern beach home decor is the decoration theme of the post. Selected examples use three beach scenes as wall decor. Two show an abstract of a West Auckland beachscape and one of the favorite sea mammals, the dolphins. Furthermore, the decor stretches to throw pillows decorated with a stylish shell pattern design and other home accessories.
In this instance wall decor of three digital abstracts shines.
Three Playfully Jumping Dolphins
Te Henga
Karekare
Home Decor Accessories in French Blue
Here the sea art and decorative throw pillows are in the beautiful summer tone of French Blue. The home accessory color is exemplary and allows for alterations. Clicking through to the Zazzle store FallForIt reveals these items in Marigold (orange), Cerulean (steel-blue), Rust (brown), Illuminating (yellow), Green Ash (turquoise), Burnt Coral (pink), Mint (green), Amethyst Orchid (purple), and Raspberry Sorbet (red).
Young Beach Home Decor In White And Blue, Turquoise And Yellow, And Yellow And Brown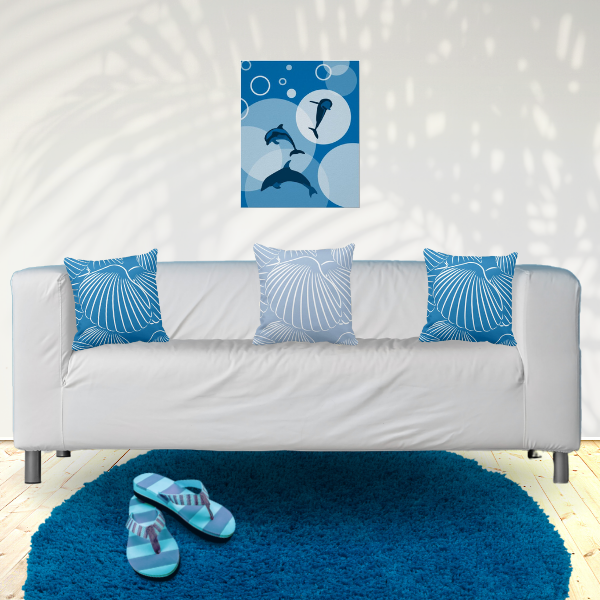 Young and playful home decor with a sea vibe features a summer-fresh decor in white and blue. A sea-themed abstract with three playfully jumping dolphins as wall decor sets the lighthearted energy complemented beautifully by throw pillows in the same hue with a white printed shell pattern.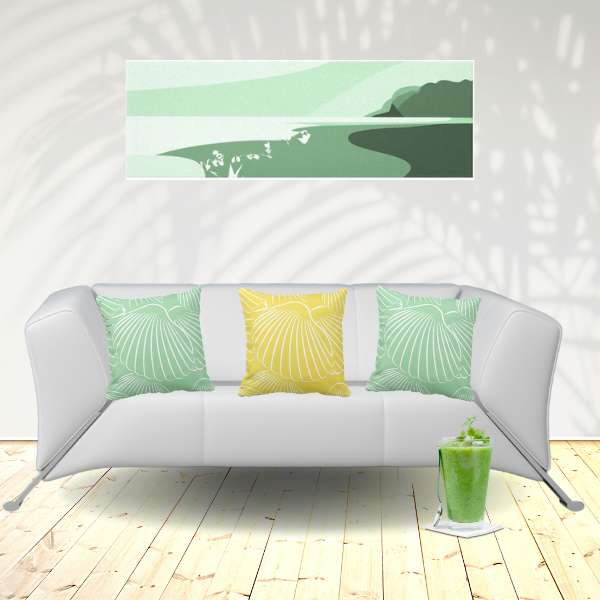 A feminine elegance in soft turquoise green with a spark of the joyfulness of yellow shows an abstract of Karekare Beach. A beach located in West Auckland brings out a serene mood complemented by shell-patterned pillows in turquoise and white in combination with yellow and white.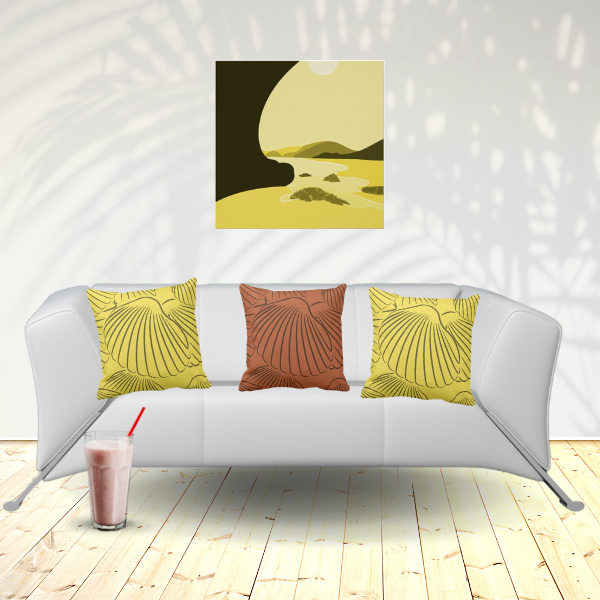 A more traditional home decor illustrates the color combination of yellow and brown in the shell-patterned throw pillows. Meanwhile, the wall decor manifests an abstract of Te Henga in the warming afternoon glow of the sun.
What If None Of the Colorations Work For Your Summer Home Decoration Project?
No problem, the surface pattern and wall decor come prepared for this scenario. And allow you to change the fill color by selecting a color of your liking. The result returns pillows in your hue with a pattern in black or white or lightened or subdued. Diversely, the modification of the fill color on the digital art results in a monochrome art print.
For instructions about revising the fill color, please follow the link: desktop devices or mobile devices. If you require hands-on help or you would like a custom design contact us directly on Telegram https://t.me/kbmd3signs_chat.
At KBM D3signs, we love feedback, so please feel free to post your color and decor idea.