Gustav Klimt art meets pillows in nine showcases of modern art-focused living room decorations. Each example shows a possible color palette in response to the art print allying with a pillow surface pattern design by KBM D3signs.
We love comments. Please take the opportunity to leave your thoughts in the comment field.
Art Meets Pillows
Portrait of Fritza Riedler, triangle patterned pillows
Red Woman, nested circle patterned pillows
The Sunflower, leaves patterned pillows
Mother And Child, butterfly patterned pillows
Beech Forest, box patterned pillows
Garden Path With Chickens, brick-wall patterned pillows
Tree Of Life, fragmented circles patterned pillows
Farm Garden, pixel patterned pillows
Mada Primavesi, checker and stripes patterned pillows
Portrait of Fritza Riedler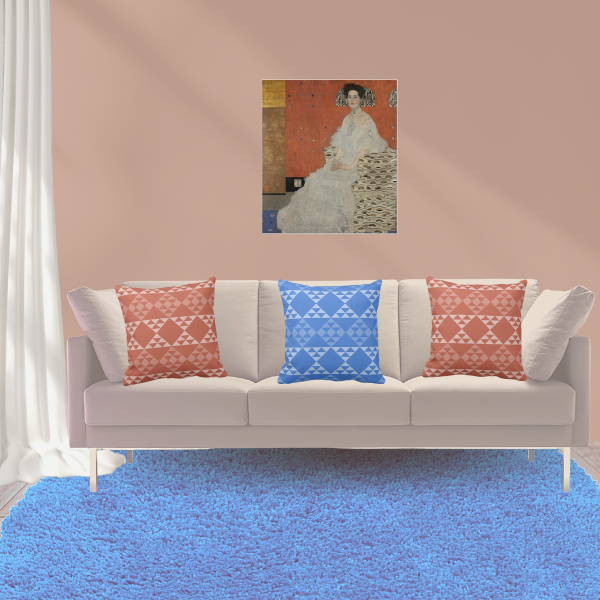 Domineering colors within the Portrait of Fritza Riedler are pale brown, terracotta, yellow and blue. With these hues, it makes it a harmonious living room decor for a room with a sandy-orange wall, a medium-blue carpet, and a grey couch that shows throw pillow decor in blue and terracotta with a triangle pattern.
Painting Red Woman
An attention-demanding painting transpires in the Red Woman with the symbol of a snake. The red and yellow artwork decorates a living room in neutral shades of grey with couch accessories found in yellow and orange pillows. These have a nested circle pattern design by KBM D3signs.
Painting The Sunflower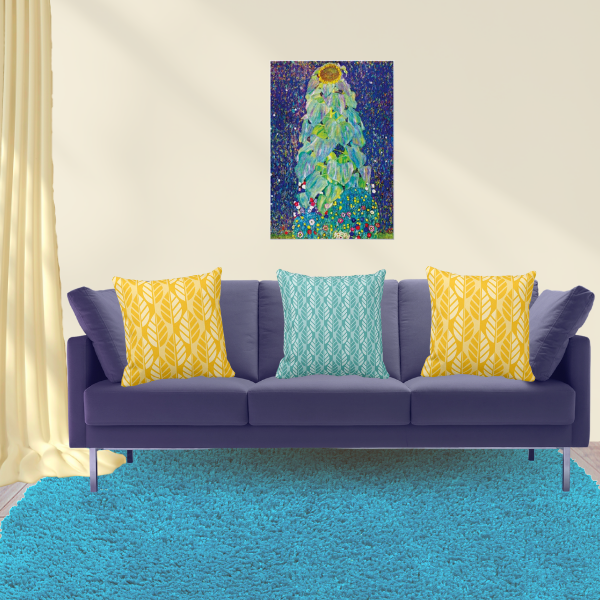 An intriguing art print appears in The Sunflower. The intricate background in the pointillist technique seems to come to life and let the sunflower in yellow and turquoise shine. The young and energetic living room shows a turquoise carpet and a blue couch accented with leaves patterned throw pillows in yellow and turquoise.
Painting Mother and Child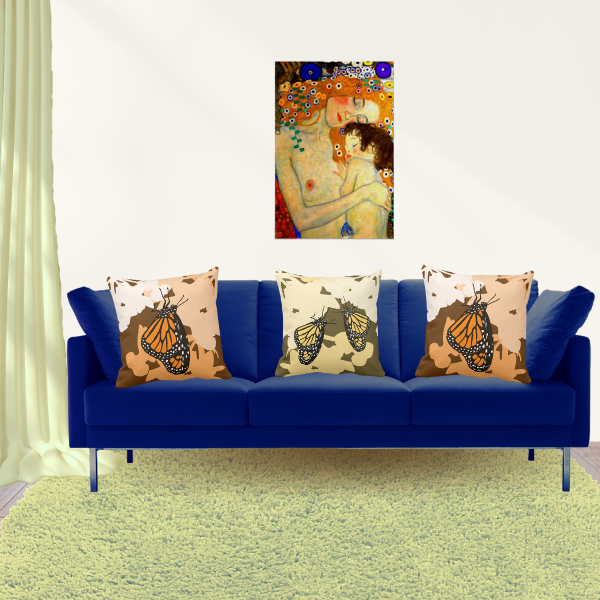 A sensual tender moment emerges in the artwork Mother and Child. Hues that draw attention are skin color, orange and blue. These colors ultimately are reflected in the room decoration with a yellowish carpet and a royal-blue couch where accents are set with throw pillows in yellow and orange with a playful butterfly print pattern.
Painting Beech Forest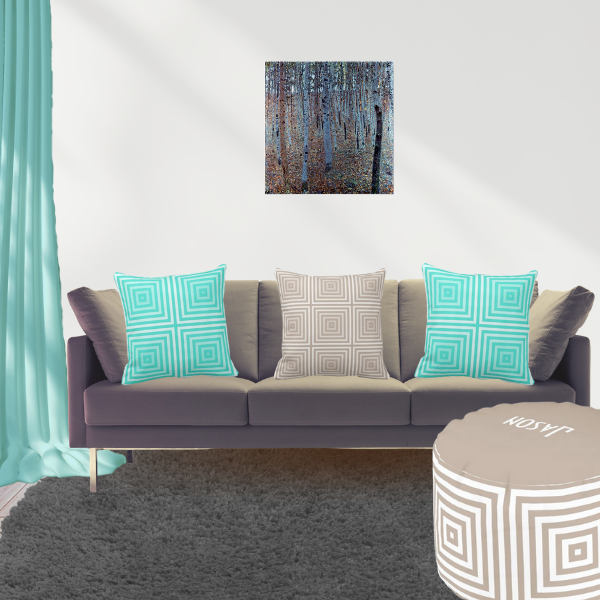 The masterfully captured beech forest brings the mood of densely growing beech trees with a carpet of fallen leaves into your living room. A cooling yet light-filled ambient uses a grey floor and couch. The latter displays accents in turquoise and light-grey with box patter. A pattern that picks up on the flow of light and vertical structure of the stems.
Painting Garden Path With Chickens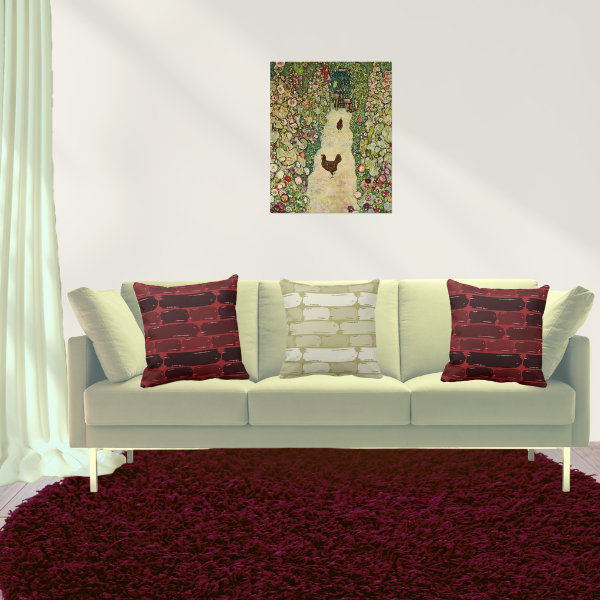 A living and breathing atmosphere emanates from the art piece Garden Path With Chickens. The sandy-colored path is edged with a sea of blossoms and greens while chickens roam. The room decor sets the mood with a burgundy red carpet and a sandy-brown sofa that shows accent pillows in correspondence with the farm theme. These pillows display a brick-wall pattern in red and brown.
Painting Tree of Life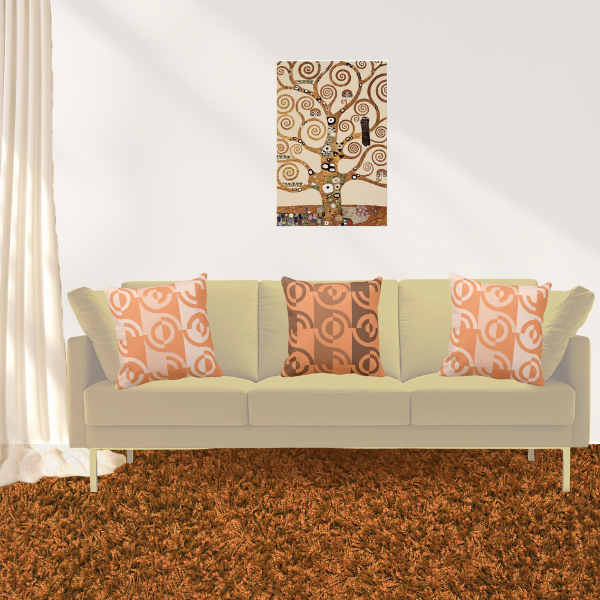 Swirls and symbols blend in the artwork The Tree Of Life. The tree itself shows in a golden brown. Golden brown flooring grounding a pale couch emphasized with pale orange pillows that reveal a fragmented circle design remind of the colors used in the painting.
Painting Farm Garden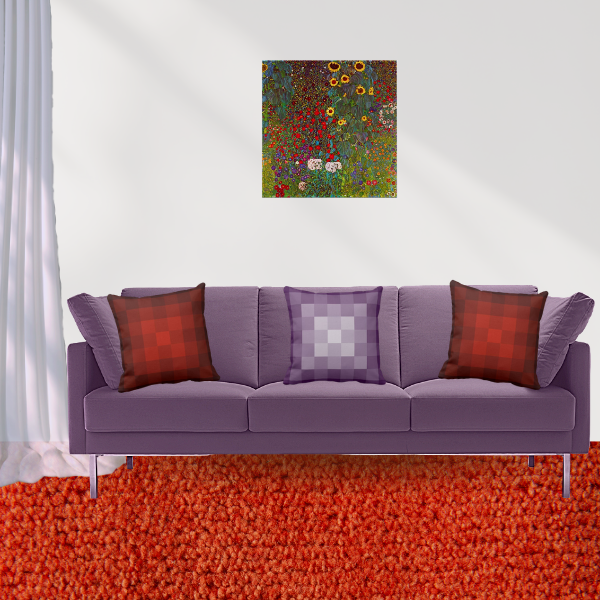 The spirit of a vibrant garden in full bloom, such as the Farm Garden With Sunflowers, adds the feeling of summer to your living room. Here the room itself shows orange flooring and purple furniture. As a connecting accent, the example uses throw pillows with a pixel pattern design.
Painting Mada Primavesi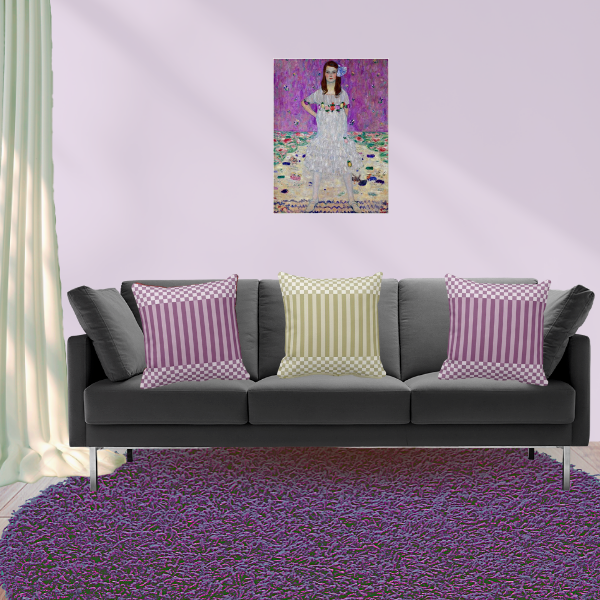 An elegant living room decor comes about pairing purple tones and neutral grey-brown. Both are prevalent in the art print. The home decor example corresponds with the floor coloration in purple and the accent pillows on the couch in grey-brown and purple. The pillow pattern shows vertical stripes and checker patterns.
Who is Gustav Klimt?
Gustav Klimt is a famous Symbolist painter. The artist was born on the fourteenth of July 1862 in Baumgarten, a district of Vienna that was part of the Austrian Empire. On the sixth of February in 1918, the artist died in Vienna at the age of fifty-five.
Paintings, murals, and sketches comprised his creative work that transmits strong influences from the Vienna Art Nouveau movement. Vienna Secession is the Austrian terminology for it. As a symbolist painter, the artist chose to refrain from painting a self-portrait. In his mind spending time reviewing his paintings would enable anyone interested to learn about the thoughts of Gustav Klimt, the artist.
"Art is a line around your thoughts."

Gustav Klimt
What makes the pillow designs by KBM D3signs stand out?
For each pillow, a coordinating collection is available in the Zazzle store FallForIt. Each product collection holds ten hues with additional pattern variations, including two or more pattern variations. Each variation returns the fill color subdued or lightened and the colors black and white. Further, if none of the ten colors work for you, you can color it your way by altering the background color.
This feature, altogether, permits you to define your accent color.
Furthermore, each collection features square, oblong, and round pillows, poufs, cubes, and blankets. Every collection features ten different colorings in addition to the colors black and white. Colorations include pink and grey, blue, green, orange, purple, brown, red, turquoise, and yellow..
For step-by-step instructions on modifying the fill color, please follow the links here: desktop devices or mobile devices. If you require hands-on help or you would like a custom design contact us directly on Telegram https://t.me/kbmd3signs_chat.
At KBM D3signs, we love feedback, so please feel free to post your color and decor idea.