Setting accents with medium-blue throw pillows that show the same seamless pattern each with a twist is the focus of this post.
Generally, the bolsters exhibit the wave pattern from four angles in addition to the differentiation to pair the blue color with white, black, or shades of each. The color blue is fantastic on its own as well as to combine with a yellow colored pillow, green pillow, grey pillow, light brown pillow, red pillow, or orange pillow.
Scroll through the post to review examples of the color compositions.
Four Different Angles Of A Seamless Wave Pattern Placed Each On A Blue Background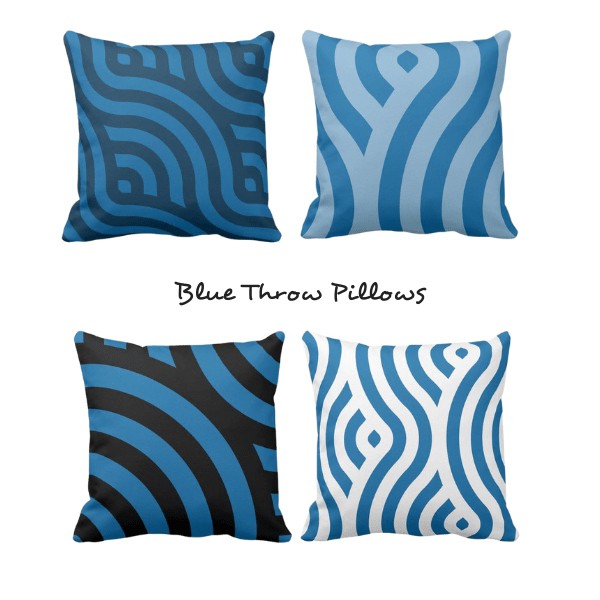 The above presents a wave pattern from four angles. Each angle is available with a color of your choice paired with white, black, or shades of each.
However, please know the display colors are illustrations that allow customization by replacing the fill color. With this detail matching an existing color scheme is a breeze. Instructions for both, using a mobile device or a desktop are given in word and image by following the link.
To request help with the customization, please follow the link to inquire. We are here to help with both extending the product range and customizing the product to the accent color of your choice.
Toying With Color By Mixing Different Colored Ones To Blue Throw Pillows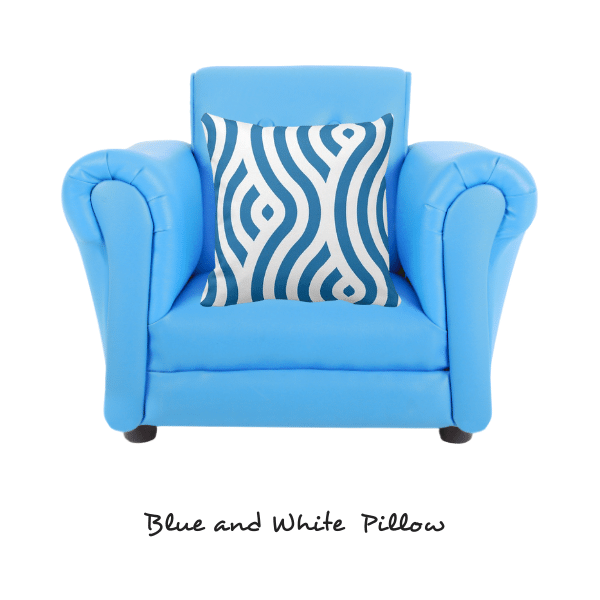 A pillow in medium blue with a white wave pattern accessorizes the blue English Rolled Armchair.
The pillow in blue with a partial wave pattern in black decorates the classic dark grey comfortable armchair.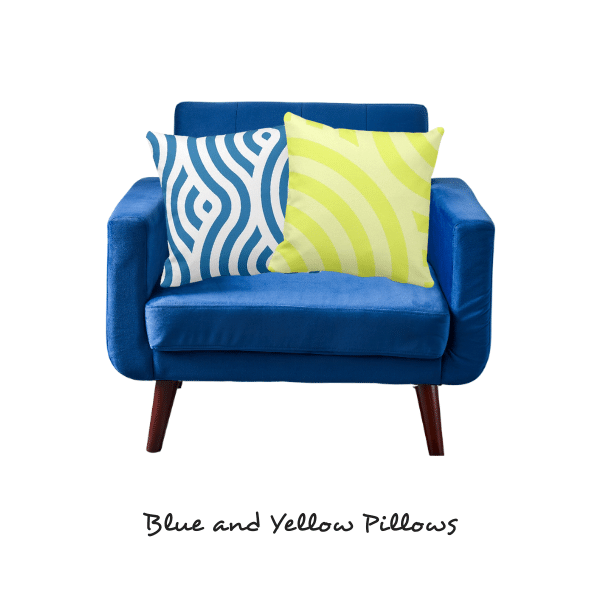 This blue armchair shines with the joyful color combination of blue and yellow. In particular, one pillow shows a blue and white wave pattern while the second brings a light yellow contrast.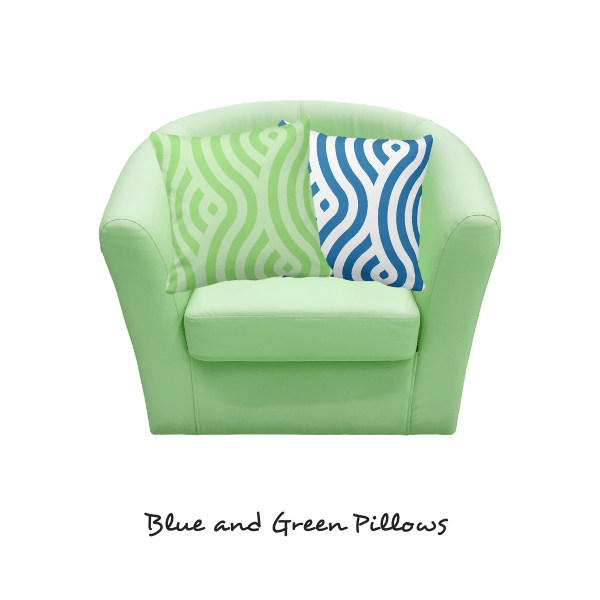 Shades of green and shades of blue distinguish the throw pillow duo on a light green barrel chair.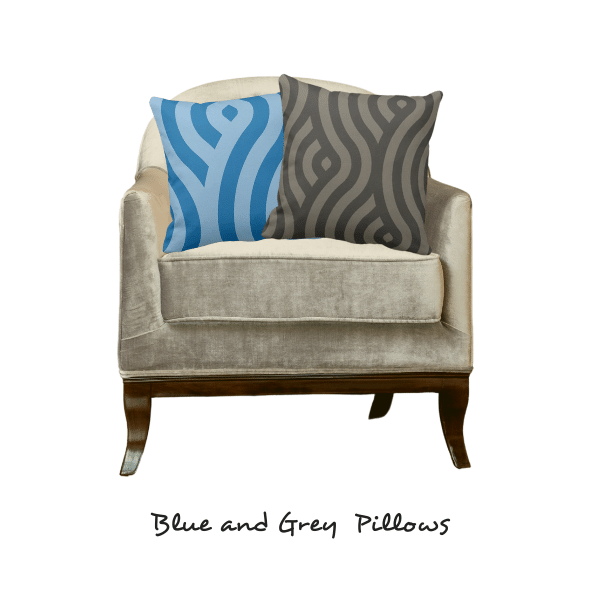 A pillow pair in shades of blue and shades of grey sets the accent on this light grey armchair.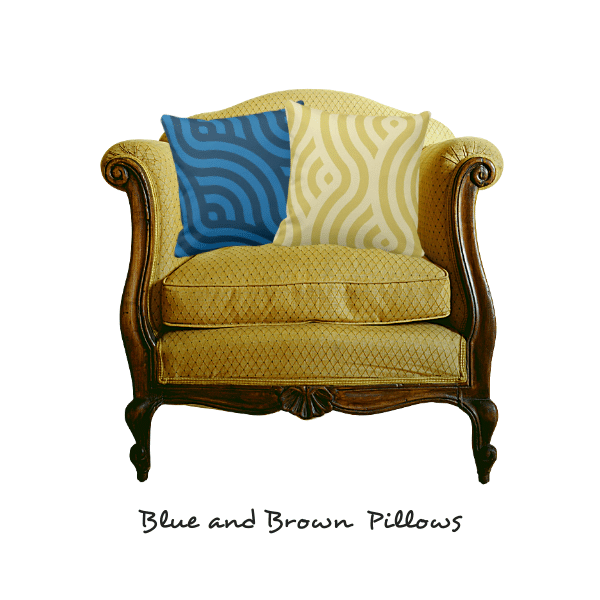 Shades of blue and light brown with white wave patterns make up the decor of the Bergère Chair.
More decor ideas in blue and brown:
Complementing artist Greg Straight →
Various surface patterns →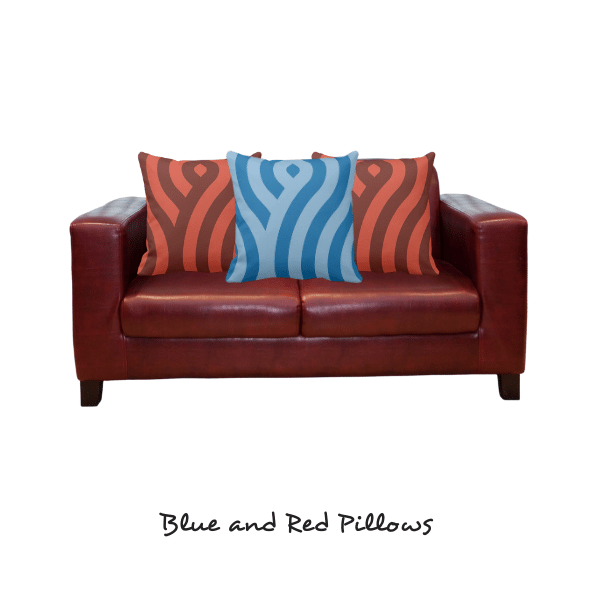 Pillows in shades of blue and shades of red decorate the dark red modern loveseat.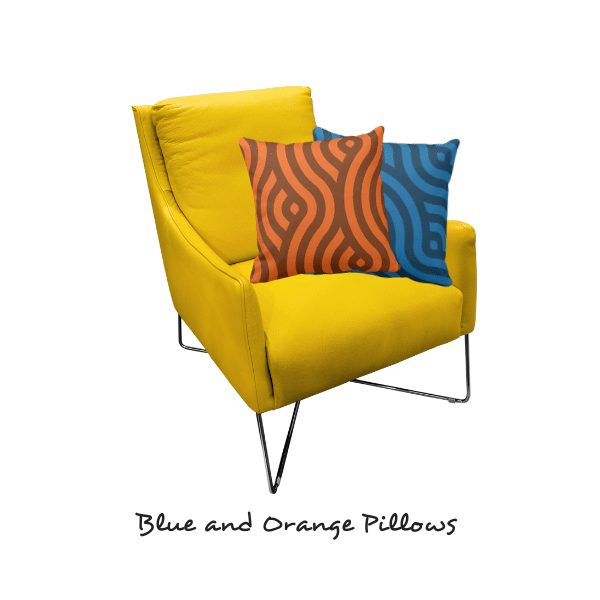 A colorful display makes the pillow in blue paired with a pillow in orange. Each shows the feature wave pattern on a yellow accent chair.
At KBM D3signs, we love feedback, so please feel free to post your color and decor idea.