The green and white wall art has three main features. A motivational caption, clover leaves, and ladybugs populating them.
Three artworks tell the story of Share a Smile, Smiles are Infectious, and A Smile Travels. Each poster is also a standalone wall decoration.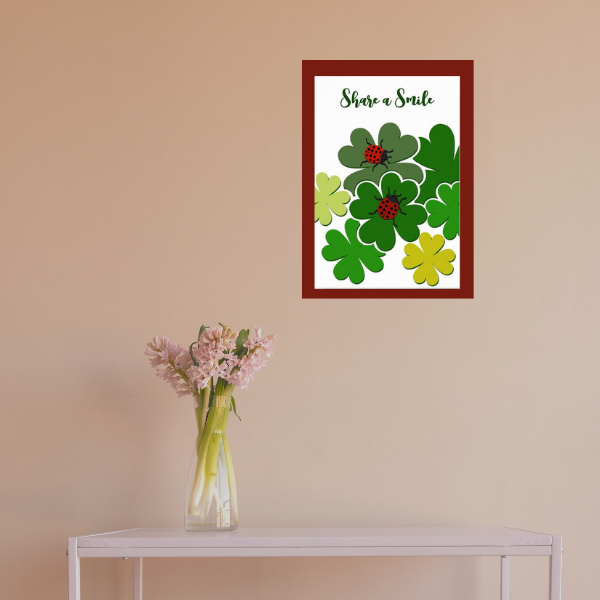 Share A Smile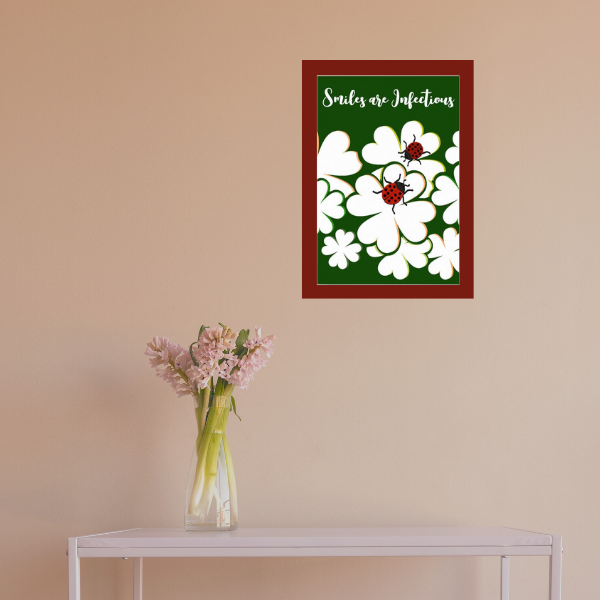 A Smile Is Infectious
A Smile Travels
Green, the dominant color, shines in five hues. Additionally, each work shows a pair of black-dotted red insects, ladybugs.
Do Ladybugs Paint A Smile On Your Face Too?
Chancing in the garden on a ladybug usually is accompanied by a smile. Smiles are so great they often brighten the moment. Once a smile is shared, it brightens up a moment for the next person.
Like this, a single smile tends to spread and becomes a memorable moment of a day for many.
Find more dining room wall decorations on the Zazzle marketplace.
Can I Customize The Green And White Wall Art?
Yes, modification is possible in two steps. All posters in the wall decor collection for the dining room allow personalization.
In the first step, fill the text placeholders that show on the product page, under personalize, with your words.
Second, follow the link – Edit design or Edit using Design Tool for further customization.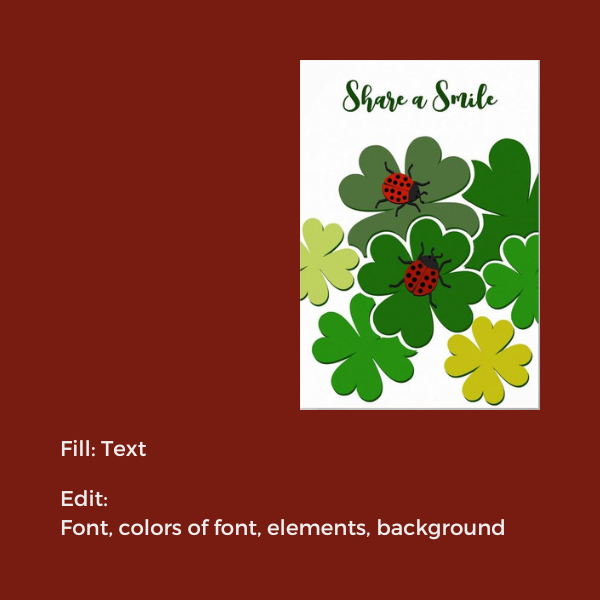 Personalize The Template
The poster will reflect your words when you fill the placeholders with your ideas. 
Edit Using Design Tool
Following the design tool, you can adjust the coloration for fonts and elements. And your fill color choice replaces the present white. Additionally, adapt the font and its color. Then continue with the five hues that color the clover leaves. There is a second layer in dark green to create a shadow. Last, even the ladybugs, when clicked, allow coloration changes.
For assistance in personalizing the artwork, we prepared a step-by-step guide on the following page.
All in all, the prints in the mood board compositions are part of a more extensive collection. So check them out! If you require additional items, and these are available among the Zazzle products, then message KBMD3signs. We are happy to add products or to discuss an alternate custom design.