The pink and green pillows meet digital art prints by Liz C in sets of 2.
Liz C is a creator on the Zazzle platform and the artist behind the store Animal And Nature Art. Among other products, fascinating digital artworks are worthy of further exploration.
Four Sets Of 2 Pillows In Pink And Green Accessorize Four Art Prints
The four sets of 2 pillows, each showing a different pattern design to echo the poster color or atmosphere.
First, regular nested quarter circles with a corner as a center point pattern designs complement a poster showing an American Goldfinch. The bird sits among green sword-like leaves framing large pink blooms and smaller yellow ones. Altogether, it makes modern home decor.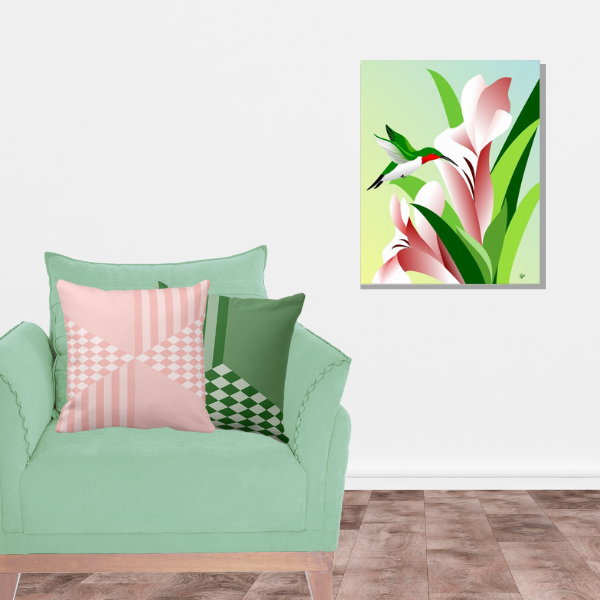 Ruby Throated Humming bird Poster Meets Throw Pillows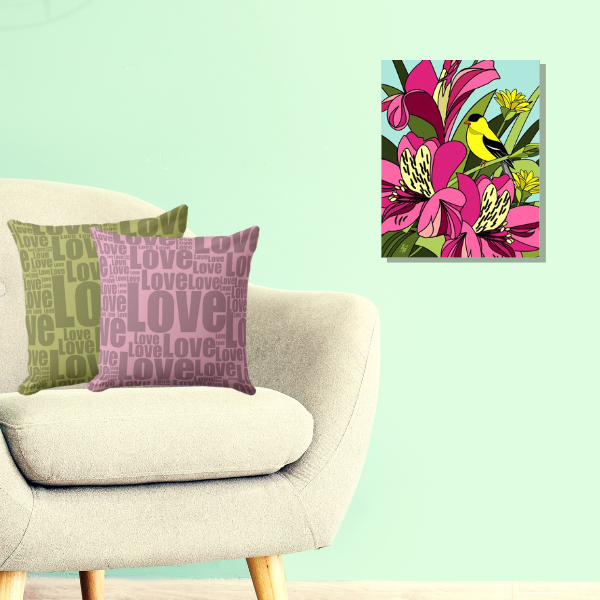 Green and Pink Home Decor
Pink Flamingo Poster and Pillows
Second, two pillows with pattern variations of the diamond pattern design accessorize the poster print of a ruby-throated pollinating hummingbird. It is overall a modern and feminine style.
Third, the word – love – pattern decorates the next set of two pillows. Both complete the poster of a yellow American goldfinch beautifully, and it makes a fun and light-hearted home decor.
Fourth, two pillows with lined circle patterns accessorize an art print with high color contrast. A pink flamingo head, surrounded by green leaves, stands against a black background.
Spring And Summer Pink And Green Wall Art By Liz C
We chose four remarkable digital artworks out of a comprehensive collection. The main task of the mood boards was to complement the art with surface pattern designs by KBM D3signs. Leave us a comment and tell us how you like the selection. Do the art posters compell? Then, visit the artist's store to see more of her work.
Can I Personalize The Pillow Color?
Yes, you can personalize the pink and green pillows by following the – Edit using design tool and altering the fill color. The alteration results in the throw pillows showing a lightened or subdued pattern aside from the selected color.
Get Help With The Throw Pillow Customization
Coolors has a fantastic app to match colors.
Also, find step-by-step instructions for the customization process.
If you like the design style yet require hands-on help for product customization or expansion, or you would like a custom design, contact us on Telegram https://t.me/kbmd3signs.
Above all, have fun experimenting with colors!
Tell us about your experience with the customization, the product, and the print result: