The hair stylist business card and promotional marketing materials have the potential to become your custom business branding package. It consists of marketing collateral supporting the first impression, retaining customers, passive marketing, staying remembered using swag items, your first workshop, and saying Thank you and Merry Christmas.
Black & Pink Business Cards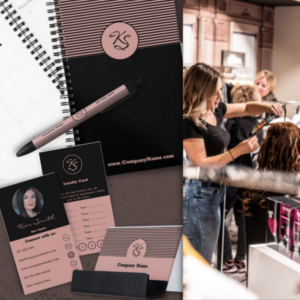 Retaining Clustomers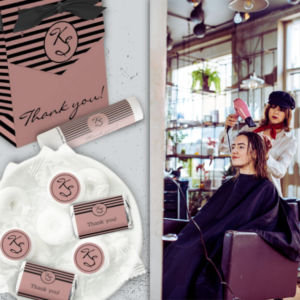 Saying, thank you!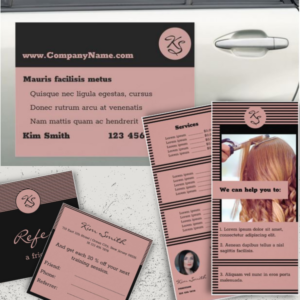 Passive Marketing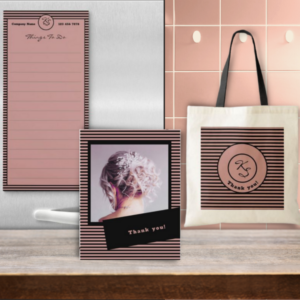 Staying Remembered With Swag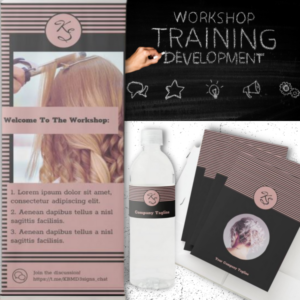 Workshop Accessories
Merry Christmas!
AHair Stylist's Business Cards To Leave A Great First Impression
Today an exceptional first impression gives prospective clients the possibility to contact you. Sometimes we want to communicate more than just contact details. Additional information like where to find your website, social network presence, and tagline identifying your area of expertise make all valid points in a happy service client relationship.
Saying Thank you!
Thanking your client gives a feeling of appreciation and a personal touch beyond the service.
You achieve this with branded mints or chocolates in a bowl at the cashier. Also, a small sample gift nicely packaged in your branding colors will elevate the value received.
Retaining Your Customer
For the customer to keep your contact details within reach becomes easy with fridge magnets. Otherwise, a black and pink business card with a prospective follow-up date and time supports a continuum. Meanwhile, the loyalty card adds an incentive to return to your services promising a defined bonus after a decided number of return visits.
Growing Your Customer Base
Handing out referral cards with incentives, putting a car magnet onto your vehicle, and rack cards detailing the service you are offering are all passive ways to grow your clientele. Personal recommendations, information, and stumbling about your service while doing something else can add to your growing client list.
Staying Remembered Longer
A follow-up Thank you card, a magnetic notepad for the fridge with your contact details, or even a shopping bag that is used and reused help to stay remembered and even do promotion for you. Why else your customer chooses to use it?
You Hold Your First Workshop
Guide participants with a retractable banner to your location. Stay consistent with your branding and provide water with branded labels. Further, prepare your workshop accompanying material in a presentation folder representing your brand.
During The Holiday Season
A good practice is to send out Merry Christmas wishes to stay remembered and retain customers.
How To Make The Hair Stylist Business Card Yours?
Images and text are replaceable. Under customize further, a button after the replaceable items brings you to edit the design, including the pink fill color, font, font size, and font color.
Where to go for assistance for customization or publishing additional products?
Should difficulties arise when personalizing the black and pink business card and marketing materials, we prepared a step-by-step guide on the following page.
Do you have additional questions? Then contact KBM D3signs via the form. We are also happy to transfer the design on request onto products available on Zazzle or to prepare a custom design altogether. Alternatively, visit KBMD3signs on Telegram at https://t.me/KBMD3signs_chat and leave a comment.