The custom Christmas wrapping paper by KBMD3signs is Zazzle Made and affords endless customization possibilities. And if you decide on a wrapping paper design that works best, you can expand your creative input into style-matching Christmas supplies and even complete a small business branding package. Like this, your small business is easily recognizable with your branding color and logo throughout the year.
Here seven Christmas designs became part of nine branding packages filled with marketing materials for small businesses with eight example professions in mind. Each design style is part of a set of Christmas gift wrapping supplies. And each includes Christmas cards, tags, ribbons, gift bags and boxes and gift wrapping paper.
How To Customize A Christmas Gift Wrap
There are two steps for customization.
The first step is replacing template placeholders with your text or your photos. Meanwhile, the second step allows changing the background, font, and shape coloration.
Christmas Gift Wrapping Supplies
In the following mood boards, eight professional marketing packages give an insight into a potential Xmas gift wrapping and supplies outcome.
Irregular Star Pattern
The first slide shows professional Christmas cards and wrapping supplies for a financial planner in white and blue. Altogether text, logo, and blue coloration allow customization.
A photographer displays works describing their photography style on the second slide showing classic black and white wrapping paper and supplies. Here text, images, and the black coloration of fill color and shape color allow modification.
Regular Six Ended Stars, Color, Or Image Filled Or Empty
A life coach complementing Christmas wrapping and supplies in white and red and white shows empty or image-filled grey or white star outlining in the third slide. To best reflect your coaching business, replace the logo and images, and personalize the text. Also, adjust the red color to your company color.
In the fourth slide, the home care service uses the design with the stars as an overlay, taking on a lightened version of the dark purple fill color. Additionally, the stars are either empty or filled. And even show a filling of images that depict the service provided. Modify, here text and photos.
Pointed Six-Ended Filled Stars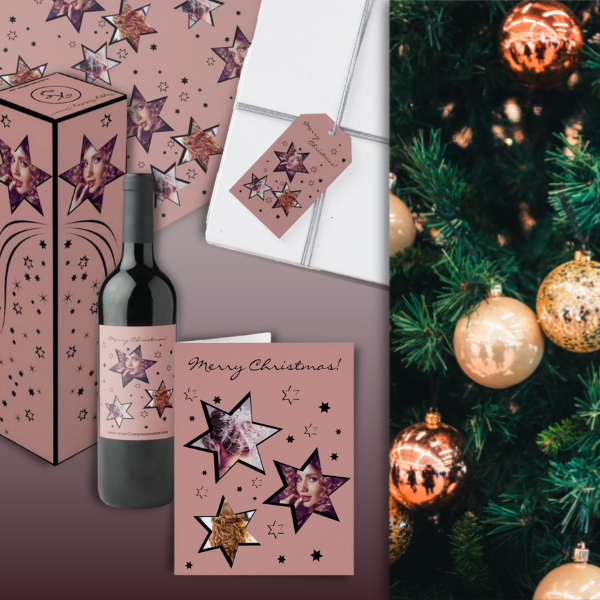 Pink and black are the colors for the fifth Xmas wrapping paper. All patterns are in black. For this reason, replace the pink fill color of the hairstylist example with your company color to make it yours and modify the three personalizable photos, text, and initial logo.
Pointed Six-Ended Filled Stars And Overlapping Small Stars
White and green are the colors to represent the portrayed lawn care service company in the sixth slide. Here modify the text, logo, and the color green to represent your company colors.
The seventh slide interprets a florist in purple and white. Replace purple with your company color. Meanwhile, additional custom notecards and gift-wrapping supplies allow photo, text, and QR code modification.
Line Christmas Candles In White Or Black
White-line Christmas candles on blue make up the eighth slide for the house cleaning Christmas gift wrap. Transform it into your custom Christmas gift-wrapping paper and supplies by modifying text, images, and the blue color.
A youthful lime green lets the black-lined candles stand out on the ninth slide and is part of the branding package for a young small business entrepreneur. Replace the logo, modify the text and adjust the fill color to pair your color with black to reflect your branding color.
Where To Get Customization Help
For assistance personalizing the photography business cards and marketing materials, we prepared a step-by-step guide on the following page.
Do you have additional questions? Then use the message tool on Zazzle, or contact KBM D3signs via the form. Alternatively, visit KBMD3signs on Telegram at https://t.me/KBMD3signs_chat and leave a comment or connect with us @KBMD3sings on Telegram as well as on Pinterest.
We are also happy to transfer the design on request onto products available on Zazzle or to prepare a custom design altogether.