How to plan a wedding? Using a step by step wedding plan keeps the bride and groom for their upcoming wedding relaxed and on track. Effectively this approach preserves the joy for the special event ahead.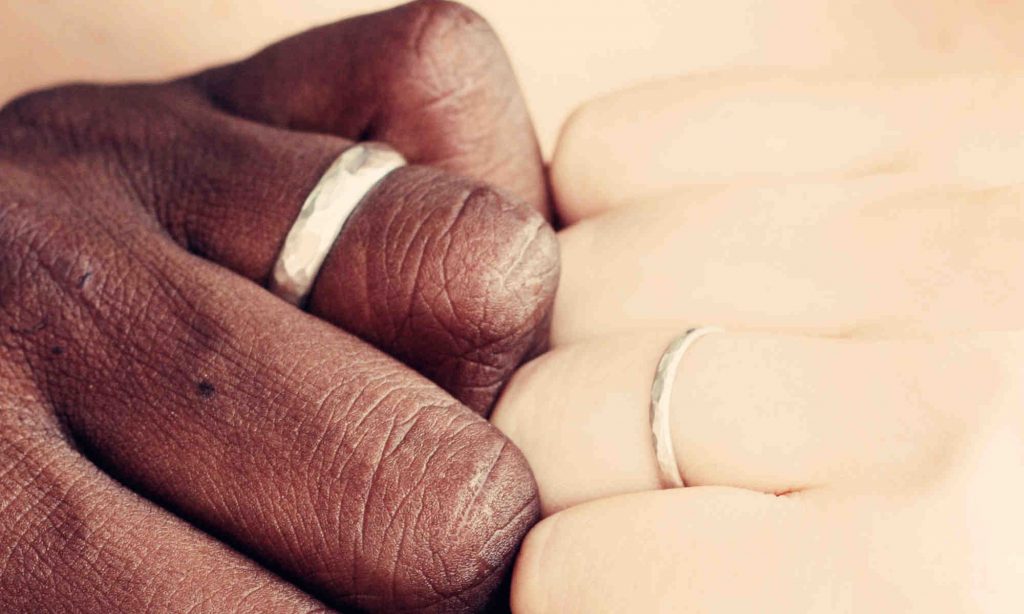 With the intention to give a helping hand, KBM D3signs prepared a wedding checklist template. In order to stay organized and prepared, the checklist follows an initial timeline. Each major item on the list relates to a period for research and a period for decision making. Closer to the wedding day the list serves as a reminder to confirm that all preparations align with the event date.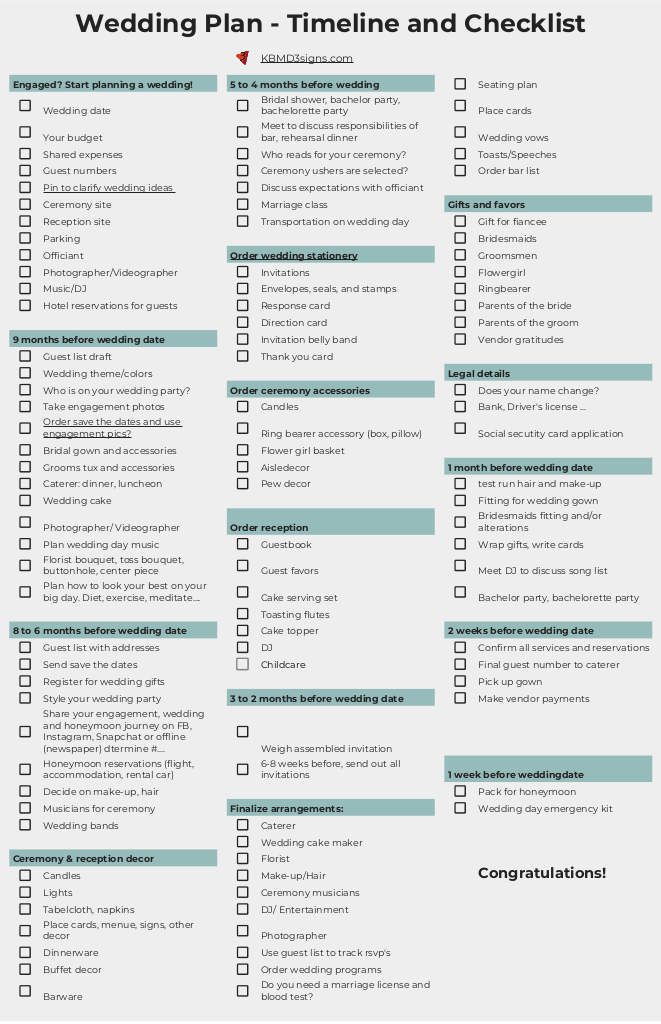 Please review and download the wedding checklist as a printable PDF file. For all having the desire to adjust and add items according to their personal situation and are familiar with Google sheets, please find the wedding plan checklist here. Use the viewable Google sheet as a template by making a copy of it and adding it to your personal Google drive. Making a copy of the sheet allows adding, alter and rearrange items on the list, and timeline.
Make use of the action list and jump-start your own wedding planning. If for nothing else, use the wedding checklist template as a loose guideline and fill in whatever you miss in the list. Our goal is to help you enjoy the preparations for your most special day.
The euphoria of the wedding proposal ebbed, what now?
A wedding proposal launches an engagement time that reaches its peak on the wedding day. Ultimately the wedding day marks a turning point in life. Symbolizing the new beginning of a life together as husband and wife, Mr and Mrs.
After the wedding proposal, it is a good idea to set the frame for the special day.
The first step is agreeing on a wedding date. A single decision that determines whether the wedding day becomes a spring, summer, fall, or winter event.
The second most important factor is the number of wedding guests. A decision that makes it an intimate, private, close, or monumental wedding event. This would also be the time to determine whether there will be long distant guests expected. A detail that possibly affects the ultimate wedding date and preparation period to announce your plan in time for your guests to accommodate the wedding. Since some long distant guests need to plan and save up to be part of. Clearly, this depends on social status and personal taste as well as on available funds.
The third step is setting a wedding budget and who will share the costs. As in day-to-day life, estimating expected wedding costs and putting these into relation to actual costs gives immediate insights. The chance to see where the money goes to, whether estimates were correct and reveal immediately unimagined hidden costs. However, these measures prevent a couple from overspending and put them into the position to immediately take countermeasures if planned areas go overboard. In short, it puts the bride and groom to be into the driver seat of their new beginning.
Planning A Wedding And Sharing Wedding Stories Using Social Media
Ideas on how to use social media to aid in planning a wedding and sharing wedding stories using social media.
Sometimes ideas rival on how the most special day should look like. In this situation, it is useful to find a way to organize ideas and get a clear impression of how the best wedding day looks for us personally. Free social media websites like Pinterest are priceless tools to organize ideas. Collate pins with friends by inviting them to the board or alone. For wedding ideas or inspiration on How to Plan a Wedding set up your own wedding idea-board visit Plan to Wed by KBM D3signs on Pinterest.
There is a multitude of ways on how to involve your friends in your journey from being engaged to becoming Mr. and Mrs. Share your story on social media by creating your own #hashtag and ask your friends to follow and use it for posts connected to your journey.
However, more and more couples decide on using personalized wedding websites or blogs to share, update, and inform about their wedding event ahead. For best effects, start your online venture. The big plus is for larger wedding parties to publish updates once and use an email list to inform every expected wedding guest on your list.
Would a wedding blog replace traditional wedding invitations? That is a good question and depends very much on how comfortable your expected guests are in using the online landscape.
Next Steps on Your Wedding Journey
The next steps on your wedding journey after date, guest list, budget, and support are brainstormed. An initial idea what makes your special day your best wedding day. You started your wedding blog, and your guests are invited to follow and, or you have sent out save the date cards that give all wedding guests close to your heart the chance to be with you on that day. Of course, you downloaded your wedding checklist or customized the Google sheet template copy according to your needs.
Then you are well prepared for sending out quote requests for:
Ceremony venue
Reception venue
Officiant
Favors
Wedding gown
Wedding cake
Caterer
Florist
DJ
Photographer and, or videographer
Last recommendations on How to Plan a Wedding, to guarantee wedding guests and newlyweds satisfaction and limit planning surprises. It is good practice keeping the wedding planning timeline up-to-date. Review and adjust the budget plan to stay alert of unsuspected and hidden costs. Last but not least, pass on a vendor list to those trusted to support the smooth running of the event. Ultimately it will take care of your peace of mind during the final days and the event day itself.
Congratulations to Mr. and Mrs.