The Monarch butterfly bathroom decor and beach accessories are part of a cute bathroom decor design collection.
Three base designs consist of an abstract wing repeat pattern, a butterfly pair feeding on swan plants in lightened and subdued analog hues, and a single butterfly silhouette.
Abstract Wing Repeat Pattern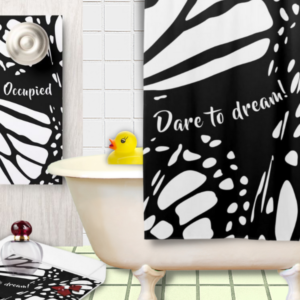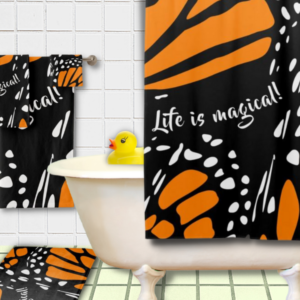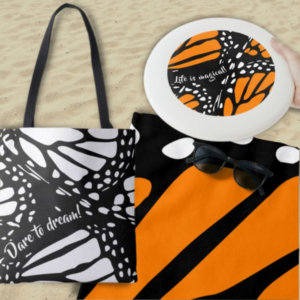 The abstract wing pattern once appears here as black and white bathroom decor with a motivational – Dare to dream! Meanwhile, the second bath shows the surface pattern in the traditional black, white, and orange of the eye-catching insect with an inspirational sentence – Life is magical! In both cases, adjust the orange or white large areas to a hue you prefer and modify the text to something meaningful to you.
A Monarch Butterfly Pair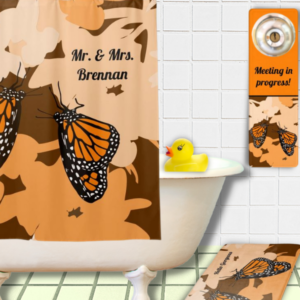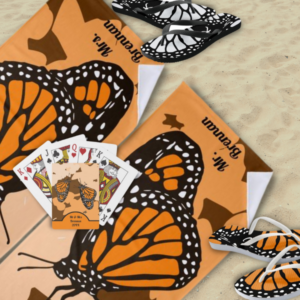 A Monarch butterfly pair beautifully suits to symbolize the new union of newly wed's and makes a perfect wedding gift. The butterfly pair is the center point of the shower curtain, bath mat, and door hanger. Additionally, the name of the couple is part of the design.
Displayed beach towels in comparison, show each a single butterfly with the name of Mr. or Mrs. with design matching flip flops and playing cards. For bath and beach accessories is applicable that hue and text allow personalization.
Orange and White Monarch Butterfly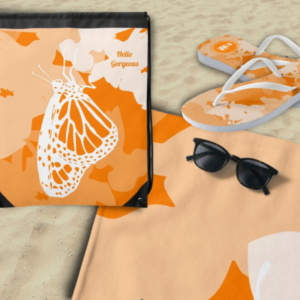 A single white Monarch silhouette feeding on lightened swan plants decorates the series with – Hello Gorgeous. Here, as well adjust the fill color to your favorite one to match it to existing decor, and personalize the text to create a personal message on a gift.
Where To Find More Monarch Butterfly Bathroom Decor?
Find all butterfly bathroom decor and beach accessories in a complementing collection at the Zazzle store – Take a Dip!. To explore all of KBM D3signs work, visit the store Take a Dip!.
Items to suit a cute bathroom decor include a shower curtain, bath mat, towel set, door hanger, light switch cover, and drawer knob.
Extending the meaning of – Take a Dip! – to the beach, you find beach accessories like flip flops, beach towels, frisbee, playing cards, and a beach bag.
To explore all KBM D3signs bathroom theme ideas, visit the store Take a Dip!. Each design idea occupies a collection. Further, find the bathroom decor items organized in a color collection, be welcome to explore!
Where to go for assistance for customization or publishing additional products?
Should difficulties arise when personalizing the bath or beach accessories, we prepared a step-by-step guide on the following page.
Do you have additional questions? Then contact KBM D3signs via the form. We are also happy to transfer the design on request onto products available on Zazzle or to prepare a custom design altogether. Alternatively, visit KBMD3signs on Telegram at https://t.me/KBMD3signs_chat and leave a comment.