Green and white pillows complement seven living room mood boards around New Zealand photo wall decor.
Each mood board showcases another pillow pattern. Both throw pillows and photo decor have room for customization. The fill color of the accent cushions allows modification. As a result, your selected color will pair with white or show the pattern lightened.
Customization of the New Zealand beach wall hangings includes a complete exchange of the Auckland west coast photo, filter use, and size adaption. Overall the collection offers a cheap wall decor solution as poster prints and acrylic prints. So please check the collection connected out.
Seven Noteworthy Green And White Pillow Composition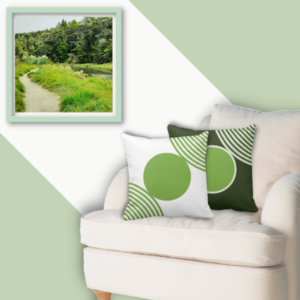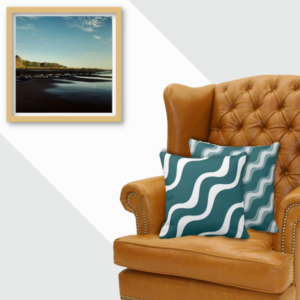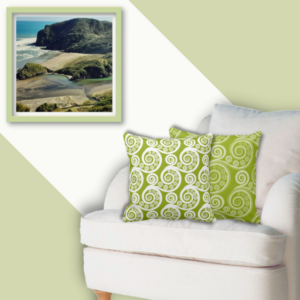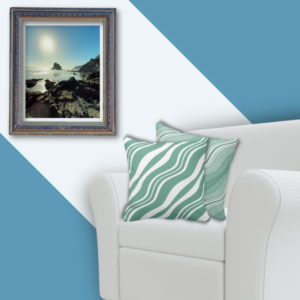 First, the stripes and circles repeat pattern accessorizes an idyllic beach view at the north end of Bethells beach.
Second, a pattern cornered, based on squares pressing into a corner, comes with a photo decor showing a sunset charming Bethells lagune.
Third, a quirky box spiral pattern decorates the green pillow in white and reflects the deep teal-green color of the ocean behind the Australasian gannet colony at Maori Bay, which is the theme of the coastal photo on the wall.
Fourth, minimalist summer green and white circle pattern accompany the photo decor. It shows the natural track along a lagune, surrounded by bush, towards Kakamatura Beach.
Fifth, the teal-green throw pillow with a white ripple pattern reinforces the diagonal direction of the waterline. It leads the eye with various shades in the black sand of Karekare beach and the green ridge.
Sixth, a playful curl pattern in white characterizes the yellow-green throw pillow. A photo showing Anawhata beach from a view of a heightened ground complements as wall decor.
Seventh, a white wavy line pattern shines on a turquoise-green pillow accessorized by a rugged beach photo. There a low sun glistens in the water.
Where To Find More?
To find all KBM D3signs in green and white or green throw pillows, follow the link. The link goes to the respective collection in the Zazzle store Fall for It!
Where to go for assistance customizing the pillow or photo collage wall decor?
Should difficulties arise when customizing the home decor, we prepared a step-by-step guide.
Do you have additional questions? Then contact KBM D3signs via the form. We are also happy to transfer the design on request onto products available on Zazzle. As well as to prepare a custom design altogether. Alternatively, visit KBMD3signs on Telegram at https://t.me/KBMD3signs_chat and leave a comment.